Mahindra Racing ha raccolto la sua prima pole position ed ha festeggiato un altro terzo posto finale
Nella sua seconda gara di Formula E, Felix Rosenqvist è stato leader per 27 giri
Il secondo podio in due gare sottolinea le prestazioni competitive della nuova M3Electro
Mahindra Racing arriva alla pausa di stagione seconda in classifica squadre
Fonte: Mahindra Racing
Marrakesh, Marocco. 12 Novembre 2016. Mahindra Racing ha raccolto il secondo podio consecutivo e ha segnato la sua prima pole position nella prima edizione del Marrakesh ePrix, la seconda prova del campionato 2016-17 di FIA Formula E.
Lo svedese Felix Rosenqvist, nella sua seconda gara di Formula E, è finito terzo nel corso della visita della serie in Africa dopo aver condotto la gara dalla pole durante 27 giri. Il circuito cittadino da 2,971 km semi-permanente, la pista più lunga della storia della Formula E, ha messo sotto pressione la gestione energetica per l'intera gara.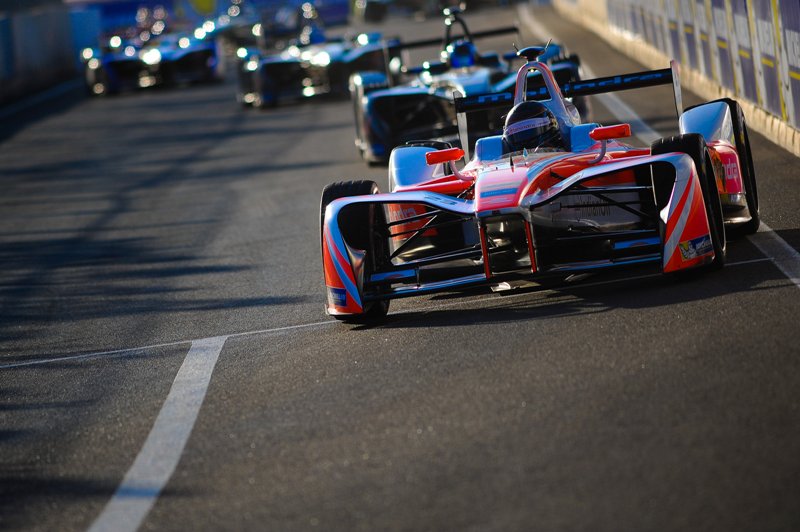 La pole di Rosenqvist è stata la prima (in Formula E) per Mahindra Racing e sottolinea ulteriormente tutto il nuovo sviluppo del powertrain della terza stagione della squadra sulla M3Electro. Il 25enne si trova quarto nella classifica piloti a 19 punti (casualmente, lo stesso del suo numero di gara).
Nell'auto numero 23, il pilota tedesco Nick Heidfeld, che ha conquistato un podio nella gara inaugurale della stagione a Hong Kong, si è qualificato in 11esima posizione. Alcuni contatti subito dopo la partenza ha ostacolato il suo avanzamento in classifica ma alla fine ha recuperato fino al nono posto finale.
I risultati complessivi dei piloti hanno portato Mahindra Racing al secondo posto nel campionato squadre. Uno dei 'primati' finali per la squadra, una vittoria, dovrà aspettare fino al 2017 quando il FIA Formula E Championship proseguirà con il Buenos Aires ePrix il 18 febbraio.
Felix Rosenqvist ha detto:
"Guardando indietro a come è andata la giornata a Marrakech, prendere la pole position è stato qualcosa di veramente inaspettato. Sapevamo che avevamo davvero un buon ritmo ed i ragazzi hanno messo insieme un buon pacchetto, in modo particolare per la qualifica. Tuttavia, sono ancora un po' scioccato dal fatto che siamo stati in grado di ottenere la pole in solo il mio secondo weekend in Formula E. Partito in gara dalla pole, se mi avessero detto prima della gara che avrei finire terzo, avrei firmato subito! C'era grande comunicazione con Andres [Castillo – ingegnere di pista] alla radio; il team è stato lì tutto il tempo a sostenere me e penso che abbiamo svolto la gara così come abbiamo potuto fare. La prima parte di gara è stata fantastica, e nella seconda parte di gara ci sono stati un insieme di piccole cose che significa non essere stati abbastanza competitivi. Questa è stata forse la parte triste, ma alla fine dobbiamo essere orgogliosi. Nick ha avuto un podio a Hong Kong e noi ora abbiamo la pole, podio e giro più veloce nella nostra borsa. Tornando a circuiti cittadini il prossimo anno mi sento fiducioso."
Nick Heidfeld ha detto:
"E 'stata una gara molto difficile per me, soprattutto nella prima parte di gara. C'è stato un contatto fin dall'inizio che mi è costato tempo e forse mi ha causato qualche danno, non sono del tutto sicuro, ma l'equilibrio della prima vettura era piuttosto scarso. Uno dei piloti ha dopo chiesto scuse a me e questo lo apprezzo molto. Ho completato un ragionevolmente lungo secondo stint rispetto agli altri e mentre si è reso molto difficile guadagnare molte posizioni, il ritmo di rigenerazione mi segnalava che ero ancora competitivo. Sono stato in grado di ottenere alcuni punti qui a Marrakesh, ma ciò che è veramente promettente è che Mahindra Racing ha ottenuto due podi in due gare. Con la prima pole position di Felix siamo secondi in campionato ed è ovviamente fantastico, ma vogliamo sempre andare ancora meglio".
Dilbagh Gill, Team Principal, Mahindra Racing di Formula E ha detto:
"E' stato un grande giorno per Mahindra Racing ed è molto soddisfacente essere in grado di spuntare un altra prima volta per la squadra. La partenza in pole di Felix è stata davvero impressionante a solo il suo secondo evento e anche mostra davvero quanto lavoro abbiamo fatto nella nuova M3Electro. Nick è stato sfortunato perchè è stato coinvolto nella mischia iniziale, ma ha ancora messo una forte spinta a raccogliere punti per la squadra. Questo è l'inizio più forte che abbiamo mai avuto in Formula E e non vediamo l'ora di andare in Argentina".
In English
Podium and maiden pole position for Mahindra Racing in Marrakesh
Mahindra Racing collected its first ever pole position and celebrated another third place finish.
In just his second Formula E Race, Felix Rosenqvist led for 27 laps.
Second podium in two races underlines the all-new M3Electro's competitive performance.
Mahindra Racing heads into the season break joint second in the Teams' Championship.
Source: Mahindra Racing
Marrakesh, Morocco. 12 November 2016. Mahindra Racing collected a second consecutive podium and scored its first ever pole position for the inaugural Marrakesh ePrix, the second round of the 2016-17 FIA Formula E Championship
Swede Felix Rosenqvist, in just his second Formula E race, finished third during the series' visit to Africa after leading the race from pole for an impressive 27 laps. The 2.971km semi-permanent street circuit, the longest in Formula E history, put pressure on energy management for the entire field.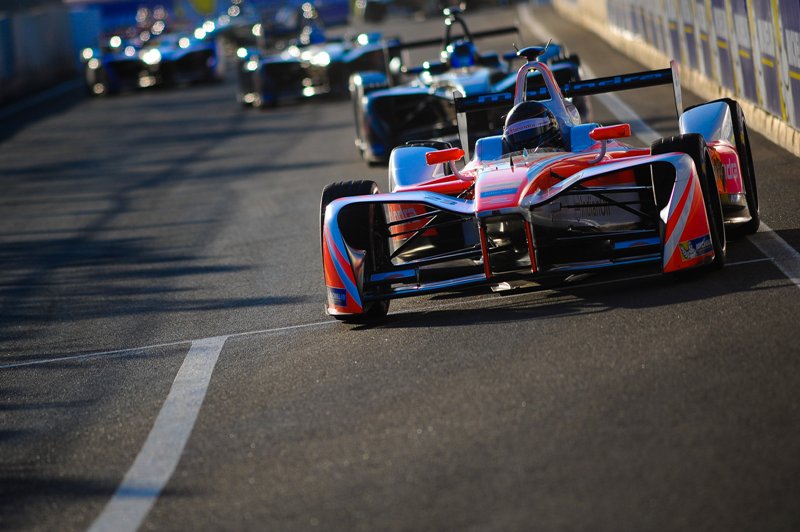 Rosenqvist's pole lap was the first ever (in Formula E) for Mahindra Racing and further underlines the team's all new season three powertrain development for the M3Electro. The 25-year-old lies fourth in the Drivers' Championship on 19 points (coincidently, the same as his race number).
In the number 23 cars, the team's German driver Nick Heidfeld, who claimed a podium in the season opener in Hong Kong, qualified in 11th position. Some early jostling from the race start hampered his advancement through the field but he ultimately recovered to ninth place.
The combined drivers' results have elevated Mahindra Racing to joint second in the Teams' Championship. One of the final 'firsts' for the team, a race win, will have to wait until 2017 when the FIA Formula E Championship continues with the Buenos Aires ePrix on February 18.
Felix Rosenqvist said:
"Looking back at how the day went in Marrakesh, taking pole position was something really unexpected. We knew we had really good pace and the guys have been putting a good package together for qualifying especially. However, I'm still a bit shocked that we were able to get pole in just my second weekend in Formula E. Starting the race from pole, if you had told me before the race that I would finish third, I would have signed up for it immediately! There was great communication with Andres [Castillo – race engineer] on the radio; the team was there all the time supporting me and I think we nailed the race as well as we could have done. The first stint was fantastic, and in the second stint there were a combination of small things that meant we weren't quite as competitive. That was maybe the sad part, but in the end we have to be proud. Nick took a podium in Hong Kong and we now we have the pole, podium and fastest lap in our bag. Going back to street circuits next year I am feeling confident."
Nick Heidfeld said:
"It was a very difficult race for me, especially in the first stint. There was quite a bit of contact from the start that cost me time and maybe caused some damage, I am not quite sure but the balance of the first car was quite poor. One of the drivers apologised to me after which I really appreciate. I completed a reasonably long second stint compared to the others and while that made it very difficult to gain many positions, the pace including regen was still competitive. I was able to get some points here in Marrakesh but what is really promising is that Mahindra Racing has achieved two podiums in two races. With Felix's first pole position we are joint second in the championship which is obviously fantastic, but we always want to be even better."
Dilbagh Gill, Team Principal, Mahindra Racing Formula E Team said,
"It has been a great day for Mahindra Racing and it's very satisfying to be able to check off another first for the team. Felix's pole lap was really impressive at only his second event and also really shows how much work we have put into the new M3Electro. For Nick, it was unlucky that he was caught up in the initial mêlée but he still put in a strong drive to collect points for the team. This is the strongest start we have had in Formula E and we can't wait to go to Argentina."
no images were found

.