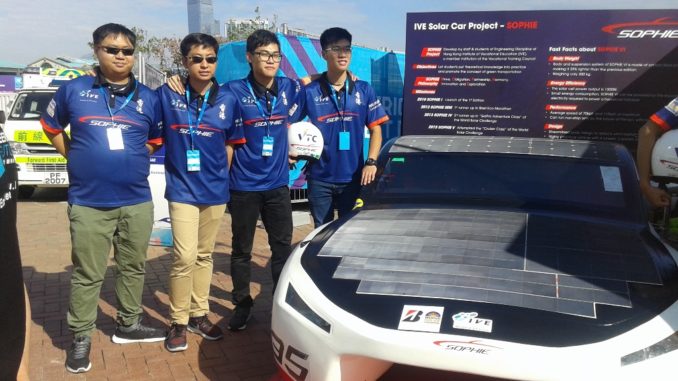 The latest solar car developed in the context of the Sophie project of the Hong Kong Institute of Education, which raced in the last World Solar Challenge with a technician's and students' team, was exhibited at the Hong Kong ePrix in Formula E.
World Solar Challenge is the world's most important solar car race along the Australian road from Darwin to Adelaide.
Peter Tang, from the Engineering Department of the Hong Kong Education Institute and Team Principal, illustrated the experience to Electric Motor News.
Our experience with a solar race car is wonderful. In the last race we used about 46kWh to run on a 3000 km road and it was not easy because the weather conditions were not favourable. Despite it was raining a lot, we have been able to finish the journey and the race.
Speaking about Sophie project, Peter Tang said:
We started in 2009, mainly because we are an educational institution and we want to promote sustainable mobility.

We participated in the World Solar Challege three times in 2013, 2015 and 2017. This showed that an electrosolar car is a technically feasible solution for sustainable mobility because, as I have already mentioned above, we have been able to travel over 26km per kWh consumed during our journey of over 3000 km.

We are here because we have had an excellent performance in the Cruiser class, and we have steadily improved. For this reason Formula E has invited us here to show our results.
In the video, the interview with Peter Tang in Hong Kong, by Simone Rambaldi, #theemnteam correspondent.
by Marcelo Padin, Editor, #theemnteam