Fonte: Venturi Automobiles
Monaco e St Légier, Svizzera. Il gruppo automobilistico multibrand indipendente DELTA Car Trade SA è un altro partner a collaborare con il team di Venturi di Formula E e di utilizzare la piattaforma della partecipazione di Venturi nella serie FIA ​​Formula E con l'obiettivo di commercializzare la sua crescita settore automobilistico al dettaglio.
I loghi DELTA appaiono sulle vetture e tute dei pilota del team Venturi di Formula E dalla gara di apertura a Hong Kong il 9 ottobre e DELTA prevede di fare grande uso dei gironi europei della serie FIA Formula E per i programmi di sviluppo del business e di marketing di comunicazione utilizzando gli eventi ePrix come punto focale.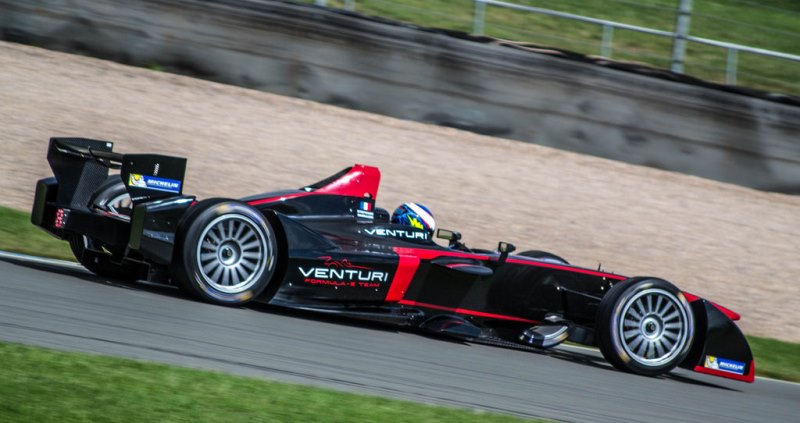 Il Presidente e CEO di DELTA, Albert de Heer, ha spiegato la decisione della sua azienda di intraprendere una partnership con il team di Formula Venturi E.
"Abbiamo conosciuto la squadra Venturi di Gildo Pallanca Pastor un paio di anni fa e abbiamo visto in prima persona come funzionano gli eventi ePrix. Oggi, siamo molto contenti e orgogliosi di collaborare con Venturi. Il nostro business sta crescendo rapidamente in Europa e riteniamo che sia giunto il momento di utilizzare la piattaforma di marketing della Formula E per il nostro sviluppo commerciale. Esso permetterà di soddisfare con i nostri distributori e prospettive durante gli eventi conviviali e di presentare loro le soluzioni DELTA. DELTA fornisce la tecnologia, soluzioni Internet e servizi che aiutano i professionisti del settore automobilistico a sviluppare il proprio business auto in modo efficiente e conveniente. DELTA è un gruppo automobilistico indipendenti multimarca, fondata nel 2004 e con sede in Svizzera".
Commentando l'ultima collaborazione per la sua squadra, il Presidente e fondatore di Venturi, Gildo Pallanca Pastor, ha dichiarato:
"Venturi è lieta che DELTA sia impegnata a collaborare con Venturi in Formula E. Il Campionato FIA di Formula E sta dimostrando di essere di crescente interesse e rilevanza per l'industria automobilistica e siamo lieti che la nostra organizzazione abbia aggiunto un ulteriore organizzazione professionale ad unirsi al nostro crescente portafoglio di partner commerciali. Non vediamo l'ora di lavorare con Albert de Heer e il suo team Delta. "
L'attività di DELTA si basa sulla fornitura di soluzioni e servizi per aiutare i professionisti del settore automobilistico a sviluppare le loro nuove aziende di vendita auto al dettaglio e DELTA userà la partnership per sviluppare un nuovo prodotto che sarà offerto al mercato dal 2017.
In English
DELTA & Venturi Reach Partnership Agreement
Source: Venturi Automobiles
Monaco (MC) & St Légier (CH): The multibrand independent automotive group DELTA Car Trade SA is the latest business to partner with the Venturi Formula E team and to use the platform of Venturi's participation in the FIA Formula E series to market its growing automotive retail business.
DELTA logos appear on the cars and driver suits of the Venturi Formula E team from the opening race in Hong Kong on October 9th and DELTA plans to make great use of the European rounds of the FIA Formula E series for business development and marketing communications programmes using the ePrix events as a focal point.
DELTA's Chairman & CEO, Albert de Heer, explained his company's decision to embark on a partnership with the Venturi Formula E team.
"We have known Gildo Pallanca Pastor's Venturi team for a couple of years and we've seen at first-hand how the ePrix events work. Today, we are very pleased and proud to partner with Venturi. Our business is growing rapidly in Europe and we feel that the time is right to utilise the marketing platform of Formula E for our business development. It will allow us to meet up with our distributors and prospects during convivial events and to present to them DELTA solutions. DELTA provides technology and Internet driven solutions & services that help automotive professionals develop their car business in an efficient and cost-effective manner. DELTA is a multibrand independent automotive group, founded in 2004 and headquartered in Switzerland."
Commenting on the latest partnership for his team, Venturi's President & Founder, Gildo Pallanca Pastor said:
"Venturi is delighted that DELTA has committed to partnering with Venturi in Formula E. The FIA's Formula E series is proving to be of increasing interest and relevance to the automotive industry and we are delighted that our organisation has added a further professional organisation to join our growing portfolio of commercial partners. We look forward to working with Albert de Heer and his team at DELTA."
DELTA's business is based upon the provision of solutions and services to help automotive professionals develop their new and used car retail businesses and DELTA will be using the partnership to develop a new product which will be offered to the marketplace from 2017.
no images were found

.