"In Formula E hai modo di mantenere la calma in ogni momento"
Fonte: ABT Sportsline
11 novembre 2014. Vincendo la gara inaugurale della stagione a Pechino, Lucas di Grassi ha scritto un piccolo capitolo nella storia del motorsport. Prima del round in Malesia (22 novembre) il colloquio con il brasiliano sulle sfide speciali della Formula E, l'interesse dei suoi colleghi piloti e gli obiettivi per la prossima gara.
La gara inaugurale di Pechino è da tempo finita. Quanto sei eccitato su Malaysia?
"Tremendamente. Dopo una corsa inaugurale fantastica come quella di Pechino è difficile dover attendere così tanto tempo prima di essere in grado di correre di nuovo in una macchina di Formula E, anche se, ovviamente, nel frattempo sono stato completamente concentrato sul WEC. Ma d'ora in poi tutto sarà molto più fluido. Le prossime gare si svolgeranno quasi ad intervalli mensili e ci sono solo tre settimane tra Malesia e Uruguay. Questo è esattamente il modo in cui mi piace! "
Nel frattempo: quale è stata la risposta alla Formula E?
"Sento che alla gente piace la Formula E. In particolare nel mio paese, il Brasile, c'è un grande interesse. Ci sono state molte richieste da parte di riviste, giornali e canali televisivi. Tifosi e dei media sono curiosi e felici di una boccata d'aria fresca nel panorama del motorsport. Ogni volta che i fan mi avvicinano con la richiesta di una fotografia c'è sempre da parlare di Formula E".
Sei stato interrogato al riguardo dai altri colleghi piloti?
"Naturalmente molti colleghi mi hanno fatto le loro congratulazioni durante il fine settimana WEC a Austin e Shanghai ed erano desiderosi di avere informazioni di prima mano su ciò che è la Formula E. La maggior parte di loro hanno seguito la serie fin dall'inizio. Ho condiviso molte informazioni e anche adesso sono sicuro che molti piloti staranno a guardare di nuovo la TV il 22 novembre. E magari un giorno desidereranno gareggiare in formula E."
Qual è stata la cosa più importante che hai imparato dall'apertura di Pechino?
"In Formula E bisogna sempre andare al limite – ma mai spingendo minimamente oltre. Questo vale per il consumo di energia che per il comportamento in pista. Considerando che corriamo su stretti circuiti cittadini nella città, anche il più piccolo errore può essere disastroso. O si perde tempo prezioso, o tempo di guida, perché tutto si svolge nello stesso giorno, dalle prove alla qualifica e anche la gara. Mantenere la mente fredda è più importante che mai in Formula E. Devi mantenere la calma in ogni momento".
Come valuta il circuito in Malesia rispetto a quella di Pechino?
"E' difficile da dire perché ogni pista è completamente nuova per noi piloti. Rispetto a Pechino, Putrajaya è più corto e, a prima vista, sembra avere curve e tratti più impegnativi. Sarà una grande sfida alla quale avremo il modo di adattarci al più presto possibile ".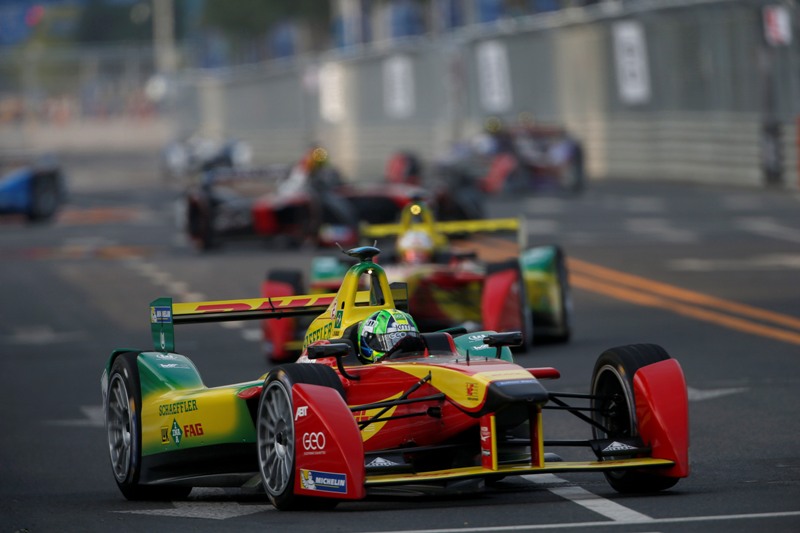 Il tuo compagno di squadra Daniel Abt ha lasciato la finale GP2 per correre in Malesia – è la decisione giusta dal vostro punto di vista?
"Assolutamente. Daniel ha mostrato una buona prestazione in qualifica e ha perso il suo posto sul podio in gara solo a causa di un problema minore. Ha lavorato per rifarsi il più presto possibile e ora ha la possibilità di farlo".
Quali sono gli obiettivi quando si arriva a Putrajaya, come il leader della classifica?
"La Formula E è imprevedibile. Tutti hanno lo stesso materiale, le lacune sono minime e su una nuova pista i punti di forza possono essere diversi e cambiare di nuovo. Il nostro obiettivo rimane lo stesso di prima di ogni gara: siamo pronti a vincere. E se questo non dovrebbe essere possibile, allora avremmo almeno piacere di finire sul podio e guadagnare punti preziosi. La nostra vittoria a Pechino è un caro ricordo – ma niente di più. È per questo che ci stiamo ora preparando per la Malesia con la stessa concentrazione e cercheremo di fare un week end impeccabile, con tutta la squadra".
In English
"In Formula E you've got to keep cool at all times"
On winning the season opener in Beijing Lucas di Grassi wrote a small chapter in motorsport history. Before round two in Malaysia (22 November) the Brazilian talks about the special challenges of Formula E, the interest by his fellow drivers and the aims for the next race.
The inaugural race in Beijing has long been over. How excited are you about Malaysia?
"Tremendously. After such a fantastic inaugural race in Beijing it's hard having to wait for such a long time before being able to get into a Formula E car again, although, obviously, I've been fully concentrating on the WEC in the meantime. But from now on everything will be a lot more fluid. The next races will be held almost at monthly intervals and there are only three weeks between Malaysia and Uruguay. That's exactly the way I like it!"
In the meantime: what has been the response to Formula E?
"I could feel that people like Formula E. Especially in my country, Brazil, there was huge interest. There were many queries from magazines, newspapers and TV channels. Fans and media are curious and happy about a breath of fresh air in the motorsport landscape. Whenever fans approach me with a request for a photograph they increasingly mention Formula E."
Have you been quizzed by your fellow racing drivers too?
"Of course a lot of colleagues extended their congratulations to me at the WEC weekends at Austin and Shanghai and were eager to get first-hand information about what Formula E is like. Most of them have been following the series from the beginning. I've been sharing a lot of information again now and am sure that many drivers will be watching TV on 22 November again – and maybe wishing to compete in Formula E themselves one day."
What was the most important thing you learned from the opener in Beijing?
"Formula E is totally about going to the limit – but not pushing it by even a tiny bit. This applies to energy consumption as well as to behaviour on the track. As we're driving on narrow city street circuits, even the smallest mistake can be disastrous. You either lose valuable driving time or, because everything takes place on the same day, even the start in qualifying or the race. A cool head is more important than ever in Formula E. You've got to keep cool at all times."
How do you assess the circuit in Malaysia compared to the one in Beijing?
"That's hard to say because each track is completely new for us racing drivers. Compared to Beijing Putrajaya is shorter and, at first glance, seems to have more demanding turns and sections. It'll be a great challenge that we've got to adjust to as quickly as possible."
Your team-mate Daniel Abt has dropped the GP2 finale to run in Malaysia – was that the right decision from your perspective?
"Absolutely. Daniel showed a strong performance in qualifying and lost his podium place in the race only due to a really minor issue. He's set on making up for this as soon as possible and now has the opportunity to do so."
What are the aims when you arrive in Putrajaya as the leader of the standings?
"Formula E is unpredictable. Everybody's got the same material, the gaps are minimal and on a new track the relative strengths can pan out differently again. Our aim remains the same before each race: we're set on winning. And if that shouldn't be possible, then we'd at least like to finish on the podium and score valuable points. Our victory in Beijing is a fond memory – but no more than that. That's why we're now preparing for Malaysia with the same concentration and will try and pull off an impeccable weekend with the whole squad."
no images were found