Hong Kong ePrix segna il ritorno di Jaguar al motorsport
Jaguar Land Rover, il più grande investitore R&D della Gran Bretagna, sottolinea il suo impegno a 'Race to Innovate' utilizzando il campionato come una piattaforma per supportare lo sviluppo delle vetture elettriche stradali di nuova generazione.
Fonte: Jaguar Racing
Hong Kong. Lunedi 3 Ottobre, 2016. Panasonic Jaguar Racing farà il suo debutto nel FIA Formula E nella gara di apertura della stagione che si terrà in un iconico quartiere di fronte al porto centrale di Hong Kong questa Domenica.
Il produttore britannico spera di estendere la sua riuscita eredità nel motorsport che risale al 1950 inserendo una squadra completa con due auto in Formula E, le monoposto elettriche che portano le corse al cuore di alcune delle grandi città del mondo.
A partire dal Hong Kong ePrix, il pilota britannico Adam Carroll, 33 anni, e il neozelandese Mitch Evans, 22 anni, correranno nella prima monoposto da corsa elettrica Jaguar Panasonic Jaguar Racing, la I-TYPE, nella serie di 14 gare che si concluderà a Montreal nel mese di luglio 2017.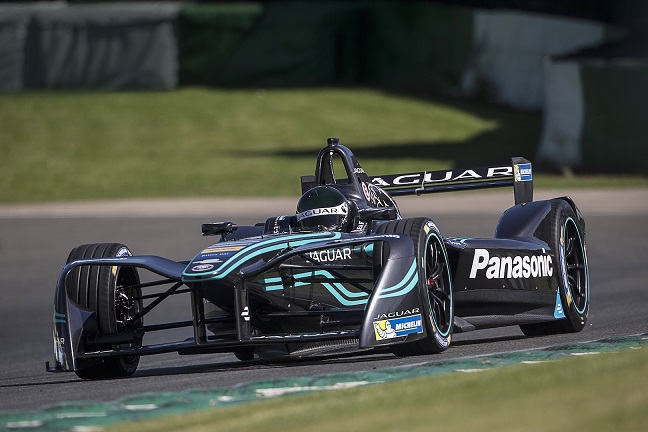 E il programma di Formula Jaguar creerà tangibili benefici nella R&S per l'elettrificazione delle future vetture stradali Jaguar Land Rover ed è stata progettata attorno al principio fondante della squadra, Race to innovation.
Le gare di Formula E durano 50 minuti e includono un pit-stop obbligatorio, in cui i conducenti passano ad una seconda auto aggiungendo un altro elemento all'emozionante gara. I piloti devono affrontare delle sfide uniche in Formula E come ad esempio gestire il consumo e la rigenerazione dell'energia della batteria per mantenere la carica durante tutta la gara.
I produttori possono progettare i propri propulsori, che comprendono il motore, la trasmissione, l'inverter e la sospensione posteriore. I componenti comuni a tutte le squadre sono il telaio in fibra di carbonio e la batteria per contribuire a controllare i costi. L'attenzione si concentra sullo sviluppo di propulsori per veicoli elettrici.
I-TYPE Panasonic Jaguar Racing è dotata di un MGU (Motor Generated Unit), con una potenza massima di 200 kW e con una velocità massima di 140 mph. La trasmissione avviene tramite un cambio sequenziale a farfalla.
Al di là il suo concetto tutto elettrico, Formula E è anche unica nel mondo dei motori per la sua scelta dei luoghi. Ogni gara, ad eccezione del Messico, si svolge su circuiti cittadini, nel centro delle grandi città. Con le attività in pista, tra cui la pratica, le qualifiche e la corsa, che si svolge in una sola giornata, eccetto le doppie corse che si svolgono appunto in due giorni come a New York e quella di fine stagione a Montreal.
James Barclay, Panasonic Jaguar Racing, Team Director, ha dichiarato:
"Questo è un momento di orgoglio per tutta la squadra Panasonic Jaguar Racing. Abbiamo lavorato molto duro e testato senza fine per prepararci al nostro debutto qui a Hong Kong. Noi siamo qui solo per correre ma siamo qui anche per innovare e ispirare. Ci sarà una gara dura fin dall'inizio, ma le nostre aspettative sono sotto controllo, come noi rispettiamo i nostri concorrenti che hanno un vantaggio di due anni nella serie. Abbiamo imparato molto dal nostro programma di test e di sviluppo pre-stagione, ma non c'è niente come l'esperienza di gara vera e propria per darci una comprensione di che cosa abbiamo bisogno per raggiungere il nostro potenziale – e tutto inizia Domenica. Non vediamo l'ora di tornare in pista!"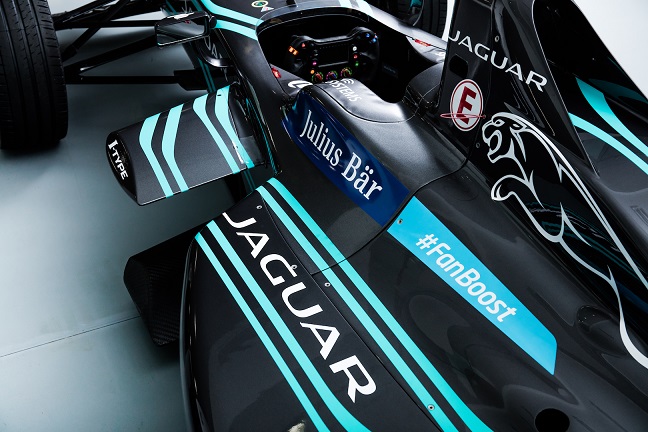 Il britannico Adam Carroll, 33, porta la velocità e l'esperienza a Jaguar in una carriera che ha incluso più campionati nei monoposto A1GP tra cui, IndyCar e GP2. Ha inoltre svolto con successo la maggior parte delle funzioni di test di Formula E di Panasonic Jaguar Racing.
Adam Carroll ha detto:
"E 'un momento storico per la Jaguar come una squadra pronta a intraprendere questo nuovo viaggio nelle corse elettriche. Come pilota, non vedo l'ora di entrare in pista. Non c'è niente come la Formula E e non vedo l'ora di avvicinarmi al weekend di gara e vedere i benefici di ogni miglioramento e come si raggiunge il nostro potenziale. Abbiamo una grande opportunità per ispirare i fan di tutto il mondo e raggiungere la prossima generazione di piloti EV in modi nuovi e innovativi. Come piloti, siamo qui per correre, ma è importante ricordare il motivo per cui siamo qui e l'eredità del nostro programma Formula E a scrivere un nuovo capitolo nella storia di Jaguar. "
A 22 anni, Mitch Evans è il più giovane pilota sulla griglia di Formula E, ma porta l'esperienza ben oltre i suoi anni a Panasonic Jaguar Racing. Con più campionati di karting e titoli vinti nelle corse a ruote scoperte tra cui il Championship 2012 GP3, Mitch è un giovane pilota con provate credenziali di gara.
Mitch Evans ha detto:
"In soli due stagioni, la Formula E si è affermata come un vero e proprio campionato piloti. Probabilmente ha lo schieramento piloti più competitiva al mondo e include molti ex-F1 e piloti IndyCar e molti piloti FIA World Endurance Championship. Il campionato offre anche alcune delle gare più emozionanti del mondo. Abbiamo molto da imparare nella prossima stagione, ma sono sicureo che saranno corse difficili. E' stato il mio sogno di essere un pilota e non vedo l'ora di mettere su la tuta Jaguar la Domenica! "
In English
Panasonic Jaguar Racing to make FIA Formula E Racing debut in Hong Kong ePrix
Hong Kong ePrix marks Jaguar's return to motorsport
Jaguar Land Rover, Britain's largest R&D investor, underscores its commitment to 'Race to Innovate' using the championship as a platform to

support development of

next generation electric powered road cars




Source: Jaguar Racing
Hong Kong. Monday 3 October 2016. Panasonic Jaguar Racing will make its FIA Formula E debut in the season opening race in Hong Kong's iconic central harbour-front district this Sunday.
The British manufacturer is hoping to extend its successful motor sport legacy that dates back to the 1950s by entering a full manufacturer two-car team in Formula E, the all-electric single-seater series that brings racing to the heart of some of the world's greatest cities.
Beginning in Hong Kong, British driver Adam Carroll, 33, and New Zealander Mitch Evans, 22, will race Panasonic Jaguar Racing's first all-electric Jaguar racecar, the I-TYPE, in the 14-round series which will conclude in Montreal in July 2017.
Jaguar's Formula E programme will create tangible R&D benefits for the electrification of future Jaguar Land Rover road cars and is designed around the team's founding principle, Race to Innovate.
Formula E races last 50 minutes and includes a mandatory pit stop, in which drivers switch to a second car adding another element to the exciting competition. Drivers face unique challenges in Formula E as they have to manage battery consumption and regeneration of the battery to maintain charge throughout the race.
Manufacturers can design their own powertrains, which includes the motor, transmission, inverter and the rear suspension. Common components across all teams include the carbon fibre chassis and battery to help control costs. The focus is on developing electric vehicle powertrains.
Panasonic Jaguar Racing's I-TYPE features an MGU (Motor Generated Unit) with a maximum power output of 200kW and with a maximum speed of 140mph. Power is delivered via a paddle shift sequential gearbox.
Beyond its all-electric concept, Formula E is also unique in the world of motorsport for its choice of venues. Every round, bar one in Mexico, takes place on street circuits, in the centre of major cities. Track action, including practice, qualifying and racing, takes place in a single day, apart from at the two-day double-header races in New York and the season-finale in Montreal.
James Barclay, Panasonic Jaguar Racing, Team Director said:
"This is a proud day for the whole of the Panasonic Jaguar Racing team. We've worked very hard and tested endlessly to prepare for our debut here in Hong Kong. We are here to race but we're also here to innovate and to inspire. We will race hard from the start but our expectations are in check as we respect our competitors who have a two-year head start in the series. We've learnt a great deal from our pre-season test and development programme, but there is nothing like real race experience to give us an understanding of what we need to achieve our potential – and it all starts on Sunday. We can't wait to return to the track!"
Briton Adam Carroll, 33, brings speed and experience to Jaguar in a career that has included multiple single-seater championships including A1GP, IndyCar and GP2. He has also successfully carried out the bulk of Panasonic Jaguar Racing's Formula E testing duties.
Adam Carroll said:
"It is a historic moment for Jaguar as a team to be embarking on this new journey in electric racing. As a driver, I am really looking forward to getting out on track. There is nothing quite like Formula E and I'm looking forward to refining how we approach the race weekends and seeing the benefits of each improvement as we reach our potential. We have a big opportunity to inspire fans around the world and reach the next generation of EV drivers in new and innovative ways. As drivers, we are here to race but it is important to remember why we are here and the legacy of our Formula E programme in writing a new chapter in Jaguar's history."
At 22, Mitch Evans is the youngest driver on the Formula E grid but brings experience far beyond his years to Panasonic Jaguar Racing. With multiple karting and open-wheel championship titles to his name including the 2012 GP3 Championship, Mitch is a young driver with proven race credentials.
Mitch Evans said:
"In just two seasons, Formula E has established itself as a real drivers' championship. It has probably the most competitive driver line-up in the world and includes many ex-F1 and IndyCar drivers and a lot of current FIA World Endurance Championship drivers. The championship also offers some of the most thrilling racing in the world. We have a lot to learn in the season ahead but rest assured we will be racing hard. It has been my dream to be a works driver and I can't wait to put on the Jaguar overalls on Sunday!"
Panasonic Jaguar Racing debutta in Formula E al Hong Kong ePrix
no images were found

.