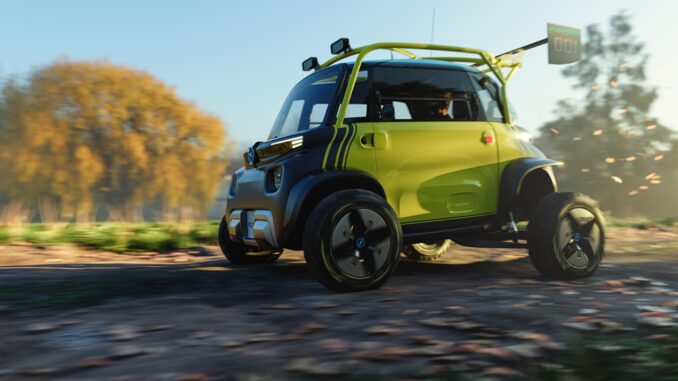 Lukas Wenzhöfer ha convinto la giuria del concorso di design Opel Rocks-e con il suo progetto originale "Opel Rocks e xtreme"
Il progetto vincente della Opel Rocks-e sarà realizzato da Opel come un pezzo unico.
Qualche settimana fa, Opel ha chiesto a creativi e studenti di design di creare un progetto originale (e anche un pò folle) di Opel Rocks-e per la "Rocks-e Design Hack" – e la risposta è stata travolgente. Giovani designer di tutto il mondo hanno partecipato al concorso organizzato sui social media con idee e progetti che hanno colpito la giuria, in cui erano presenti anche Florian Huettl, CEO Opel, Mark Adams, Vice President Design e la nota influencer e collaudatrice automobilistica Jessica Thön.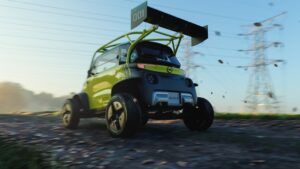 Adesso il vincitore è stato proclamato: si tratta di Lukas Wenzhöfer da Hünfelden in Assia, che studia presso l'Università di Design di Pforzheim nel Baden-Württemberg, e che ha convinto la giuria con la sua interpretazione della Opel Rocks-e in versione fun-mobile elettrica fuoristrada: la "Rocks e-xtreme". Opel costruirà un esemplare unico di Rocks-e sulla base del progetto vincente. Una novità assoluta: la community potrà seguire il processo di creazione della concept "Opel Rocks e-xtreme" attraverso i social media.
I numerosi e straordinari progetti realizzati intorno a Opel Rocks-e dimostrano come il nostro innovativo quadriciclo elettrico sia fonte di ispirazione per tutto il mondo! L'enorme interesse suscitato e l'originalità delle idee dimostrano il potenziale della mobilità elettrica e di questi modelli entry-level, piccoli e agili. Opel Rocks-e offre piacere di guida a zero emissioni locali con il fattore wow, in Germania già a partire dai 15 anni di età1. Facciamo i complimenti a Lukas Wenzhöfer e allo stesso tempo ringraziamo tutti i partecipanti alla Design Challenge per la creatività e l'impegno dimostrati – ha dichiarato Florian Huettl, CEO Opel.
Un veicolo divertente, elettrico e fuoristrada, che stupisce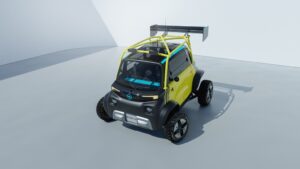 Quando la giuria si è trovata di fronte il progetto di Opel Rocks-e di Lukas Wenzhöfer ha visto qualcosa di veramente estremo, nel miglior senso della parola. Ed è esattamente così che il 26enne studente di design industriale ha chiamato la sua concept: "Opel Rocks e-xtreme". Wenzhöfer è da tempo un appassionato di questo innovativo veicolo leggero a motore:
Opel Rocks-e offre ai giovani la mobilità e la possibilità di vivere un'esperienza di guida senza filtri. La mia concept parte da questi punti e li estremizza. Le caratteristiche fuoristrada favoriscono la libertà di raggiungere qualsiasi destinazione. E la maggiore sportività promette più piacere di guida per dimostrare che la mobilità elettrica non è solo una soluzione intelligente – ha spiegato Wenzhöfer.
Il risultato è un veicolo divertente, elettrico e fuoristrada, in grado di sorprendere. Le ruote sono chiaramente posizionate all'esterno per rendere la vettura larga e sicura, all'anteriore sono presenti doppie sospensioni a quadrilatero e spicca un luminoso roll bar giallo. Infine, al posteriore, il grande spoiler con la scritta color turchese "e-xtreme" e il numero "001" dimostrano che si tratta di una due posti elettrica a batteria assolutamente unica che vuole raggiungere uno scopo ben preciso: offrire puro piacere di guida "fuoristrada"!
Per me era importante avere un buon equilibrio tra dettagli cool e un'impressione generale di pulizia per conservare il carattere di Opel Rocks-e restando fedele al linguaggio stilistico 'bold and pure' di Opel – ha aggiunto il 26enne.
Piacere di guida che merita un premio e che ha quindi portato questo progetto al primo posto nel concorso di design Opel Rocks-e. Anche nella versione di serie, questa piccola citycar elettrica porta una ventata di aria fresca nel segmento dei veicoli leggeri: Opel Rocks-e ha ricevuto di recente il premio 'autonis' come "Best Design Innovation of 2022" nella categoria "Mini Car" da parte dei lettori della rivista tedesca auto motor und sport. Con le loro concept stravaganti e per molti versi insolite, i giovani creativi hanno evidenziato la volontà di convincere le giovani generazioni della validità della mobilità elettrica, entusiasmandoli con la novità elettrica di Opel.
[
1
] Con patente AM, che permette di guidare quadricicli leggeri a motore con una potenza massima non superiore a 6 kW, non più di due posti e una velocità massima non superiore a 45 km/h.
Fonte: Opel Italia