Mercedes Classe E autorizzata al test di guida autonoma nel Nevada
Guida autonoma lungo le highway del Nevada
La nuova Mercedes-Benz Classe E ottiene l'autorizzazione per test di guida autonoma
Fonte: Mercedes Benz Italia
Nevada, USA. 8 Gennaio 2016. La nuova Mercedes-Benz Classe E è la prima vettura di serie al mondo ad ottenere l'autorizzazione per test drive con guida autonoma nello stato americano del Nevada. In occasione dell'importante fiera dedicata all'elettronica per l'intrattenimento 'CES' di Las Vegas, tre Classe E di serie hanno ottenuto questa autorizzazione.
Fino ad oggi, per effettuare i test di guida automatica le vetture di prova dovevano essere equipaggiate con speciali e complessi sistemi hardware e software. La dotazione comprendeva, tra l'altro, sensori supplementari, uno sterzo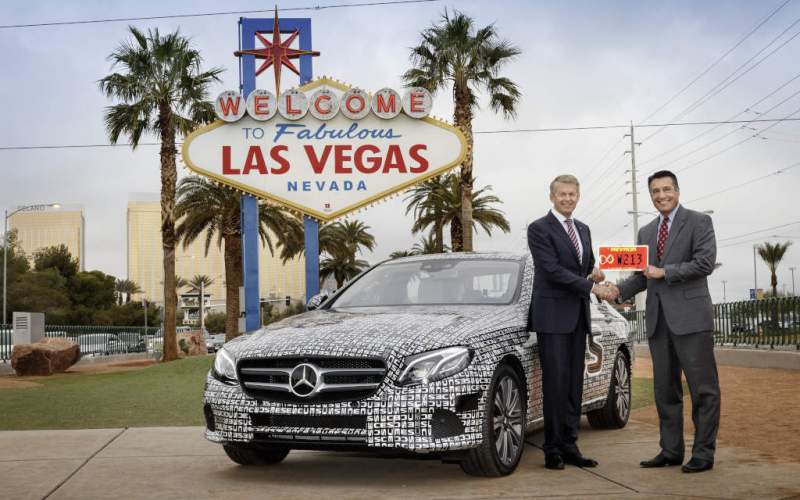 modificato ed un sistema ESP appositamente adattato. Non per la nuova Mercedes-Benz Classe E. La versione di serie, infatti, è dotata di una ricca tecnologia intelligente. Per questo motivo, ai fini della sperimentazione, sono necessarie solamente piccole modifiche nel software della centralina DRIVE PILOT.
Thomas Weber, Membro del Board of Management di Daimler AG, Responsabile Group Research e Mercedes-Benz Cars Development, ha dichiarato: "Il fatto che Mercedes-Benz sia la prima Casa automobilistica ad ottenere questa autorizzazione testimonia la nostra leadership nel campo della guida autonoma. La nuova Classe E rappresenta quindi un ulteriore ed importante passo avanti sul fronte delle vetture a guida completamente automatizzata."
La guida autonoma ai fini della sperimentazione è consentita su tutte le autostrade federali e nazionali all'interno del Nevada; i guidatori devono presiedere ai compiti al volante solo per effettuare le svolte e le operazioni di ingresso ed uscita dalle autostrade. I test per la guida autonoma delle vetture nell'uso quotidiano vengono effettuati da piloti specificamente addestrati. Il Nevada Department of Motor Vehicles (NDMV) prescrive inoltre che, nel corso dei test drive, nella vettura sia presente una persona al volante ed una seconda sul lato passeggero. Le vetture utilizzate per i test drive sono contrassegnate da una targa rossa specifica per i veicoli a guida autonoma.
Lo stato federale del Nevada ha varato norme per la guida autonoma dei veicoli già nel 2011, ed è quindi un pioniere in questo ambito. La rete stradale, gli scenari ed il volume del traffico di questo stato desertico rappresentano bene la situazione del traffico negli USA. Per questa ragione due truck Daimler viaggiano in modalità di guida autonoma sulle strade pubbliche già da maggio del 2015.
no images were found