Dongfeng Peugeot Citroën Automobile (DPCA) inaugura un nuovo stabilimento a Chengdu, in Cina
– Lo stabilimento si inserisce nel piano strategico di crescita redditizia Push to Pass che prevede 20 lanci di veicoli in Cina e nel Sud-Est Asiatico entro il 2021
– Uno stabilimento dedicato alla produzione dei SUV, un segmento in forte crescita in Cina
– Una capacità totale di 300 000 veicoli all'anno, coerente con l'ambizione di vendere un milione di veicoli nel 2018 in Cina e nel sud-est asiatico
– La Peugeot 4008 sarà il primo veicolo prodotto
Fonte: Gruppo PSA Italia
Chengdu, Cina. 7 settembre 2016. Nell'ambito dell'attuazione del piano Push to Pass e a sostegno dell'obiettivo di vendere 1 milione di veicoli nel 2018 nella regione Cina e Sud-Est Asiatico, DPCA ha inaugurato oggi il suo quarto stabilimento di assemblaggio a Chengdu in Cina.
La cerimonia si è svolta alla presenza di Carlos Tavares, Presidente del Direttorio di Groupe PSA, di Zhu Yanfeng, Presidente del Consiglio di Amministrazione di Dongfeng Motor Corporation, di Denis Martin, Direttore Cina e Sud-Est Asiatico Groupe PSA, di Liu Weidong, vicedirettore generale di Dongfeng Motor Corporation, di Su Weibin, Direttore Generale di DPCA, di Jean-Christophe Marchal, vicedirettore generale esecutivo di DPCA e dei rappresentanti della provincia di Sichuan e della municipalità di Chengdu.
Questo quarto stabilimento DPCA costruirà veicoli per i marchi Dongfeng Peugeot, Dongfeng Citroën, e Dongfeng Fengshen, principalmente nel segmento dei SUV, sulla piattaforma EMP2 di Groupe PSA. La produzione inizierà con il nuovo SUV Peugeot 4008 il cui lancio commerciale è previsto in novembre 2016 in Cina. Dopo una crescita del 53 % nel 2015, il segmento dei SUV ha continuato la sua rapida espansione nel 1° semestre 2016 con + 44%. Oggi rappresenta il 38,8 % del mercato cinese. Nel complesso, il mercato automobilistico cinese presenta un potenziale inedito con un tasso di possesso di 75 veicoli per 1000 abitanti. La classe media cinese, che ha superato quella statunitense, è ora la prima del mondo, con 110 milioni di persone e potrebbe raddoppiare in meno di 10 anni, arrivando a rappresentare 220 milioni di cinesi.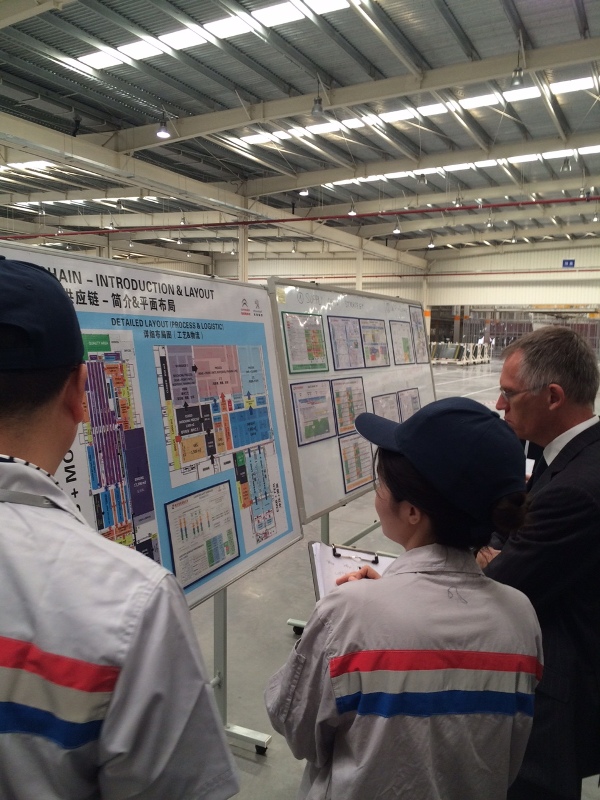 DPCA si è basata sulle esperienze dei due gruppi PSA e DFM per costruire in 2 anni uno stabilimento in grado di soddisfare i migliori criteri e si è dotata di un dispositivo industriale ai massimi livelli mondiali: un sistema di produzione flessibile, che permette una stretta collaborazione con i fornitori e adotta le migliori pratiche in materia di rispetto dell'ambiente.
Oltre allo stabilimento CAPSA di Shenzen che fabbrica i modelli della gamma DS, il dispositivo industriale di DPCA è ora costituito da 4 stabilimenti di assemblaggio: 3 con sede a Wuhan, nella provincia dell'Hubei, e quello di Chengdu, nella provincia del Sichuan. Con questo nuovo stabilimento e il nuovo piano a medio termine « 5A+ » di DPCA, presentato l'11 maggio scorso, Groupe PSA e Dongfeng Motor (DFM) si impegnano a rafforzare il loro partenariato strategico per soddisfare le esigenze del mercato cinese, migliorando la performance economica di questa Joint Venture, con obiettivi chiari:
– Un notevole aumento della soddisfazione dei clienti per i prodotti e servizi, per entrare a far parte della TOP 3 del settore entro il 2018 e puntare al 1° posto nel 2020
– Raggiungere un fatturato superiore a 100 miliardi di RMB entro il 2020
– Una crescita redditizia e sostenibile fondata su un guadagno di produttività del 30% entro il 2020.
In occasione di questa cerimonia, Carlos Tavares, ha dichiarato:
«Con questo nuovo stabilimento, arricchiremo la nostra offerta di veicoli sul mercato in crescita dei SUV e risponderemo alle attese dei nostri clienti cinesi. E' una tappa importante dell'adozione del nostro Piano Push to Pass e del raggiungimento dei nostri obiettivi: lanciare 20 nuovi veicoli in Cina entro il 2021 e superare il milione di veicoli venduti nella regione a partire dal 2018».
no images were found

.