Fonte: Formula E
Mosca, Russia. 9 Febbraio 2016. Match! Arena, un nuovo canale sportivo russo, trasmetterà gli highlights di tutte le gare del Campionato FIA di Formula E insieme con la copertura in diretta del Mosca ePrix 2016.
Oltre a mostrare gli highlights da ogni gara, Match! Arena andrà in onda in diretta con il Mosca ePrix dalla capitale russa con lo spettacolare sfondo del Cremlino e della Cattedrale di San Basilio.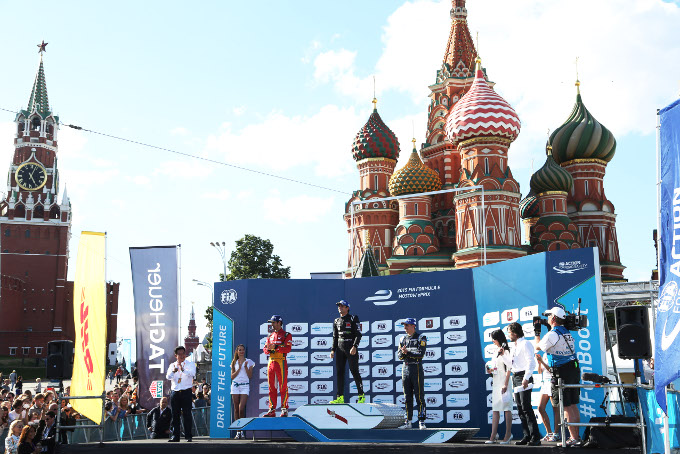 Ali Russell, Direttore Media e Comunicazione di Formula E, ha detto:
"Sono felice di annunciare questa nuova partnership con Match! Arena. La Russia ha una grande quantità di appassionati che seguono il motorsport come abbiamo visto con l'enorme affluenza al Moscow ePrix dello scorso anno. Il nostro obiettivo è promuovere la serie ad un nuovo pubblico e questo accordo garantisce di più i fan che possono interagire con la Formula E in tutto il mondo".
Tina Kandelaki, Produttore generale di Match TV ha detto:
"Il team di Match TV estende il concetto tradizionale della televisione sportiva in Russia. Seguiamo tutte le nuove tendenze che appaiono nel mondo dello sport e cerchiamo di includerle nella nostra rete di trasmissione. All'interno del tutto un breve periodo di esistenza, il FIA Formula E Championship ha già un molti fan fedeli in Russia, che saranno ora in grado di vedere la corsa su Match TV."
In English
New sports channel in Russia to broadcast Formula E
Source: Formula E
Moscow, Russia. 9 February 2016. Match! Arena, a new Russian sports channel, will broadcast highlights of all rounds of the FIA Formula E Championship along with live coverage of the 2016 Moscow ePrix.
In addition to showing highlights from each race, Match! Arena will air the Moscow ePrix live from the Russian capital with the spectacular backdrop of the Kremlin and St. Basil's Cathedral.
Ali Russell, Director of Media and Communications at Formula E, said:
"I'm happy to announce this new partnership with Match! Arena. Russia has a passionate motorsport following as we saw with the tremendous turnout at the Moscow ePrix last year. We aim to promote the series to a new audience and this deal ensures more fans can engage with Formula E around the world."
Tina Kandelaki, General Producer of Match TV said:
"The team at Match TV extends the traditional concept of sports television in Russia. We follow all the new trends that appear in the sports world and try to include them in our broadcasting network. Within quite a short period of existence, the FIA Formula E Championship already has a lot of loyal fans in Russia, who will now be able to see the racing on Match TV."
no images were found