• Piattaforma di nuova generazione di Subaru con l'obiettivo di raggiungere significativi miglioramenti in termini di prestazioni complessive del veicolo
Fonte: Fuji Heavy Industries Ltd
United Kingdom. 9 Marzo 2016. Fuji Heavy Industries Ltd. (FHI), il costruttore di automobili Subaru, ha presentato una panoramica della Subaru Global Platform, che è attualmente in fase di sviluppo, come architettura da utilizzare per i veicoli di nuova generazione di tutta la società.
La Subaru Global Platform fa parte delle sei iniziative per valorizzare il marchio Subaru descritto nella visione di gestione a medio termine della società, 'Prominence 2020', annunciata nel 2014. Insieme con i motori boxer, il Symmetrical All-Wheel Drive (AWD), e l' EyeSight che rappresentano le tecnologie di base Subaru, la nuova piattaforma costituirà il fondamento di base della prossima generazione di veicoli Subaru.
In occasione del lancio del nuovo concetto, Il Presidente di FHI Yasuyuki Yoshinaga ha detto:
"La Subaru Global Platform solleva la tecnologia automobilistica di Subaru a nuove altezze e segna il passo successivo nell'evoluzione del 'Piacere e la pace della mente', il valore che Subaru offre ai suoi clienti. Questa nuova piattaforma rappresenta il culmine del know-how che abbiamo sviluppato nel corso degli anni, e siamo fiduciosi che ci permetterà di produrre veicoli conformi alle nostre fiere tradizioni e di soddisfare le elevate aspettative che i clienti hanno di Subaru. Continuiamo a lavorare sulla progettazione di veicoli sempre più interessanti, che offrono al cliente sia il divertimento e la pace della mente".
La piattaforma di nuova generazione guarda avanti al 2025. Le caratteristiche principali includono:
1. L'emotivamente coinvolgente 'sentire dinamico' che va oltre le alte prestazioni
La nuova piattaforma renderà possibile un nuovo tipo di esperienza di guida, facendo appello direttamente ai sensi e offrendo morbidezza e comfort senza pari – il tutto supportato da prestazioni e specifiche eccellenti. In particolare, la nuova piattaforma affinerà ulteriormente la sensazione dinamica di Subaru nelle seguenti aree:
Stabilità in rettilineo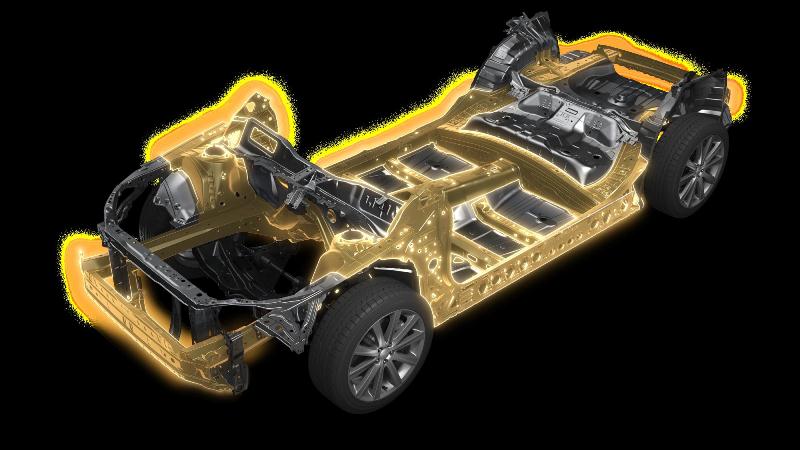 La nuova piattaforma aumenta notevolmente la rigidità in tutta la carrozzeria e il telaio (dal 70% al 100% di aumento rispetto ai modelli attuali), incorpora miglioramenti sostanziali al sistema di sospensione e raggiunge un centro di gravità più basso, determinando uno sterzo altamente reattivo che permette al guidatore di controllare il veicolo proprio come lui vuole. L'eliminazione di movimenti inutili nella gestione rende la vettura con migliore aderenza del fondo stradale, anticipando la necessità di una maggiore stabilità in rettilineo nei veicoli autonomi del futuro.
Soppressione del rumore e delle vibrazioni
La struttura del telaio è ottimizzata e le aggiunte più forti tra le parti consentono alla nuova piattaforma di migliorare la rigidità torsionale complessiva del 70% rispetto ai modelli attuali. Questo distribuisce la risonanza e la distorsione in tutto il corpo vettura, riducendo notevolmente le vibrazioni del volante, il pavimento ed i sedili.
Comfort
La nuova piattaforma aumenta la rigidità del montaggio della sospensione, migliorando l'assorbimento della sospensione senza deformare il corpo della vettura e fornendo un azionamento agevole e confortevole in qualsiasi irregolarità della superficie stradale. Montando lo stabilizzatore posteriore direttamente alla carrozzeria, la nuova piattaforma riduce il rollio del veicolo del 50% rispetto ai modelli attuali.
2. Più alti livelli di sicurezza al mondo
Sicurezza attiva
La nuova piattaforma raggiunge un centro di gravità che è 5 mm inferiore rispetto ai modelli attuali. Insieme con i principali miglioramenti nella rigidità e l'evoluzione del sistema di sospensione, questo centro di gravità più basso rende possibile un'esperienza di guida più stabile che mai e offre eccezionali capacità di evitarli a livello con una vettura sportiva ad alte prestazioni.
Sicurezza passiva
Grazie ad una struttura di telaio che permette un più efficiente assorbimento di energia in caso di collisione e una maggiore rigidità della carrozzeria risultante dal maggiore utilizzo di lastre di acciaio ad alta resistenza (compresi materiali formati dal metodo di stampa a caldo), l'assorbimento dell'energia d'urto viene migliorato del 40% rispetto ai modelli attuali. La piattaforma anticipa ulteriori miglioramenti nella forza e nuovi materiali ed ha il potenziale per continuare ad offrire i più alti livelli al mondo di sicurezza in caso di collisione, anche nel 2025.
3. Design Concept unico per lo sviluppo di tutti i modelli, adattabili in futuro all'elettrificazione
• La nuova piattaforma offrirà un unico concetto di design unificato per tutti i modelli Subaru. Pianificare le principali specifiche di ogni tipo di veicolo in una sola volta ed in modo flessibile la regolazione di queste specifiche sono la base per abbinare le esigenze di diversi modelli che rafforzeranno l'intera gamma Subaru, pur consentendo alla società di sviluppare modelli che sfruttano i punti di forza di ogni modello.
• La nuova piattaforma permette il concept design per essere adattato non solo per i motori a benzina, ma anche per veicoli ibridi, ibridi plug-in, auto elettriche ed altri tipi di unità di energia alternative.
• Lo sviluppo sulla base di un unico concetto di design rende possibile l'uso limitato di personale per lo sviluppo in modo efficiente di una vasta gamma di modelli e di indirizzare i risparmi risultanti in aree che possono rendere Subaru prodotti più competitivi.
• Inoltre sarà possibile produrre componenti della piattaforma per più modelli nello stesso impianto di produzione, piuttosto che la produzione in stabilimenti diversi come è avvenuto in passato. Ciò consentirà di aumentare l'efficienza della produzione nelle fabbriche di Subaru e nelle aziende partner. Il nuovo concetto di design unificato renderà anche più facile il lavoro di due fabbriche Subaru in Giappone e la Subaru dell'Indiana, lo stabilimento automobilistico negli Stati Uniti per svolgere la produzione di più modelli diversi su una singola linea, rendendo il sistema di produzione globale della società più flessibile.
La Subaru Global Platform Subaru sarà utilizzata per lo sviluppo di tutti i veicoli Subaru da ora in poi, a cominciare con la nuova generazione di Impreza che verrà lanciata nel tardo 2016.
FHI rimane fedele alla sua filosofia di gestione – per diventare 'una società convincente con una forte presenza sul mercato', sulla base di una politica di "prima il cliente".
In English
FHI unveils the "Subaru Global Pratform"
Subaru's next-generation platform to achieve significant enhancement in overall vehicle performance
Fonte: FHI
Gran Bretagna. Fuji Heavy Industries Ltd. (FHI), the manufacturer of Subaru automobiles, has unveiled an overview of the Subaru Global Platform, which is currently under development as the architecture to be used for all the company's next-generation vehicles.
The Subaru Global Platform is part of the six initiatives to enhance the Subaru brand described in the company's mid-term management vision, 'Prominence 2020', announced in 2014. Together with the horizontally-opposed engines, Symmetrical All-Wheel Drive (AWD), and EyeSight that represent Subaru's core technologies, the new platform will constitute the basic foundation of the next generation of Subaru vehicles.
Marking the launch of the new concept, FHI President Yasuyuki Yoshinaga said:
"The Subaru Global Platform lifts Subaru's automotive technology to new heights, and marks the next step in the evolution of 'Enjoyment and Peace of Mind', the value that Subaru offers to its customers. This new platform represents the culmination of the know-how we have developed over many years, and we are confident that it will allow us to produce vehicles that live up to our proud traditions and meet the high expectations customers have of Subaru. We continue to work on designing ever-more attractive vehicles that offer the customer both enjoyment and peace of mind."
The next-generation platform looks ahead to 2025. The main features include:
1.         Emotionally engaging 'Dynamic feel' that goes beyond high performance
The new platform will make possible a new type of driving experience, appealing directly to the senses and offering unparalleled smoothness and comfort – all backed up by excellent performance and specifications. Specifically, the new platform will further refine Subaru's dynamic feel in the following areas:
Straight-line stability
The new platform dramatically increases rigidity throughout the body and chassis (a 70% to 100% increase over present models) and incorporates substantial improvements to the suspension system and achieves a lower centre of gravity, bringing about highly responsive steering that allows drivers to control the vehicle precisely as they want. The eradication of unnecessary movement in handling makes the car better grip the road surface, anticipating the need for enhanced straight-line stability in the autonomous vehicles of the future.
Noise and vibration suppression
Optimised frame structure and stronger joints between parts allow the new platform to improve overall torsional rigidity by 70% over present models. This distributes the resonance and distortion throughout the body, greatly reducing vibrations from the steering wheel, floor, and seats.
Comfort
The new platform increases the rigidity of the suspension mounting, improving the absorption of the suspension without warping the body of the car, and providing a smooth and comfortable drive whatever the irregularities in the road surface. By mounting the rear stabiliser directly to the body, the new platform reduces the body roll of the vehicle by 50% compared to present models.
2.         The world's highest levels of safety
Active safety
The new platform achieves a center of gravity that is 5 mm lower than present models. Together with the major improvements in rigidity and the evolution of the suspension system, this lower center of gravity makes possible a more stable driving experience than ever before, and offers outstanding danger avoidance capabilities on a level with a high-performance sports car.
Passive safety
Thanks to a frame structure that enables more efficient energy absorption in the event of collision, and enhanced body rigidity resulting from increased use of high-tensile steel plates (including materials formed by the hot press method), impact energy absorption is improved by 40% over present models. The platform anticipates further improvements in strength and new materials and has the potential to continue to offer the world's highest levels of collision safety even in 2025.
3.         Single Design Concept for development of all models, adaptable to electrification in the future
The new platform will offer a single unified design concept for all Subaru models. Planning the main specifications of all vehicle types at one time and flexibly adjusting these basic specifications to match with the requirements of different models will strengthen the entire Subaru lineup, while still allowing the company to develop models that take advantage of each model's strengths.
The new concept allows one design concept to be adapted not only to gasoline engines but also to hybrid vehicles, plug-in hybrids, electric cars, and other types of alternative power units.
Development based on a single design concept makes it possible to use limited development personnel and facilities efficiently to develop a diverse range of models and to direct the resulting savings into areas that can make Subaru products more competitive.
It will also become possible to produce platform components for multiple models in the same production facility, rather than manufacturing them in different factories as has been the case in the past. This will increase production efficiency at Subaru's factories and at partner companies. The new unified design concept will also make it easier for Subaru's two factories in Japan and the Subaru of Indiana Automotive plant in the United States to carry out production of multiple different models on a single line, making the company's global production system more flexible.
The Subaru Global Platform will be used in the development of all Subaru vehicles from now on, beginning with the next-generation Impreza, due later in 2016.
FHI remains true to its management philosophy – to become 'a compelling company with a strong market presence' on the basis of a 'customer-first' policy.
no images were found