L'avanzata HEV abbina design sofisticato e Premium Driving Experience con attenzione all'efficienza
• Nuovo propulsore con obiettivi di miglioramento del 10 per cento nel risparmio di carburante rispetto la precedente Optima Hybrid
• Il modello 2017 possiede forma aerodinamica e funzionalità del design elegante e moderno dell'Optima
• La berlina a benzina-elettrica usa in modo intelligente la tecnologia per offrire funzionalità complete di assistenza alla guida
Fonte: Kia Motors America
Chicago, Illinois. USA. 11 febbraio 2016. Kia Motors America (KMA) ha presentato la Kia Optima Hybrid 2017 (HEV) al Chicago Auto Show. L'Optima HEV gode la stessa riprogettazione completa – dentro e fuori – del modello alimentato a carburante convenzionale, la nuova berlina di quarta generazione, portando con sé un nuovo propulsore ibrido con l'obiettivo di un miglioramento del 10 per cento nel risparmio di carburante rispetto al precedente modello. L'HEV fonde lo stile moderno migliorato ed un'esperienza di guida con una messa a fuoco ancora più intensa sull'efficienza ed è stata introdotta nel sub brand ecologico Kia Motors EcoDynamics.
"Kia sta perseguendo una coraggiosa iniziativa per aumentare l'efficienza del carburante del 25 per cento in tutta la nostra gamma di modelli entro il 2020, ed i nuovi modelli come le Optima HEV e PHEV saranno determinanti per realizzare questo target", ha detto Orth Hedrick, vicepresidente, prodotto pianificazione, KMA. "L'impegno del marchio verso la sostenibilità, insieme con la nostra storia di fornire servizi e valori premium, non è mai stata più evidente che con tutti questi nuovi veicoli ibridi, che sono esempi di classe mondiale di ingegneria green, tecnologia avanzata e design."
Maggiore Performance Hybrid
Puntando ad un aumento del 10 per cento nel risparmio di carburante, l'Optima Hybrid sostituisce il motore da 2,4 litri della generazione precedente con un 2,0 litri GDI a quattro cilindri efficiente e compatto – da 154 CV – abbinato a un generatore ibrido di avviamento e legato a un aggiornato cambio a sei marce. Un motore elettrico da 38 kW e la frizione sostituiscono il tradizionale convertitore di coppia per fornire una forte accelerazione e servoassistenza al motore quando necessario. Il flusso di energia è veloce e senza soluzione di continuità tra la modalità EV e la modalità ibrida. La potenza totale combinata dell'Optima Hybrid è stimata in robusti 193 cavalli a 6.000 giri al minuto. Ad aggiungersi anche l'equazione c'è una nuova pompa elettrica e una nuova pompa dell'olio elettrica, che aiutano a migliorare il risparmio complessivo di carburante.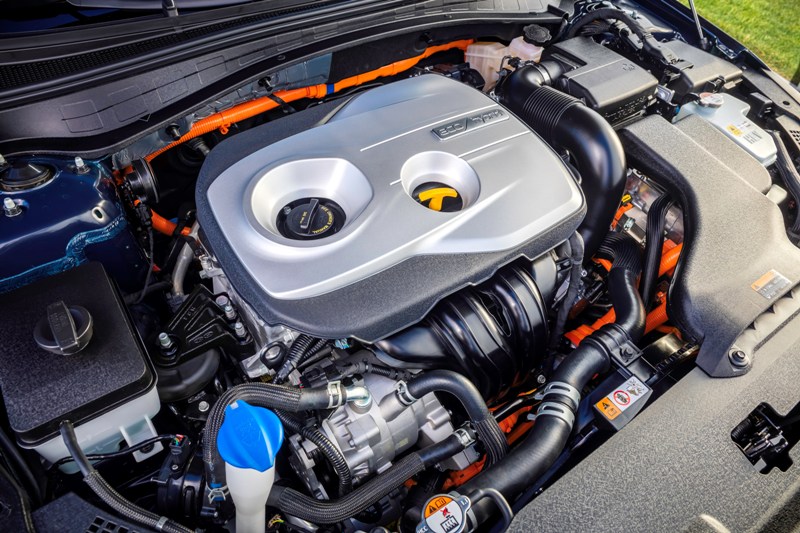 Ad alimentare il motore elettrico è un più compatto e leggero pacco batterie ai polimeri di litio ad alta densità, con un aumento del 13 per cento della capacità di 1,62 kWh. Con una migliore confezione, questa fonte di energia più potente ora si adatta perfettamente sotto il fondo del bagagliaio senza invadere lo spazio di carico. I risultati della configurazione della batteria si riflettono in un vano di carico più grande e più pratico e consente l'integrazione dei sedili posteriori divisi e ribaltabili 60/40.
Tutti i nuovi Eco-DAS1 (Driver Assistance System) presentano la prima applicazione di Kia della guida inerziale. Questa caratteristica si propone di massimizzare il risparmio di carburante allenando essenzialmente il conducente quando c' bisogno di azionare il freno tramite un'icona sul cruscotto che lampeggia per quattro secondi e con un avviso sonoro.
L'Optima Hybrid dispone di una carrozzeria costruita in modo univoco che combina varie leghe d'acciaio ad alta resistenza, creando un telaio più resistente e più rigido con una costruzione avanzata di oltre il 50 per cento di acciaio ad alta resistenza (AHSS). Inoltre, un aumento significativo dei componenti stampati a caldo ed un maggiore uso di adesivo strutturale migliora l'NVH e contribuisce alla rigidità strutturale. Questa nuova struttura della carrozzeria aiuta a fornire protezione contro gli urti e una migliore dinamica di guida ed è la base per una marcia più silenziosa e confortevole.
Forma aerodinamica e funzione
Anche se il nuovo Hybrid vanta lo stesso stile audace dalla ridisegnata Optima 2016, offre caratteristiche di design distintivo e gli elementi esterni che lo differenziano dai modelli alimentati a gas della gamma Optima, ma anche possiede un coefficiente di resistenza che è tra i più bassi il segmento a 0,24 Cd. Caratterizzato da una griglia attiva, che si apre e si chiude automaticamente a velocità alte e basse, la Hybrid è in grado di migliorare l'aerodinamica ottimizzando il raffreddamento del motore. Numerose altre differenze stilistiche includono una tenda specifica del modello per la presa d'aria anteriore, un paraurti posteriore smussato, un diffusore posteriore progettato per ottimizzare il flusso d'aria che avvolge la punta del tubo di scarico e un design ruote aerodinamiche in lega. Queste sono integrate da moderna illuminazione a LED, finiture satinate e speciali badging 'EcoHybrid'.
Tecnologia intelligente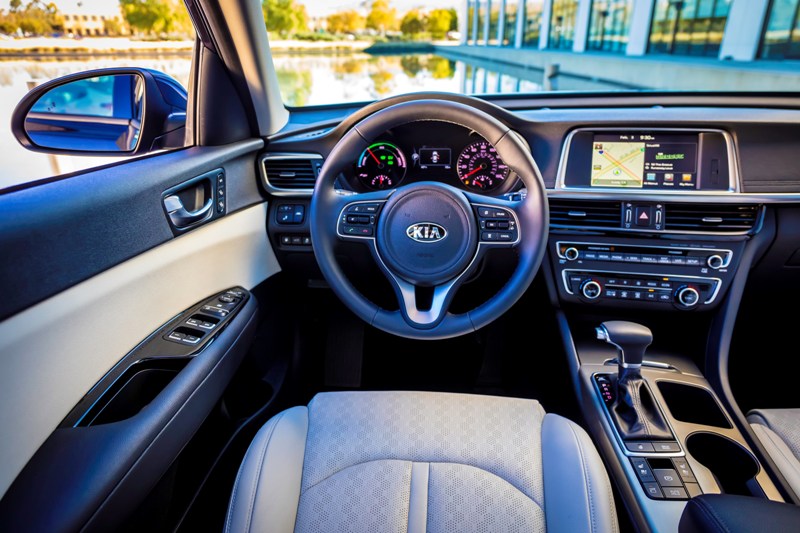 La nuova Optima Hybrid fa uso intelligente della tecnologia per fornire una serie di sistemi di assistenza alla guida e funzionalità complete di convenienza. L'HEV offre ora l'Autonomous Emergency Braking – sistema di arresto d'urgenza – (AEB)2, che, in condizioni adeguate, porterà il veicolo ad un arresto completo in grado potenzialmente di evitare una collisione o ridurre i danni. Altri sistemi di assistenza alla guida chiavi includono Blind Spot Detection (BSD), Advanced Smart Cruise Control (ASCC), Lane Departure Warning System (LDWS) e Warning System Front Collision (FCWS)2.
Per rendere la vita sulla strada più facile e più divertente, l'Optima Hybrid porta offerte di convenienza, come la funzione di apertura bagagliaio a mani libere con Smart Key, un caricatore del telefono senza fili e Surround View Monitoraggio (SVM) per aiutare le manovre di parcheggio.
Il sistema di connettività all'avanguardia di Kia con navigazione smartphone proiettato, UVO33, viene fornita di serie e si arricchisce con Android4 Auto e Apple5 CarPlay, che consentono ai conducenti di accedere a una serie di funzioni di base dal proprio smartphone. C'è anche un Sistema di navigazione AVN 4.0 aggiornato in combinazione con la Harman/Kardon QuantumLogic Premium Surround Sound Audio System6, che comprende 10 altoparlanti, tecnologia Clari-Fi e di un amplificatore digitale da 630 watt. Clari-Fi è una tecnologia brevettata di restauro musica che ricostruisce i segnali audio che si perdono nel processo di compressione digitale.
Cabina raffinata
L'abitacolo della Optima Hybrid è più grande ed il conducente e passeggeri si trovano più a loro agio con una cabina innovativa e funzionale, ben arredata con tocchi di classe superiore. Traendo ispirazione dalle berline premium di Kia, l'Optima Hybrid dispone di un proprio cruscotto, specifiche per ogni modello e utilizza più materiali soft-touch. Ossessivamente predisposto con una impressionante cura dei dettagli, l'interno presenta cuciture lungo il cruscotto e le porte.
Nel complesso, la cabina di guida orientata è stata semplificata con un design più unitario e più pulito rispetto alla generazione precedente. Un piano orizzontale maggiore e una più ampia consolle centrale creano un maggior senso di spazio. Raggruppando e riducendo il numero di tasti funzione e pulsanti, l'ergonomia già superiore di Kia è notevolmente migliorata.
Il team di design interno ha anche prestato particolare attenzione al comfort di seduta con un telaio del sedile più rigido che riduce le vibrazioni, così come un maggiore uso di schiuma morbida nel poggiatesta e nella parte superiore della schiena. Essendo più densa, la schiuma è più solidale nelle aree supporto coscia. Per maggiore comodità, i sedili anteriori riscaldati e ventilati sono disponibili con potenza regolabile dal conducente e sedili anteriori. La Kia Optima Hybrid 2017 offre anche un sedile passeggero anteriore regolabile in altezza, una caratteristica che normalmente si trovano solo in veicoli premium.
In English
All new Kia Optima Hybrid unveiled at 2016 Chicago Auto Show
Enhanced HEV Blends Sophisticated Design and Premium Driving Experience with Focus on Efficiency
New powertrain targets 10 percent improvement in fuel economy over outgoing Optima Hybrid
2017 model infuses aerodynamic form and function into Optima's sleek, modern design
Gas-electric sedan touts intelligent use of technology to deliver comprehensive driver-assistance features
Source: Kia Motors America
Chicago, Illinois. USA. February 11, 2016. Kia Motors America (KMA) today unveiled the 2017 Kia Optima Hybrid (HEV) at the Chicago Auto Show.  The Optima HEV enjoys the same full redesign – inside and out – as the conventional gas-powered model, the all-new fourth-generation Optima sedan, bringing with it a new hybrid powertrain that targets a 10 percent improvement in fuel economy over the outgoing model.  The enhanced HEV blends modern styling and a premium driving experience with an even more intense focus on efficiency and is being introduced under the Kia Motors EcoDynamics environmentally friendly sub-brand.
"Kia is pursuing a bold initiative to increase fuel efficiency by 25 percent across our entire model line-up by 2020, and new models like the Optima HEV and PHEV will be critical to realizing that vision," said Orth Hedrick, vice president, product planning, KMA. "The brand's commitment to sustainability, coupled with our history of delivering premium amenities and value, has never been more evident than in these all-new hybrid vehicles, which are world-class examples of green engineering, advanced technology and design."
Enhanced Hybrid Performance
Targeting a 10 percent increase in fuel economy, the Optima Hybrid replaces the previous generation's 2.4-liter engine with an efficient and compact 2.0-liter GDI four cylinder – estimated at 154 horsepower – coupled with a hybrid starter generator and tied to an upgraded, smooth-shifting six-speed transmission.  A 38 kW electric motor and clutch replaces the traditional torque converter to provide strong off-the-line acceleration and power assistance to the engine when necessary.  Energy flow is fast and seamless between EV mode and hybrid mode.  Total combined output for the Optima Hybrid is estimated at a robust 193 horsepower at 6,000 rpm.  Also adding to the equation is a new electric water pump and a new electric oil pump, which help improve overall fuel economy.
Giving life to the electric motor is a more compact, lightweight, high-density lithium-polymer battery pack with a 13-percent increase in capacity to 1.62 kWh.  With improved packaging, this more potent energy source now fits neatly underneath the trunk floor without encroaching into cargo space.  The revised battery configuration results in a larger, more practical load area and allows the integration of 60/40 split-folding rear seats.
All-new Eco-DAS1 (Driver Assistance System) features Kia's first application of Coasting Guide.  This feature aims at maximizing fuel economy by essentially coaching the driver on when to coast and brake via an icon in the Instrument Panel that blinks for four-seconds and sounds a one-time audible alert.
The Optima Hybrid features a uniquely engineered body that combines various high-tensile strength steel alloys, creating a stiffer, more durable chassis with more than 50 percent Advanced High Strength Steel (AHSS) construction.  In addition, a significant increase in hot-stamped components and greater use of structural adhesive improves NVH and contributes to structural rigidity.  This new body structure helps provide crash protection and better driving dynamics and is the foundation for a quieter ride.
Aerodynamic Form and Function
Although the new Hybrid boasts the same bold styling as the redesigned 2016 Optima, it offers distinctive design features and exterior elements that differentiate it from the gas-powered models in the Optima range, while also achieving a coefficient of drag that is among the lowest in the segment at 0.24 Cd.  Featuring an active grille, which automatically opens and closes at high and low speeds, the Hybrid is able to improve aerodynamics while optimizing engine bay cooling.  Numerous other styling differences include a model-specific front air curtain, a beveled rear bumper, a rear diffuser designed to streamline airflow by shrouding the exhaust tip, and an aerodynamic alloy-wheel design.  These are complemented by modern LED lighting, satin finish accent trim and special 'EcoHybrid' badging.
Intelligent Technology
The new Optima Hybrid makes intelligent use of technology to deliver a host of comprehensive driver assistance systems and convenience features.  The HEV now offers Autonomous Emergency Braking (AEB)2, which, under appropriate conditions, will bring the vehicle to a complete stop to potentially avoid a collision or reduce damage.  Other key driver assistance systems include Blind Spot Detection (BSD), Advanced Smart Cruise Control (ASCC), Lane Departure Warning System (LDWS) and Front Collision Warning System (FCWS)2.
To make life on the road easier and more enjoyable, the Optima Hybrid brings convenience offerings such as the Hands-free Trunk Open feature with Smart Key, a Wireless Phone Charger and Surround View Monitoring (SVM) to aid parking maneuvers.
Kia's cutting-edge connectivity system with smartphone-projected navigation, UVO33, comes standard with UVO telematics, and is enhanced with Android4 Auto™ and Apple5 CarPlay®, which allow drivers to access a suite of core functions from their smartphones.  There's also an upgraded AVN 4.0 Navigation system combined with the Harman/Kardon QuantumLogic™ Premium Surround Sound Audio System6, which includes 10 speakers, Clari-Fi™7 technology and a 630-watt digital amplifier.  Clari-Fi is a patented music restoration technology that rebuilds audio signals that are lost in the digital compression process.
Refined Cabin
The Optima Hybrid's passenger compartment is larger and more comfortable with an innovative and functional cabin that is well-appointed with class-up touches.  Drawing inspiration from Kia's premium sedans, the Optima Hybrid features its own model-specific instrument panel gauges and utilizes more soft-touch materials throughout.  Obsessively crafted with an impressive attention to detail, the interior features real stitching along the dash and doors.
Overall, the driver-oriented cabin has been simplified with a cleaner, more unified design than the previous generation.  A stronger horizontal plane and a wider center console help create a greater sense of space.  By grouping and reducing the number of functional keys and buttons, Kia's already-superior ergonomics are markedly improved.
The interior design team also paid particular attention to seat comfort with a stiffer seat frame that reduces vibration, as well as greater use of soft foam in the headrest and upper back, and denser, more supportive foam in thigh-support areas.  For extra convenience, heated and ventilated front seats are available with power adjustable driver and front passenger seats.  The 2017 Optima Hybrid also offers a height-adjustable front passenger seat, a feature normally found only in premium vehicles.
no images were found

.