Fonte: BYD
Nottingham, Gran Bretagna. 16 Dicembre 2016. Il Nottingham City Council (NCC) nel Regno Unito, ha inaugurato oggi la sua flotta di 13 ebus elettrici BYD da 12m, insieme alle rispettive attrezzature di ricarica.
L'acquisto dei bus è stato facilitato da una sovvenzione di £ 1,4 milioni dal Fondo DfT Green Bus. I restanti fondi di £ 2,1 m sono stati raccolti attraverso il NCC Workplace Parking Levy.
Questo si basa sul progetto della flotta di 45 bus elettrici esistenti e dell'espansione all'interno della città di Nottingham.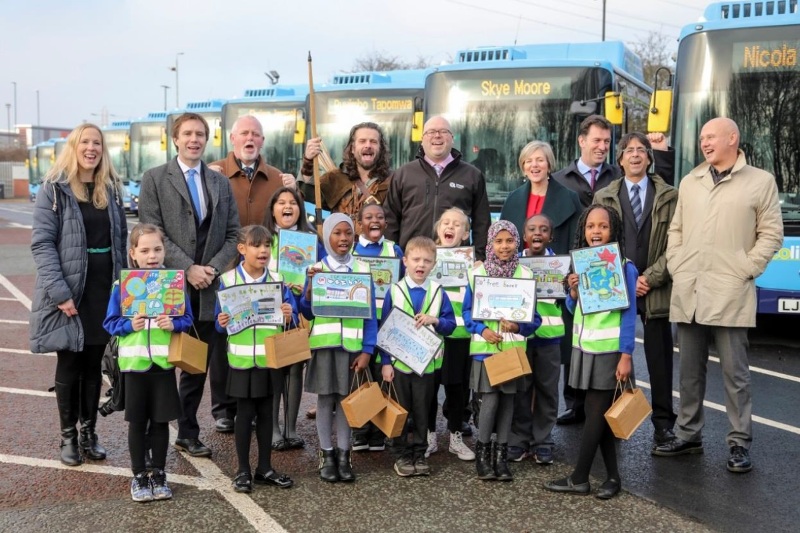 NCC sta lavorando in collaborazione con la Greater Nottingham per incoraggiare tutti i modi di trasporto -buses, taxi, tram, biciclette e automobili – per spostarsi su una piattaforma elettrica sostenibile, con più potenza generata a livello locale attraverso i pannelli fotovoltaici e l'impianto di incenerimento dei rifiuti.
Nel contratto di acquisto a più milioni di sterline, BYD sta fornendo una garanzia di cinque anni sui suoi collaudati componenti del powertrain basati sulla rinomata tecnologia della batteria al ferro-fosfato della società.
BYD è il più grande produttore di autobus elettrici puri nel mondo ed il suo ebus da 12m è stato sperimentato in più di 50 grandi città europee. Gli operatori hanno sperimentato notevoli vantaggi sui costi operativi grazie al prezzo inferiore dell'energia elettrica rispetto al gasolio.
L'importanza dell'ordine di NCC per BYD è che è il primo nel Regno Unito fuori Londra (dove BYD ha fornito la più grande flotta di autobus elettrici dell'Europa al Go-Ahead Group per conto di Transport for London).
Gli autobus del Nottingham City Council hanno un pacchetto di servizi di supporto che include la formazione degli autisti e dei tecnici di manutenzione.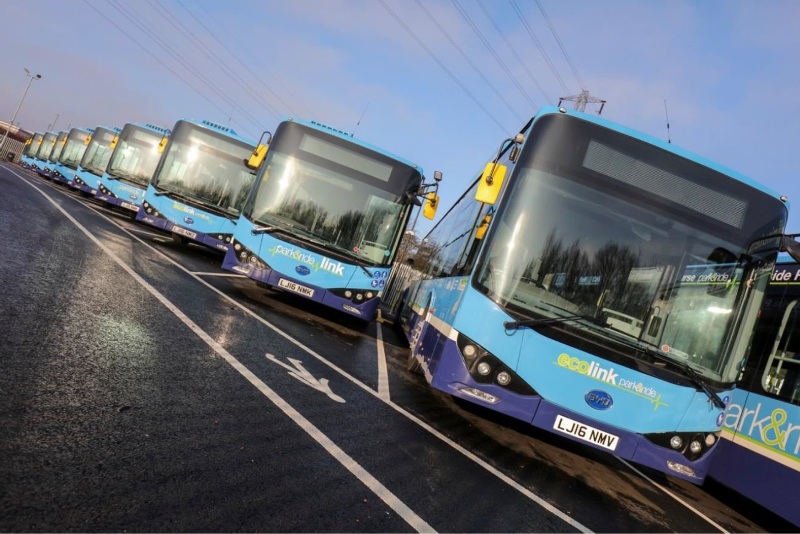 Nick McDonald, Assessore al portafoglio per le imprese, la crescita ed i trasporti a Nottingham City Council, ha dichiarato:
"Questi nuovi autobus sono una gradita aggiunta ai nostri servizi di bus, assicurano che i residenti locali siano dotati di mezzi pubblici per accedere ai collegamenti vitali per le cure mediche ed il lavoro. Uno degli obiettivi chiave per questo progetto è stato quello di ridurre i costi di gestione in modo che i servizi agevolati come LinkBus possono essere mantenuti in tempi di gravi restrizioni di bilancio, che abbiamo finora raggiunti".

L'Assessore McDonald ha aggiunto: "Nottingham è orgogliosa di essere nominata come una delle città designate da Go Ultra Low Città come una delle cinque città del Regno Unito con acommitment di introdurre una zona di aria pulita con gli standard di ingresso di emissioni Euro 6 per gli autobus entro il 2020.

Non è stato facile essere i primi ad adottare questa tecnologia all'avanguardia, ma la collaborazione ha ormai raggiunto una rete affidabile di bus elettrici. Si spera che gli altri operatori di autobus e gli imprenditori all'interno di Nottingham si avvarranno di questa rete di ricarica e competenze locali".
La consegna dei bus è avvenuta durante una cerimonia a Nottingham. Frank Thorpe, BYD UK Country Manager, ha dichiarato:
"Vincere questo ordine da Nottingham, che ha una delle più grandi flotte di autobus elettrici nel Regno Unito, è di enorme importanza per BYD. NCC ha selezionato nostri ebuses dopo un programma di valutazione globale che coinvolge una serie di concorrenti che dimostrano la forza delle nostre technologie. Non è una sorpresa che le altre grandi città di provincia del Regno Unito – come Liverpool – stanno già seguendo l'esempio di Nottingham".
In English
Nottingham launches BYD electric bus fleet
Source: BYD
Nottingham , UK. December 16, 2016. Nottingham City Council (NCC) in the UK today inaugurated its fleet of 13 BYD advanced pure electric 12m ebuses, along with associated charging equipment.
The bus purchase has been facilitated by a £1.4m grant from the DfT Green Bus Fund. The remaining funds of £2.1m have been raised via the NCC Workplace Parking Levy.  This builds on the existing fleet of 45 electric buses and expanding tram project within the city of Nottingham. NCC is working in partnership across Greater Nottingham to encourage all modes of transport -buses, taxis, trams, bikes and cars -to move onto a sustainable electric platform, with more power generated locally via waste incineration and PV panels.
In the multi million pound purchase contract, BYD is providing a five-year warranty on its proven power train components based on the company's renowned Iron-Phosphate battery technology.  BYD is the biggest producer of pure electric buses in the world and its 12m ebus has been trialled in more than 50 major European cities. Operators have experienced considerable operating cost benefits thanks to the lower price of electricity versus diesel.
The significance of the NCC order for BYD is that it is its first in the UK outside London (it has supplied Europe's largest electric bus fleet to Go-Ahead Group on behalf of Transport for London).
The buses for Nottingham City Council have a comprehensive service support package which includes training for drivers and maintenance engineers.
Councillor Nick McDonald Portfolio Holder for Business, Growth and Transport at Nottingham City Council, said
"These new buses are a welcome addition to our Link bus services, which ensure that local residents are provided with public transport to access vital medical and work links. One of the key objectives to this project was to drive down running costs so that subsidised services like Linkbus can be retained at times of severe budget restraints, which we have so far achieved".

Councillor McDonald added: "Nottingham is proud to be named a designated a Go Ultra Low City plus it is one of five UK cities with acommitment to introduce a Clean Air Zone with Euro 6 emission entry standards for buses by 2020. It hasn't been easy being an early adopter of such cutting-edge technology, but the partnership has now achieved a reliable electric bus network. It is hoped that other bus operators and contractors within Nottingham will make use of this charging network and local expertise".
Handing over the buses at a ceremony in Nottingham today Frank Thorpe, BYD's UK Country Manager, said:
"Winning this order from Nottingham, which has one of the largest fleets of electric buses in the UK, is of huge significance to BYD. NCC selected our ebuses after a comprehensive evaluation programme involving a variety of competitors demonstrating the strength of our proven technology.Its no surprise that other major UK provincial cities –such as Liverpool–are already following Nottingham's lead".
Photo:
BYDElectric buses line up for delivery ceremony
Ten pupils from Welbeck primary school – who won a poster competition with designs showing the environmental benefits of Nottingham's electric buses – each had one of the new buses named after them.
no images were found

.