Nissan, Eaton e The Mobility House: accordo decennale per l'alimentazione dello Stadio Amsterdam ArenA con batterie di veicoli elettrici
· Nissan, Eaton e The Mobility House hanno sviluppato un sistema di stoccaggio per rendere la gestione energetica dello Stadio Amsterdam ArenA più efficiente, sostenibile e affidabile
· Il sistema utilizza gli inverter bidirezionali Eaton e l'equivalente di 280 batterie di Nissan LEAF che garantirà l'alimentazione di emergenza durante lo svolgimento di importanti eventi e migliorerà la stabilizzazione della rete per il mercato energetico locale
· Di portata industriale, affidabile e potente, il nuovo sistema offre una soluzione di alimentazione intelligente alle organizzazioni a elevato consumo energetico
Fonte: Nissan Motor Co.
Barcellona, Spagna. 30 novembre 2016. Nissan, Eaton, azienda leader nella gestione dell'energia, e The Mobility House hanno annunciato la firma di un pionieristico accordo decennale con l'Amsterdam ArenA, lo stadio olandese sede di concerti oltre che delle partite in casa del club calcistico Ajax, per la fornitura di un sistema di alimentazione di emergenza basato sulle batterie di "seconda vita" provenienti da Nissan LEAF.
Il sistema xStorage Buildings garantirà la continuità di illuminazione del celebre stadio da 55.000 posti, dove da anni si alternano importanti eventi musicali e sportivi.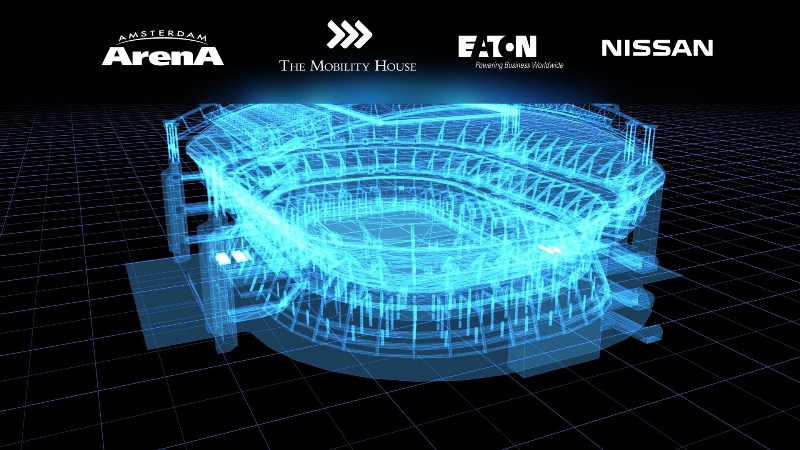 Destinando a nuovo scopo le batterie precedentemente utilizzate sui veicoli elettrici, il sistema xStorage Buildings attinge energia sia dal sole che dalla rete elettrica per offrire a consumatori e aziende maggiore controllo, convenienza e sostenibilità sul fronte del consumo energetico.
Costituita da 280 batterie provenienti da Nissan LEAF, la soluzione progettata per l'Amsterdam ArenA è il più grande sistema di stoccaggio di energia alimentato da batterie di seconda vita e utilizzato in ambito commerciale in Europa, con 4 Megawatt di potenza e 4 Megawatt di capacità di stoccaggio.
Oltre ad assicurare l'alimentazione di emergenza dello stadio, xStorage Buildings consente al mercato energetico olandese di alimentare le aree circostanti e di rendere più stabile la rete. The Mobility House, società specializzata in tecnologia, si occuperà dell'integrazione del sistema xStorage Buildings nello Stadio Amsterdam ArenA.
L'introduzione del servizio xStorage Buildings sta avvenendo contestualmente all'inizio della prevendita della soluzione residenziale xStorage Home, annunciata lo scorso maggio e ordinabile a partire da oggi nel Regno Unito, in Norvegia e in Germania e nei prossimi mesi in altri mercati europei.
Paul Willcox, Presidente di Nissan in Europa, ha dichiarato:
"Nissan è nota a tutti per l'innovazione e la qualità, in particolare nel settore dei veicoli elettrici, e oggi siamo orgogliosi di rendere disponibili soluzioni in grado di trasformare la gestione energetica anche delle organizzazioni commerciali.

"La soluzione appena presentata è un'anteprima mondiale assoluta e ha il potenziale per rivoluzionare il settore dell'energia. Dall'annuncio del lancio di xStorage, avvenuto lo scorso maggio, abbiamo visto crescere l'interesse sia da parte dei consumatori che delle aziende, e oggi siamo lieti di annunciare che l'Amsterdam ArenA è il nostro primo partner commerciale.

"Il sistema xStorage Buildings garantisce non soltanto l'indispensabile alimentazione di emergenza dello stadio, ma anche la stabilizzazione della rete nazionale dei Paesi Bassi nei momenti di elevata domanda energetica.

"E questa rappresenta la prima di una lunga serie di partnership che verranno annunciate da Nissan in questo mercato in così rapido sviluppo."
Henk Markerink, CEO dello Stadio Amsterdam ArenA ha dichiarato:
"Avremo un enorme vantaggio in sostenibilità. Presto saremo in grado di stoccare energia generata dal sole e dal vento e di utilizzarla all'occorrenza. Una innovazione straordinaria: l'Amsterdam ArenA sarà il primo stadio al mondo a non utilizzare più alimentazione da carbon fossile".
Frank Campbell, Presidente Eaton EMEA, Electrical and Corporate ha commentato:
"Siamo molto orgogliosi dell'accordo tra Amsterdam ArenA, Eaton, Nissan e The Mobility House che sono leader nell'implementazione di soluzioni di stoccaggio energetico in ambienti ad elevato consumo e nella trasformazione degli stadi in realtà maggiormente efficienti a livello energetico".

Campbell ha aggiunto: "La soluzione di stoccaggio commerciale xStorage Buildings che verrà installato presso lo Stadio Amsterdam ArenA è uno dei prodotti della vasta gamma di sistemi di stoccaggio che consentono a tutti gli attori della catena energetica, dai privati alle aziende e ai distributori, di beneficiare dei numerosi vantaggi in termini di maggiore sicurezza, affidabilità e sostenibilità. Un ulteriore esempio della nostra vasta gamma di prodotti è rappresentato dalla soluzione di stoccaggio residenziale xStorage Home, in prevendita da oggi, che permette ai privati di scegliere come e quando utilizzare l'energia domestica, con la possibilità di contribuire alla stabilizzazione della rete nazionale o locale.
Thomas Raffeiner, CEO e Fondatore, The Mobility House ha dichiarato:
"Tramite la nostra tecnologia garantiamo un valore economico alla seconda vita delle batterie dei veicoli elettrici e rendiamo lo Stadio Amsterdam ArenA più efficiente, sostenibile e affidabile".
no images were found

.