Nissan chiude la prima metà del 2015 come il marchio asiatico più venduto in Europa
384.726 veicoli venduti nel primo semestre del 2015, in crescita del 4,3% rispetto all'anno precedente
Questo successo è il risultato della gamma più forte e completa nella storia di Nissan
Fonte: Nissan Italia
Rolle, Svizzera. 15 luglio 2015. Nissan ha annunciato oggi vendite record nei primi sei mesi del 2015, diventando così il primo marchio asiatico in Europa. Un totale di 384.726 unità sono state vendute nei primi 6 mesi del 2015, con un incremento del 4,3% rispetto all'anno precedente.
Le nuove immatricolazioni sono aumentate nella prima metà del 2015 nei mercati più importanti, tra cui il Regno Unito (+34%), Italia (+23%), Spagna (+18%) e Germania (+11%)* con dati in crescita rispetto ai principali concorrenti di Nissan. Spinta dall'incremento costante dei volumi di vendita di Nissan Qashqai e della vettura 100% elettrica LEAF, la quota di mercato di Nissan in Europa è ora pari al 4,2%.
Questo successo segue un anno, il 2014, da record, in cui Nissan Europa ha registrato il più alto volume e quota di mercato della sua storia, con un fatturato in aumento per cinque anni consecutivi. La crescita di Nissan sembra destinata a continuare nel 2015. Solo in questo mese, lo stabilimento Nissan di San Pietroburgo, dove viene prodotto il nuovo X-Trail, ha celebrato la produzione del suo 200.000° veicolo, diventando così l'impianto di produzione in più rapida crescita in Russia.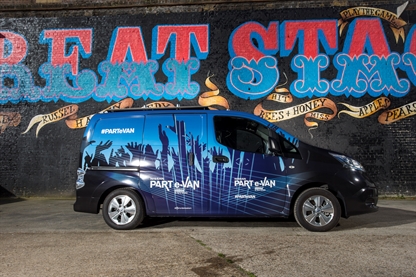 Il Senior Vice President Sales and Marketing di Nissan Europa, Guillaume Cartier, ha commentato:
"Quello che stiamo realizzando con il nostro marchio, i nostri prodotti e la nostra promessa di servizio ai clienti sta chiaramente funzionando. Siamo felici che i nostri clienti continuino a riporre la loro fiducia in Nissan, tanto da farci diventare il marchio asiatico più venduto in Europa. Noi continueremo a impegnarci a fondo per offrire più scelta, più valore e più prodotti innovativi ed entusiasmanti".

"Questi risultati sono davvero la prova del nostro impegno per la qualità e le prestazioni: ad oggi siamo i primi ad aver reso alla portata di tutti le più recenti tecnologie. Quest'anno siamo orgogliosi di celebrare il 5° compleanno della Nissan LEAF. Con 184.000 unità vendute e oltre il 93% di tasso di soddisfazione dei clienti, LEAF rimane l'auto elettrica più venduta. Non avremmo raggiunto questo straordinario successo senza il contributo dei nostri dipendenti, clienti, concessionari, partner e fornitori: è davvero un momento storico per tutte le persone collegate a Nissan", ha aggiunto.
Nissan Qashqai continua a battere ogni record con 2,5 milioni di unità vendute. Anche il Regno Unito, centro di produzione europea del pluripremiato crossover, ha avuto un anno di successo con 88.000 veicoli venduti nei primi sei mesi – permettendo così a Nissan di raggiungere la quota più alta di mercato per le autovetture nella storia del brand. Questo dato si rispecchia anche in Francia, dove Nissan ha registrato la sua migliore quota di mercato, con il 3,7% per i primi sei mesi del 2015.
Nissan investe significativamente in ricerca e sviluppo ed è riconosciuta per il suo design audace, la grande qualità e la tecnologia accessibile a tutti, rafforzando cosi i valori di "innovation and excitement for everyone".
Questo investimento è confermato dalla nostra leadership nel settore crossover con il lancio di X-Trail e Juke .
* Dati di immatricolazioni da fonti ufficiali nazionali.
Periodo e numero di unità Nissan vendute
2014  Gen.-Giu. – 368.314
2015  Gen.-Giu. – 384.726
no images were found