Fonte: Formula E
Donington Park, Gran Bretagna. 10 Agosto 2015. Nick Heidfeld ha firmato con Mahindra per correre a fianco di Bruno Senna nella stagione 2015-2016 di Formula E. Heidfeld guiderà l'auto di seconda generazione della Mahindra Racing, l'M2Electro nella prossima stagione della serie di corse completamente elettrica.
Heidfeld ha dichiarato:
"Sono molto entusiasta di entrare nel Mahindra Racing nella seconda stagione di Formula E. Ci sono grandi ambizioni di Mahindra con gli insegnamenti tratti della prima stagione e le azioni intraprese per il secondo anno. Quando ho provato l'M2Electro in Spagna, ho trovato una squadra determinata che condivide la mia passione per le corse. Il mio obiettivo è quello di vincere e credo che la nostra esperienza combinata e l'abilità ci permetteranno di massimizzare le nostre possibilità".
Mahindra Racing entra nella seconda stagione di Formula E come uno degli otto produttori che svilupperanno il proprio propulsore elettrico per alimentare il suo quartetto di vetture.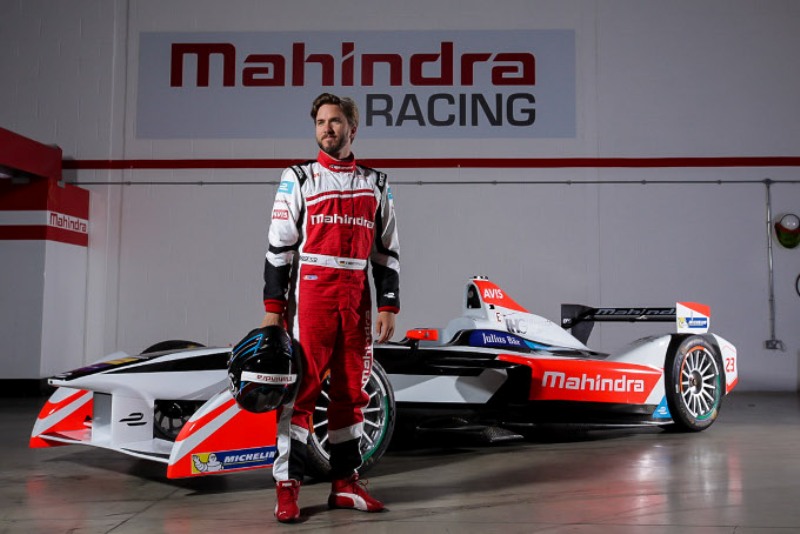 Anand Mahindra, Presidente e Amministratore Delegato del Gruppo Mahindra ha detto:
"La nomina di Nick segna una nuova pietra miliare nel cammino del team Mahindra Racing. Quest'anno, corriamo non solo con il marchio Mahindra ma propulsati da un motore sviluppato da Mahindra. Questo è un momento significativo in quello che sta dimostrando di essere una vetrina mondiale per la tecnologia dei veicoli elettrici e non vedo l'ora di vedere Nick prendere il volante della M2Electro a Pechino".
Dilbagh Gill, team principal di Mahindra Racing Team di Formula E, ha dichiarato:
"Sono molto orgoglioso di dare il benvenuto a Nick alla famiglia Mahindra Racing. Egli porta una ricchezza di esperienza alla squadra e siamo rimasti colpiti con le sue performance nella stagione inaugurale di Formula E. Nick è stato anche parte integrante dei test della M2Electro con il nostro team. Mahindra Racing punta a migliori risultati in questa stagione e con oltre 2000 km di test pre-campionato effettuati con successo, siamo fiduciosi di dare a Nick la macchina per concretizzare i risultati. Siamo stati particolarmente colpiti da quanto velocemente si è messo al passo con gli aspetti tecnici della vettura, così come i guadagni che abbiamo fatto con la sua raffinatezza da quando si è unito a noi".
Heidfeld piloterà la M2 Electro nei test pre stagionali di Formula E che iniziano oggi  per la stagione 2015-2016 al fianco di Bruno Senna.
Dilbagh Gill ha detto:
"Abbiamo imparato molto nella nostra prima stagione grazie all'importante parte avuta dalla nostra coppia di piloti di alta classe. Bruno e Karun sono stati una forza molto positiva nella squadra per tutto l'anno. Bruno continuerà con il nostro team e ringraziamo Karun per la parte che ha giocato nella creazione del gruppo. Rimane con affetto un membro della famiglia estesa di Mahindra".
In English
Nick Heidfeld joins Senna at Mahindra Racing
Source: Formula E
Donington Park, United Kingdom. August 10th, 2015. Nick Heidfeld will join Mahindra Racing alongside Bruno Senna for the 2015-2016 Formula E season. Heidfeld will drive Mahindra Racing's second generation car, the M2Electro for the coming season of the all-electric racing series.
Heidfeld said:
"I am very excited to join Mahindra Racing for the second Formula E season. Mahindra's high ambitions are aligned with lessons learned from season one and actions taken for year two. When I tested the M2Electro in Spain, I found a determined team that shares my racing passion. My target is to win and I believe our combined experience and skills will ensure we maximise our chances."
Mahindra Racing enters the second ever Formula E season as one of eight manufacturers developing its own electric powertrain to power its quartet of cars.
Anand Mahindra, chairman and managing director of the Mahindra Group said:
"Nick's appointment marks a new milestone in the journey of the Mahindra Racing team. This year, we race not only under the Mahindra brand but in a Mahindra developed and powered car. This is a significant moment in what is proving to be a global showcase for electric vehicle technology and I look forward to seeing Nick take the wheel of the M2Electro in Beijing."
Dilbagh Gill, team principal of Mahindra Racing Formula E team, said:
"I am very proud to welcome Nick to the Mahindra Racing family. He brings a wealth of experience to the team and we were impressed with his performances in the inaugural Formula E season. Nick has also been an integral part of testing the M2Electro with our team. Mahindra Racing is targeting top results this season and with over 2,000 km of pre-season testing successfully completed, we are confident we are giving Nick the car to do it. We have been particularly impressed with how quickly he has got up to speed with the technical aspects of the car, as well as the gains we have made in its refinement since he joined us."
Heidfeld will pilot the M2 Electro at the 2015-2016 Formula E pre-season tests which begin today alongside Bruno Senna.
Dilbagh Gill said:
"We learned a lot in our first season and that is in no small part due to our top class driver pairing. Bruno and Karun have been a very positive force in the team throughout the year. Bruno will continue with our team and we thank Karun for the part he played in setting up the team. He fondly remains a member of the extended Mahindra family".
Photo courtesy of Shivrajsinh Gohil / Current E
no images were found