Efficiente e rispettoso dell'ambiente: Fuso Canter 7C15 Eco Hybrid impressiona lo specialista inglese della logistica su tutti i fronti
• New Horizon Logistics nel Regno Unito opera con il primo Fuso Canter Eco Hybrid con risultati complessivamente positivi
• Risparmio di carburante di fino al 50 per cento per 100 chilometri
• Aumento della capacità di trasporto con costi operativi ridotti
Fonte: Fuso
Stoccarda, Germania e Warwick, Gran Bretagna. 5 Dicembre 2016. Lo specialista di logistica New Horizon Logistics Ltd di Warwick nel Regno Unito, attribuisce grande importanza alla cordialità ed efficienza ambientale: per il suo nuovo camion da 7,5 tonnellate ha pertanto optato per un ibrido Fuso Canter 7C15 Eco, un veicolo che rispetta fortemente entrambi queste premesse.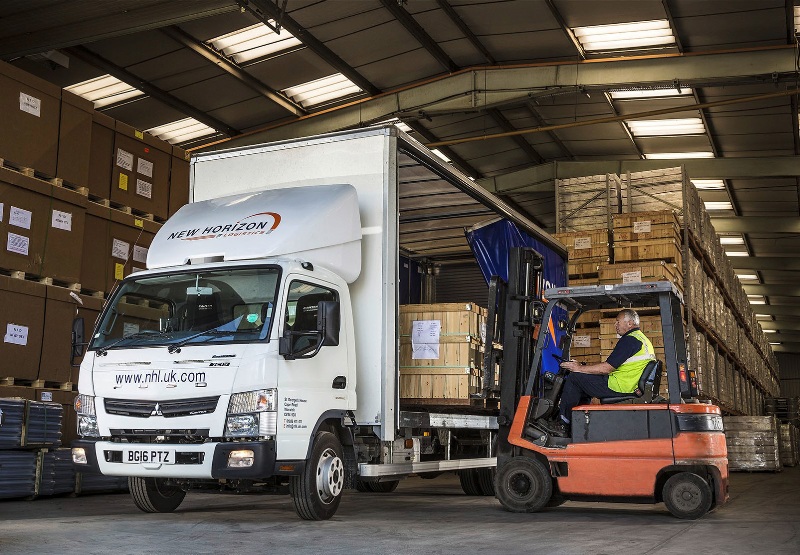 Grazie alla rivoluzionaria tecnologia di azionamento diesel-elettrica, New Horizon Logistics ha misurato il consumo di carburante del veicolo in circa 11,8 l di gasolio ogni 100 km in modalità di guida automatica, e un massimo di 15,7 l in modalità di guida manuale. Ciò corrisponde a un risparmio di fino al 50 per cento rispetto agli altri veicoli da 7,5 tonnellate con motore diesel convenzionale che lo specialista della logistica del Regno Unito dispiega come parte della sua flotta, e che in media consumano 23,5 l di gasolio.
L'ibrido Fuso Canter 7C15 Eco ha anche stabilito nuovi standard economici in altri aspetti della struttura New Horizon Logistics. Oltre ai costi di carburante ridotti, l'elevato carico utile del veicolo ibrido contribuisce in particolare ad un aumento significativo della produttività: fino a 3,3 t di merci possono essere trasportate nel camion ibrido – questo significa 0,8 t in più degli altri camion da 7,5 tonnellate della flotta della compagnia.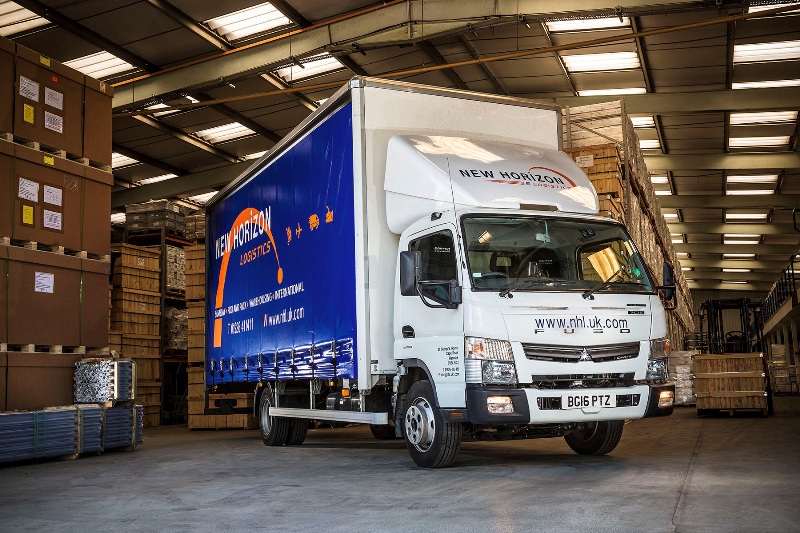 Il nuovo camion ibrido è dotato di una carrozzeria dallo specialista inglese JC Payne e viene utilizzato tra le altre funzioni per la distribuzione a breve distanza nelle aree residenziali e le scuole.
Il sistema di azionamento del camion ibrido comprende un motore diesel tre litri con una potenza di 110 kW (150 CV) e un motore sincrono a trifase, che genera 40 kW (54 CV) e supporta il motore a combustione con recupero di energia.
La capacità di immagazzinare energia è curata da una batteria agli ioni di litio, per la quale Fuso fornisce una garanzia di 10 anni, garanzia a chilometraggio illimitato.
Il veicolo accelera utilizzando solo il motore elettrico fino a raggiungere una velocità di circa 10 km/h. Il motore diesel gira in folle e agisce alla velocità di 10 km/h. A seconda della potenza richiesta, il motore elettrico supporta anche il motore diesel a regimi più elevati.
La funzione standard start/stop ed il cambio manuale Duonic 2.0 automatizzato a doppia frizione inoltre contribuiscono a ridurre il consumo di carburante – e quindi le emissioni di CO2.
In English
New Horizon Logistics operative with Fuso Canter Eco Hybrid
Efficient and environmentally friendly: Fuso Canter 7C15 Eco Hybrid impresses UK logistics specialist on all count
New Horizon Logistics in the UK deploys first Fuso Canter Eco Hybrid with positive overall results
Fuel savings of up to 50 percent per 100 kilometres
Increased transport capacity with reduced operating costs
Source: Fuso
Stuttgart, Germany and Warwick, YK. 5th December 2016. Logistics specialist New Horizon Logistics Ltd from Warwick in the UK attaches great importance to environmental friendliness and efficiency: For its new 7.5 tonne truck it therefore opted for a Fuso Canter 7C15 Eco Hybrid, a vehicle which scores highly in both of these disciplines. Thanks to the groundbreaking diesel-electric drive technology, New Horizon Logistics has measured the vehicle's fuel consumption at around 11.8 l of diesel per 100 km in automatic driving mode, and a maximum of 15.7 l in manual driving mode. This corresponds to a saving of up to 50 percent compared with the other 7.5 tonne vehicles with conventional diesel drive which the UK logistics specialist deploys as part of its fleet, and which on average consume 23.5 l of diesel.
The Fuso Canter 7C15 Eco Hybrid has also set new economic standards in other respects at New Horizon Logistics. In addition to reduced fuel costs, the high payload of the hybrid truck in particular contributes to a significant increase in productivity: up to 3.3 t of freight can be transported in the hybrid truck – this is 0.8 t more than the other 7.5 tonne trucks in the company's fleet.
The new hybrid truck is fitted with a curtainside body from UK body specialist JC Payne and is used among other duties for short-radius distribution to residential areas and schools.
The hybrid truck's drive system comprises a three-litre diesel engine with an output of 110 kW (150 hp) and a three-phase synchronous motor, which generates 40 kW (54 hp) and supports the combustion engine with energy recuperation. Energy storage is taken care of by a lithium-ion battery, for which Fuso provides a 10 year, unlimited mileage warranty. The vehicle accelerates and drives using electric power alone until reaching a speed of around 10 km/h. The diesel engine runs in neutral and switches in above 10 km/h. Depending on the power demand, the electric motor also supports the diesel engine at higher engine speeds. The standard-fit start/stop function and the Duonic 2.0 automated dual-clutch manual transmission additionally help to reduce fuel consumption – and thus CO2 emissions.
no images were found

.