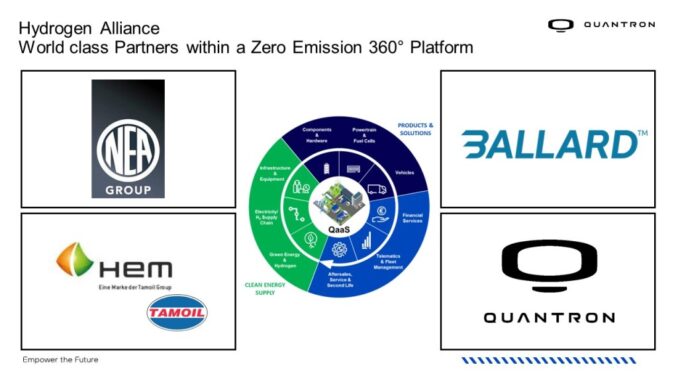 Neuman & Esser and Ballard invest in Quantron and establish a Hydrogen Alliance from fuel cells and H2 infrastructure through to an H2 refuelling for a 360° H2 Ecosystem.
Following the seed round in March 2021, Quantron AG successfully closes its A- financing round totaling up to 50 million euros to further develop its business model.
Investors in the A round include German machinery and equipment manufacturer Neuman & Esser and Canadian fuel cell technology group Ballard Power Systems.
The Vision is to create an open H2 Alliance open to other manufacturers of fuel cell powered trucks and buses.
With a company valuation of 250 million euros, Neuman & Esser acquires a minority stake and secures an option for further investment. Through this, the machine and plant manufacturer underscores its commitment to this strategic partnership. Ballard Power is also acquiring a minority stake in the single-digit million range and is additionally entering into a development cooperation with Quantron for the accelerated market launch of fuel cell vehicles with up to 4 vehicles over the next 12 months.
Quantron AG is a specialist for battery- and hydrogen-electric commercial vehicles. With Quantron-as-a-Service (QaaS), it offers a 360-degree OEM-open ecosystem for its customers. The financing round serves to accelerate the development of further BEVs and FCEVs with a focus on Heavy Duty Trucks and to further expand the QaaS ecosystem together with QUANTRON's partner network. In the future, the Hydrogen Alliance will provide customers with a 360-degree open platform that, in addition to zero-emission H2 vehicles, will also include the associated infrastructure ranging from H2 generation through to refueling.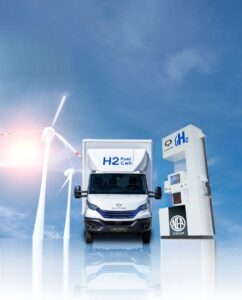 Neuman & Esser focuses on hydrogen-related products and services to support customers in the decarbonisation of their energy or industrial systems and decentralised applications. A significant part of the product portfolio focuses on the generation and use of climate-neutral hydrogen. The globally operating group of companies contributes to the Hydrogen Alliance by providing the necessary infrastructure, in particular electrolysers and reformer technologies as well as piston and membrane compressors for transport and storage through to complete hydrogen filling stations and filling plants. With its comprehensive portfolio, Neuman & Esser facilitates sector coupling as an important prerequisite for the transformation of the fossil fuel-based oil & gas sector into a sustainable economy with climate-neutral hydrogen.
The world's leading fuel cell experts at Ballard Power Systems have acquired a minority stake in Quantron AG as part of a financing round to accelerate the introduction of fuel cell vehicles in Europe and the United States. Ballard's investment is intended to support the development of fuel cell vehicle platforms under a Joint Development Agreement ("JDA"). Ballard will be Quantron's exclusive fuel cell supplier for these truck platforms.
As a key partner of the alliance, Deutsche Tamoil / HEM has joined as the first fuelling station provider and will, together with Quantron, explore the feasibility of integrating H2 fuelling stations in its more than 400 HEM fuelling stations in Germany which would be upgraded in a stagged process with H2 fuelling capabilities whereby a focus being also on the heavy duty truck fuelling requirements of Quantron´s customers.
Source: Quantron