Formula E Hong Kong ePrix Race Report
Fonte: MS Amlin Andretti
Hong Kong, 9 Ottobre 2016. La stagione 3 del FIA Formula E Championship è ufficialmente in corso con il Round 1 nei libri di storia. L'apertura della stagione ha previsto emozioni sulle strade di Hong Kong che lo schieramento di 20 auto completamente elettriche hanno portato al circuito cittadino da 2 chilometri.
Dopo un inizio di stagione di successo, la serie e le sue squadre si dirigeranno verso il Nord Africa per il Round 2 a Marrakesh il 12 novembre.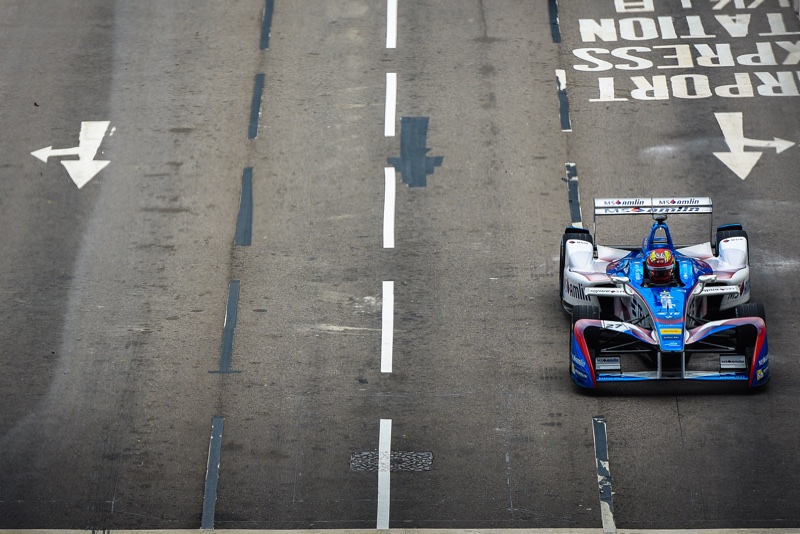 Dopo i problemi nella sessione di prove libere con la chicane nelle curve 3 e 4, la FIA ha fatto modifiche al kerbing, questo purtroppo ha portato a Robin Frijns ad entrare in contatto  in modo violento con il muro con conseguenti danni alla scocca della macchina da corsa. Incapace di essere riparata, l'equipaggio ha dovuto affrontare una corsa contro il tempo per ricostruire completamente la vettura con una nuova scocca. Con la vettura completamente riparata quattro minuti prima del termine, Frijns ha corso in rimonta dal 20esimo al sesto posto. L'olandese ha raccolto otto punti in campionato.
Il pilota portoghese Antonio Felix da Costa ha mostrato un forte ritmo nella sessione di prove libere del mattino, ma il vero potenziale della vettura n° 28 non si è mostrato in qualifica, lasciando Da Costa con la 13esima posizione in griglia. Con un comportamento aggressivo e la gestione intelligente dell'energia, il veterano pilota della Formula E ha fatto il suo meglior per agguantare  il quinto posto, guadagnando 10 punti nel campionato piloti.
Il team Andretti Formula E lascia Hong Kong con 18 punti in campionato. Mentre il team americano guidato da Michael Andretti è legato a punti con il team ABT Schaeffler della Germania, Andretti Formula E si trova terzo in classifica.
Roger Griffiths – Co-Team Principal Andretti Formula E
"Quello che la corsa di una giornata. La prima sessione di prove è iniziata abbastanza promettente, ma in realtà la qualifica è stata abbastanza deprimente. Eravamo fiduciosi di un quinto o sesto posto in qualifica, ma non abbiamo potuto dimostrarlo. Non credo che Antonio abbia potuto estrarre qualcosa di meglio dalla macchina. Poi, ovviamente, Robin ha avuto un grande incidente con danni pesanti e abbiamo dovuto sostituire la scocca prima della gara. I ragazzi del team hanno fatto un lavoro notevole riuscendo a mettere di nuovo insieme la macchina, e dobbiamo ringraziare i ragazzi della Spark per la loro assistenza. Abbiamo avuto la macchina finita circa quattro minuti prima di quando ne avevamo bisogno. Entrambi i piloti hanno fatto una gara molto sensibile. Hanno guadagnato delle posizioni e ci sono state alcune intelligenti strategie dei nostri ragazzi. Abbiamo fatto del risparmio energetico quando potevamo, siamo stati in grado di andare oltre praticamente tutti gli altri sulla griglia di partenza. Dopo vedere dove eravamo con le qualifiche, non credo che nessuno si sarebbe mai sognato di un quinto e sesto posto. Sono estremamente fiero della squadra e questo ci mette in una buona posizione per il campionato".
Robin Frijns – MS Amlin Andretti ATEC-02 N°. 27
"E' stata una qualifica davvero deludente che ci ha fatto partire morti dall'inizio. Ad essere onesti, non sono mai stato veramente sicuro che sarei stato in grado di correre oggi perché ho rotto la scocca durante le prove di qualificazione. Normalmente c'è bisogno di un giorno per risolvere il problema perché si deve costruire una macchina completamente nuova, ma la squadra mi ha costruito una macchina nuova nel giro di poche ore. Questo è davvero impressionante. Ricostruire una macchina rapidamente è una cosa, ma costruire una macchina competitiva in tale tempo è un altra. Devo ringraziare tutto il team MS Amlin Andretti. Questa sesta posizione va davvero al team per tutto il loro duro lavoro."
Antonio Felix da Costa – MS Amlin Andretti ATEC-02 N° 28
"E' stata una buona giornata. Sono molto contento di come la giornata è iniziata. E' stata una bella sorpresa essere competitivi da subito in pratica uno. Poi, devo dire, in qualifica non ho avuto un giro abbastanza buono a causa di circostanze negative, ma ho capito che potevamo andare avanti nella corsa e questo è quello che abbiamo fatto. Devo dire che gli ingegneri e la squadra hanno svolto un ruolo importante oggi nel suo complesso – riparare l'auto di Robin e portare a casa due auto con il doppio dei punti. Sono felice di questo. Sappiamo di avere problemi da risolvere, ma credo che con la brava gente che abbiamo noi li risolveremo."
In English
MS Amlin Andretti at the Hong Kong ePrix
FIA Formula E Championship
Hong Kong ePrix Race Report
Fonte: MS Amlin Andretti
Season 3 of the FIA Formula E Championship is officially underway with Round 1 in the history books. The season opener provided thrills from the streets of Hong Kong as the field of 20 fully-electric cars took to the 2-kilometer city-street circuit.
After a successful season start, the series and its teams will head to North Africa for Round 2 from Marrakesh on 12 November.
After issues in the Free Practice Sessions with the chicane through Turns 3 and 4, the FIA made modifications to the kerbing, this unfortunately led to Robin Frijns making heavy contact with the wall resulting in damage to the tub of the race car. Unable to be repaired, the crew faced a race against time to completely rebuild the car with a new tub. With repairs complete four minutes prior to the deadline, Frijns raced his way from 20th to a sixth-place finish. The Dutchman collected eight championship points.
Portuguese driver Antonio Felix da Costa showed strong pace in the morning practice session but the true potential of the No. 28 car did not show in qualifying, leaving da Costa with a grid position of 13th. With an aggressive drive and smart energy management, the veteran Formula E driver made his way to fifth place, earning 10 points in the drivers' championship.
The Andretti Formula E team leaves Hong Kong with 18 championship points. While the American team lead by Michael Andretti is tied in points with the ABT Schaeffler team of Germany, Andretti Formula E sits third in the standings due to tie-breaking decision of race finishing position.
Roger Griffiths – Co-Team Principal Andretti Formula E
"What a rollercoaster of a day. The first practice session started out pretty promising, but really qualifying was quite depressing. We were hopeful of a fifth or sixth in qualifying, but we didn't show that. I don't think Antonio got anything like the best out of the car. Then, obviously, Robin had a big incident with heavy damage and we had to replace the tub before the race. The crew guys did a remarkable job getting the car put back together, and we have to thank the Spark guys as well for their assistance. We got the car finished with about four minutes before we needed it. Both drivers drove a really sensible race – They picked off the positions as they needed them, and there were some smart strategy calls from our guys. We were saving energy when we could, we were able to go further than pretty much everybody else on the grid. After where we were with qualifying, I don't think anyone could have dreamt of a fifth and sixth-place finish. I'm extremely please for the team and this sets us off in a good position for the championship."
Robin Frijns – MS Amlin Andretti ATEC-02 n° 27
"It was a really disappointing qualifying that left us starting dead last. To be honest, I wasn't ever really sure that I'd be able to race today because I broke the tub during the qualifying hit. Normally that takes a day to fix because you have to build up a complete new car, but the team built me a new car in just a few hours. That is really impressive. To rebuild a car quickly is one thing, but to build a car that is competitive in such time is another. I have to thank all of the MS Amlin Andretti crew. This P6 really goes to the team for all their hard work."
Antonio Felix da Costa – MS Amlin Andretti ATEC-02 n° 28
"It was a good day. I am very happy with how the day started. It was a good surprise being competitive from the start in practice one. Then, I have to say, in qualifying I didn't deliver a good enough lap due to bad circumstances. I knew we could go forward in the race, and that's what we did. I have to say the engineers played a major role today and the team as a whole — repairing Robin's car and bringing two cars home with double points. I'm happy with that. We know we have issues to fix, but I think with the good people we have we will fix them."
no images were found

.