Fonte: Michelin
Londra, Gran Bretagna. 1° Luglio 2016. Nel mese di settembre 2014, è stato lanciato il FIA Formula E Championship. Undici gare su circuiti tracciati nel centro delle città in tutto il mondo, con auto elettriche dotate di un pneumatico rivoluzionario: MICHELIN Pilot Sport EV. Dopo due stagioni in cui il nuovo pneumatico ha dimostrato le sue qualità e la sua straordinaria versatilità, si spingerà ancora di più il livello complessivo delle prestazioni nella stagione 3.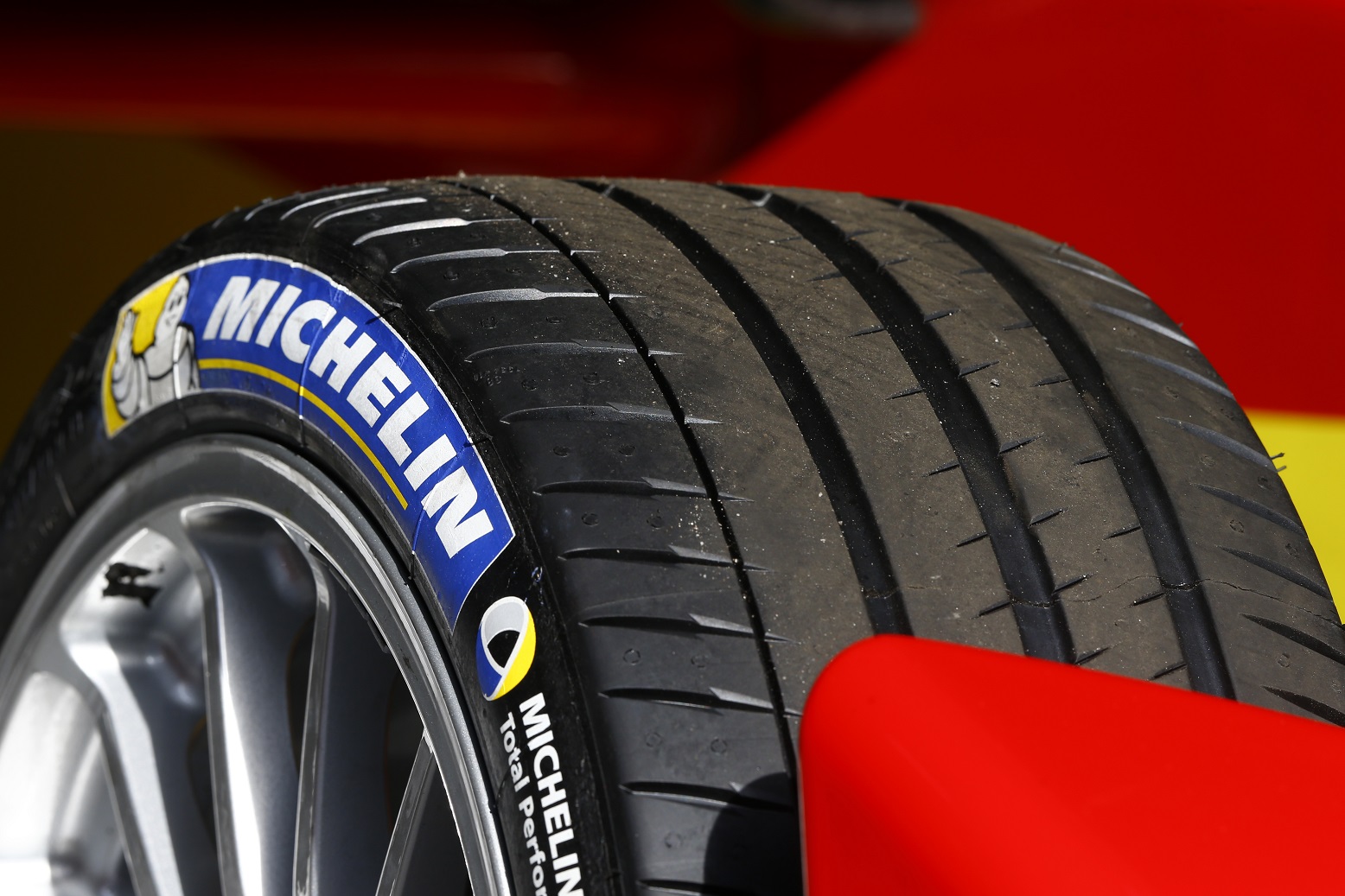 Quando il MICHELIN Pilot Sport EV è apparso, ha ridefinito gli standard delle gomme da gara. Con dimensioni da 18 pollici – un'anteprima in una disciplina "monoposto" a livello mondiale – assomiglia fortemente agli pneumatici di serie. Il battistrada è scolpito, e vanta una lunga durata. Il MICHELIN Pilot Sport EV è uno pneumatico esclusivo che può essere impiegato sia su asciutto che sul bagnato (un'altra prima mondiale per questo tipo di auto) e non viene mai sostituito nel corso di una giornata di ePrix.
Le prove libere, le qualifiche e la gara sono fatte con lo stesso treno di quattro pneumatici per auto.
Solo la "generosità" del regolamento permette di avere una ruota di scorta per auto, che è in realtà una ruota mantenuta dalla gara precedente. Questo approccio alla concorrenza non solo riduce in modo significativo l'impatto sull'ambiente, ma anche promuove efficacemente la mobilità sostenibile, che è uno degli obiettivi prioritari condivisi tra la Michelin e la Formula E.
Uno pneumatico, due stagioni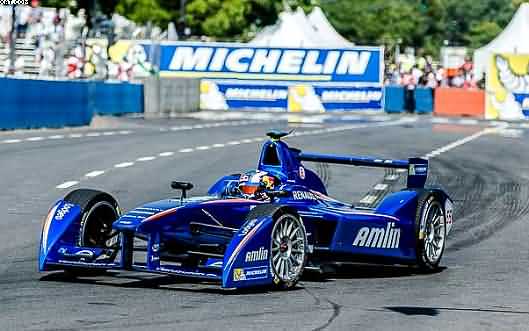 Gli ingegneri Michelin Motorsport che costantemente evolvono i loro pneumatici, hanno iniziato a sviluppare l'EV MICHELIN Pilot Sport 2 della stagione a partire dall'inizio del campionato. Ma nella offseason, data la straordinaria performance del pneumatico durante la stagione 1, la FIA ha chiesto al produttore francese di congelare le caratteristiche tecniche del pneumatico fino al termine della stagione 2, che ha permesso le squadre di aggiornare notevolmente la propria auto su una base di pneumatici già conosciuta (in realtà con l'apertura di molte aree, quali motore, cambio o punti di ancoraggio per i collegamenti posteriori).
Stagione 3, due pietre miliari
Ma se la FIA ha voluto mantenere le stesse gomme per le prime due stagioni del Formula E Championship, Michelin Motorsport ha continuato il suo lavoro di sviluppo per superare non uno ma due passi tecnologici di avvicinamento alla stagione 3. Michelin usa le competizioni come un laboratorio di sviluppo per le tecnologie future in modo di integrare la sua nuova serie di pneumatici alla produzione di serie.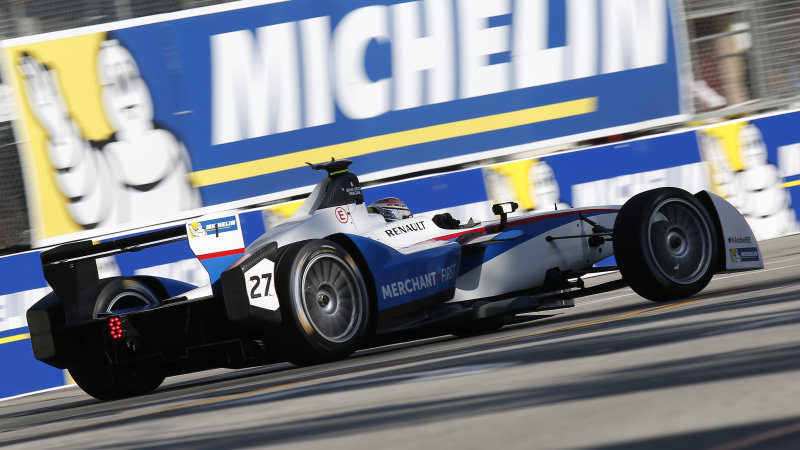 In Formula E, l'attenzione si è concentrata sul concetto di efficienza energetica, ossia la resistenza al rotolamento. Oltre il 25% del consumo di energia di una vettura è legata alla resistenza all'avanzamento, a prescindere dal carburante. Offrendo una ridotta resistenza al rotolamento degli pneumatici, essi permettono al veicolo di aumentare l'autonomia senza nessuna modifica. In Formula E, dove i conducenti basano il loro successo sulla rigenerazione e la conservazione del livello di energia delle loro batterie, questo aspetto è fondamentale. Ma migliorare un particolare senza pregiudicare un altro è una delle sfide chiave dello sviluppo degli pneumatici.
Fare di più con meno
Sempre all'avanguardia della tecnologia, Michelin sta lavorando per cambiare tutti i criteri di uno pneumatico. Si tratta di una filosofia aziendale chiamata Michelin Total Performance. Formula E, come in tutte le discipline in cui Michelin è coinvolta, il rispetto delle regole è un dovere. Così, la missione dei tecnici incaricati della evoluzione del MICHELIN Pilot Sport EV è stato chiaro: migliorare la resistenza al rotolamento dello pneumatico, mantenendo o migliorando il suo livello di prestazioni in termini di durata e grip.
"Abbiamo focalizzato la nostra attività ad aumentare l'efficienza energetica, mentre il MICHELIN Pilot Sport EV era già un campione in questo settore, dice Serge Grisin, capo della Michelin in Formula E. Ma grazie alle nuove tecnologie, siamo riusciti a ridurre la resistenza al rotolamento, riducendo notevolmente il peso dello pneumatico. Questi guadagni si tradurranno in una maggiore autonomia e, probabilmente, in maggiori prestazioni alla vettura nella Stagione 3. Conforme ai regolamenti della FIA, il nuovo MICHELIN Pilot Sport EV è stato anche messo a disposizione di tutti i produttori per l'inizio della stagione 3 in modo di poter continuare il loro programma di test, dove ognuno poteva e può continuare a sviluppare la vettura per la stagione 3 iniziando a prendere confidenza con il nuovo pneumatico."
La prima generazione di MICHELIN Pilot Sport EV finirà la sua carriera a Londra il 2 e 3 luglio. Finirà una storia unica nel mondo dei motori, quella di un pneumatico per automobili che ha rivoluzionato l'approccio ecologico alle corse, consentendo Michelin di trarre insegnamenti della tecnologia che è già stata utilizzata negli pneumatici di grande serie, come ad esempio il nuovo MICHELIN Pilot Sport 4.
Il Michelin Pilot Sport EV della stagione 3, che dal prossimo mese di ottobre equipaggierà le ruote delle vetture elettriche di Formula E continuerà ad esplorare questo percorso.
Scheda MICHELIN Pilot Sport EV
Dimensioni: 24 / 64-18 davanti e 27 / 68-18 al posteriore secondo il codice utilizzato da Michelin Motorsport, cioè la larghezza del battistrada in cm / diametro esterno in cm / diametro del cerchio in pollici . Ciò corrisponde a 255 / 40R18 anteriore e 305 / 30R18 al posteriore dal codice utilizzato per le vetture di produzione, è la larghezza totale del pneumatico in rapporto mm /% tra l'altezza e la larghezza dei fianchi dello pneumatico, seguito dal diametro della ruota in pollici. R indica che è un pneumatico radiale.
In English
MICHELIN developing new tyres for Season 3
Source: Michelin
London, UK. 1st July 2016. Launched in September 2014, the inaugural FIA Formula E Championship featured 11 street races in major cities across the globe starring electric single-seater cars equipped with MICHELIN Pilot Sport EV tyres. With two seasons now completed, in the course of which this revolutionary tyre has successfully demonstrated its exceptional versatility, a new version featuring upgraded performance is due to make its debut when the competition's third season gets under way this autumn.
The original MICHELIN Pilot Sport EV set a new standard in the world of single-seater racing tyres. Its interior diameter of 18 inches marked a first at this level of competition and ensured a resemblance with mass-produced road tyres. It also featured a patterned tread, boasted long life, was capable of competing on dry and wet tracks alike (another world first for a top single-seater racing car) and did not need to be replaced in the course of a single ePrix meeting when each car is allocated just one set of rubber to cover free practice, qualifying and the race itself. The regulations' only concession is the allowance of one spare per car, and even this tyre is carried over from the previous race. Not only does this considerably reduce the championship's environmental impact but it is also in-line with the important sustainable mobility message championed by both Michelin and Formula E.
A single tyre spanning two seasons
Michelin Motorsport's engineers are constantly looking to improve their tyres, so work on developing the MICHELIN Pilot Sport EV for the second FIA Formula E Championship had already started when the FIA (Fédération Internationale de l'Automobile) – prompted by the exceptional performance delivered by the tyre during the first season – asked the French firm to continue with the same-spec tyre for Season 2. This measure allowed the teams to develop their new cars to meet the new, less restrictive technical regulations (motors, transmissions and rear suspension pick-up points) with a known tyre.
Season 3: two steps forward
In spite of the FIA's desire to stay with the same tyre for the 2015/2016 Formula E Championship, Michelin Motorsport's development work continued, which means that two steps forward will have been taken when Season 3 gets started. Michelin makes no secret of the fact that it uses motorsport as a life-size laboratory for the development of new technologies that will later be carried over to road tyres. In the case of Formula E, the emphasis is on improving energy efficiency. More than 25 percent of a car's energy consumption is used to overcome rolling resistance, so lowering the latter naturally extends the vehicle's range.
This is obviously a major consideration in Formula E where success is founded the drivers' ability to optimise the energy they have available.
More with less
When it comes to tyre development, one of the chief difficulties engineers face is to take one performance-related factor forward without detracting from another. Michelin, which is constantly at the cutting edge of tyre technology, makes a point of taking forward all the factors that influence tyre performance simultaneously in accordance with its Michelin Total Performance plan which applies to all of the French firm's motorsport activities, including Formula E. The mission of the engineers tasked with developing the MICHELIN Pilot Sport EV was to lower rolling resistance while maintaining the same levels of longevity and grip performance.
"Our work focused on improving energy efficiency, even though the original MICHELIN Pilot Sport EV excelled in this domain," notes Serge Grisin, manager of Michelin's Formula E programme. "Thanks to the use of new technologies, we have succeeded in reducing rolling resistance while at the same time lowering the weight of each MICHELIN Pilot Sport EV. The combination of these gains will mean greater autonomy for the cars and, no doubt, enhanced performance for the third Formula E championship. As required by the FIA regulations, we provided all the constructors registered for Season 3 with the latest MICHELIN Pilot Sport EV at the beginning of May. As a function of their respective test schedules, they will therefore able to familiarise themselves with it as they develop their cars for 2016/2017."
The first-generation MICHELIN Pilot Sport EV will consequently conclude its career in London on July 2-3. The British meeting will bring an important new chapter of motor racing history to a close when the original Pilot Sport EV bows out. At the same time as it revolutionised ecologicallyresponsible motor racing, it enabled Michelin to collect technological data that is already being dialled into road tyres like the recently-launched MICHELIN Pilot Sport 4. The same process will continue with the latest-generation MICHELIN Pilot Sport EV developed for Season 3 which will compete for the first time in October.
MICHELIN Pilot Sport EV – Technical Characteristics
Size:
Front: 24/64-18 / Rear: 27/68-18 (according to the system employed by Michelin Motorsport, i.e. tread width in centimetres / exterior diameter in centimetres / rim diameter in inches). That's equivalent to road tyre sizes of 255/40R18 (front) and 305/30R18 (rear), i.e. overall tyre width (mm) / aspect ratio (sidewall-height to tyre-width ratio) / rim diameter (inches). The letter 'R' signifies 'radial'.
no images were found

.