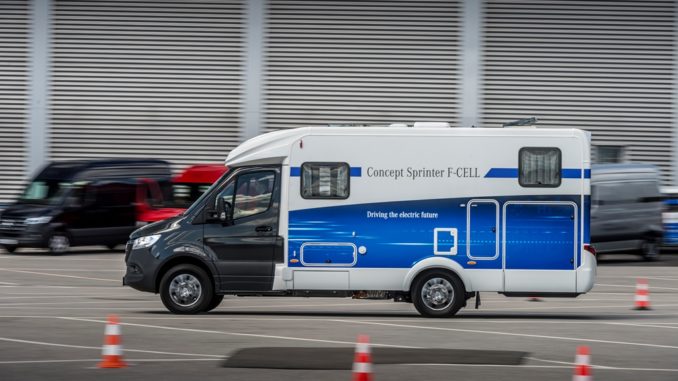 Mercedes-Benz Concept Sprinter F-CELL has been applied as an example of a semi-integrated motorhome powered by fuel cell and hydrogen as a part of eDrive@VANs strategy.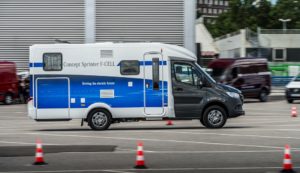 More than ever before, Mercedes-Benz Vans is making the selection of the right powertrain concept dependent upon customer benefits.
Besides vehicle technology, this also takes into consideration system weight, charging or refuelling time, range and commercial economy.
Looking to the future, Mercedes-Benz will enhance the eDrive@VANs strategy with the fuel cell. The Concept Sprinter F-CELL uses the
example of a semi-integrated motorhome to show the full breadth of the characteristic benefits of a fuel cell, from long range to zero-local-emissions mobility. These are characteristics that are also ideally suited to other use cases such as longer courier routes or minibuses in inter-urban operation.
The Concept Sprinter F-CELL combines fuel cell and battery technology in a plug-in hybrid. The intelligent interaction of battery and fuel cell delivers an electric output of around 147 kW and 350 newton metres of torque. The three tanks in the
substructure store a total of 4.5 kilograms of hydrogen and facilitate a range of around 300 kilometres. If a longer range is required, another tank at the rear of the vehicle can be added, lifting the range to as much as 530 kilometres.