Mahindra incontra i funzionari governativi dell'India per portare la Formula E
L'iniziativa può promuovere le vendite, creare una maggiore consapevolezza dei veicoli elettrici e ibridi nel paese in mezzo alla crescente preoccupazione per l'inquinamento veicolare
Fonte: Mahindra
New Delhi, India. 11 Febbraio 2016. Una mezza dozzina di ministri dell'Unione hanno partecipato ad un incontro con il presidente di Mahindra Group, Anand Mahindra, per discutere la possibilità di ospitare una gara del Formula E Championship in India, la competizione più importante del mondo delle auto da corsa a trazione elettrica.
L'incontro, che si è tenuto lo scorso martedì, potrebbe promuovere le vendite e creare ulteriormente la consapevolezza dei veicoli elettrici e ibridi nel paese che attualmente vive in mezzo ad una crescente preoccupazione per l'inquinamento veicolare.
Formula E è la più alta classe di competizione per auto da corsa a trazione elettrica ed è riconosciuta dalla Federazione Internazionale dell'Automobile (FIA) che organizza le più popolari gare di Formula 1 in tutto il mondo.
"La FIA è molto desiderosa che questo accada. Abbiamo parlato con alcune persone che devono decidere se ha senso per la Formula E venire qui o no" – ha detto Pawan Goenka, direttore esecutivo, Mahindra & Mahindra in un'intervista.
A dire il vero, l'India ha già ospitato tre gare di Formula 1 tra il 2011 e il 2013, che si sono svolte presso il Buddh International Circuit a Greater Noida. Anche se Jaypee Group, i promotori del circuito di Buddh, ha un contratto per ospitare altre due gare, vi è qualche incertezza a causa del deterioramento della situazione finanziaria dei proprietari dei circuiti. Mint il 15 luglio ha riferito che il Gruppo Jaypee ha più di Rs.60,000 di debito nei propri libri contabili.
L'incontro sulla Formula E ha visto la partecipazione di sei alti ministri, Suresh Prabhu (ferrovie), Ravi Shankar Prasad (comunicazione e IT), Ashok Gajapathi Raju (aviazione civile), Nitin Gadkari (strada, trasporti e autostrade), Prakash Javadekar (Ministro dell'ambiente) e Rajiv Pratap Rudy (ministro di stato per lo sviluppo delle competenze). La gara dovrebbe servire anche a promuovere la consapevolezza e la comprensione della gente sui veicoli elettrici, ha aggiunto Goenka.
Il governo vuole sei milioni di veicoli elettrici sulle strade indiane entro il 2020, nel tentativo di ridurre l'inquinamento veicolare e combattere il riscaldamento globale. Si aspetta che i veicoli elettrici possano aiutare l'India a salvare da 2,2 milioni di tonnellate (Mt) a 2,5 mt di combustibile liquido, del costo stimato intorno a Rs.14,000-15,000, e ridurre le emissioni di anidride carbonica fino al 1,5%.
L'India è al terzo posto tra i paesi più inquinanti nel mondo dopo Stati Uniti e Cina, che hanno firmato un importante accordo bilaterale riguardo il clima, in cui gli Stati Uniti si sono impegnati a ridurre le emissioni di carbonio del 26-28% al di sotto del livello del 2005 entro il 2025 e la Cina raggiungerà il picco delle sue emissioni nocive di anidride carbonica nel 2030.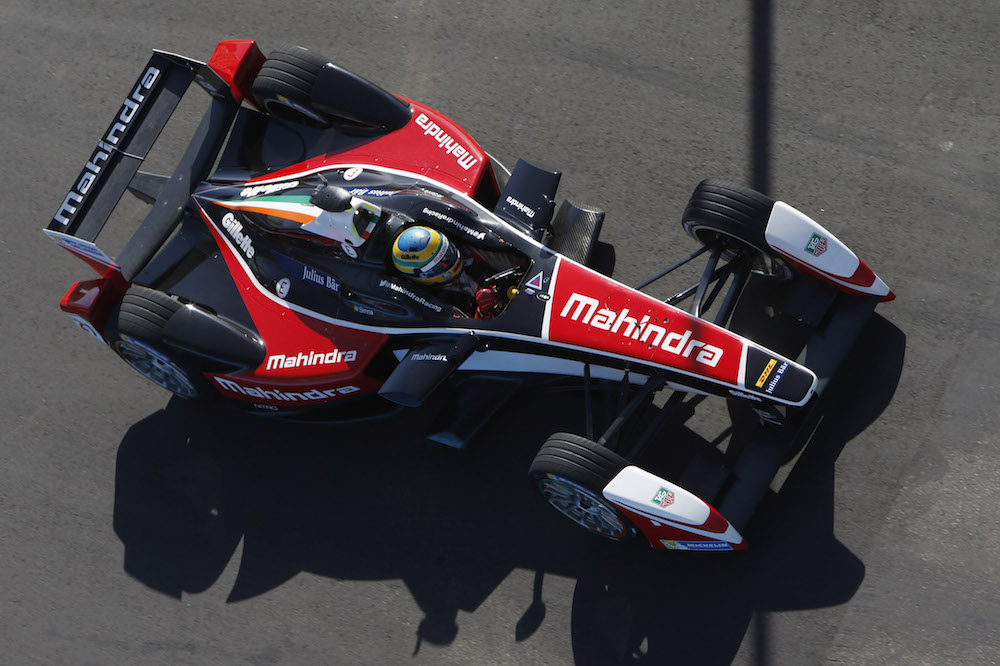 Le gare di Formula E cominciarono a Pechino nel settembre 2014 e la prima stagione è finita a Londra nel giugno 2015, con la serie che ha corso in 10 delle maggiori città del mondo. Il campionato vede nove squadre, ciascuna con due piloti, correndo sui circuiti temporanei del centro città per creare una serie di corsa unica ed emozionante progettata per rivolgersi a una nuova generazione di appassionati di automobilismo. Tra le case automobilistiche tradizionali, solo Audi AG, Mahindra e Renault partecipano alla gara. E nel mese di dicembre, l'iconico marchio Jaguar ha detto che tornerà al motorsport nel 2016 dopo 12 anni di distanza, con una squadra di Formula E.
"Questo è il tipo di gara che si svolge per le strade e non nei circuiti. Pertanto, un giorno, nel cuore di una città, le strade principali dovranno essere bloccate. Questo può creare qualche disagio al pubblico, ma allo stesso tempo la si mette in mostra al paese a un pubblico globale" – ha detto Goenka.
Per qualsiasi azienda automobilistica, ha aggiunto Goenka, le corse portano visibilità in termini di audience e si sviluppa la cultura delle nuove tecnologie, che potrebbero poi essere utilizzate nei veicoli tradizionali.
Ha detto che Mahindra potrebbe anche prendere in considerazione la partecipazione al Rally Dakar che si terrà in Sud America per migliorare le capacità off-road dei suoi sport utility vehicle  tradizionali, come Scorpio e SUV 5OO.
In English
Mahindra meets govt officials to bring Formula E racing to India
The move can promote sales, create further awareness of electric and hybrid vehicles in the country amid mounting concern over vehicular pollution
Source: Mahindra
New Delhi, India. February 11th, 2016.  Half a dozen Union ministers have attended a meeting with Mahindra Group chairman Anand Mahindra to discuss the possibility of India hosting the Formula E Championship, the world's premier competition of electrically-powered racing cars.
The meeting, held on Tuesday, could promote sales and create further awareness of electric and hybrid vehicles in the country amid mounting concern over vehicular pollution.
Formula E is the highest class of competition for electrically-powered racing cars and is sanctioned by the Fédération Internationale de l'Automobile (FIA) that organises the more popular Formula 1 races across the world.
"FIA is very keen to make it happen. We have talked to a few people who have to decide whether it makes sense for Formula E race to come here or not," Pawan Goenka, executive director, Mahindra & Mahindra said in an interview.
To be sure, India has hosted three Formula 1 races between 2011 and 2013, which were held at the Buddh International Circuit in Greater Noida. Though Jaypee Group, the promoters of the Buddh circuit, have a contract to host two more races, there is some uncertainty due to the deteriorating financial condition of the circuit owners. Mint on 15 July reported that the Jaypee Group has more than Rs.60,000 crore debt on its books.
The meeting on Formula E was attended by six senior ministers—Suresh Prabhu (railways), Ravi Shankar Prasad (communication and IT), Ashok Gajapathi Raju (civil aviation), Nitin Gadkari (road, transport and highways), Prakash Javadekar (minister of state for environment) and Rajiv Pratap Rudy (minister of state for skill development). It will also promote people's awareness and understanding about electric vehicles, Goenka added.
The government wants six million electric vehicles on Indian roads by 2020 in a bid to reduce vehicular pollution and combat global warming. It expects electric vehicles to help India save 2.2 million tonnes (mt) to 2.5 mt of liquid fuel, valued around Rs.14,000-15,000 crore, and reduce carbon dioxide emissions by up to 1.5%.
India is the third most polluting country in the world after the US and China, who have signed a major bilateral climate deal, wherein the US will reduce its carbon emissions by 26-28% below its 2005 level by 2025 and China will reach the peak of its harmful carbon dioxide emissions around 2030.
The Formula E races began in Beijing in September 2014, ending in London in June 2015, with the series competing in 10 of the world's leading cities. The championship sees nine teams, each with two drivers, racing on temporary city-centre circuits to create a unique and exciting race series designed to appeal to a new generation of motorsport fans. Among the mainstream automobile companies, only Audi AG, Mahindra, and Renault participate in the race. And in December, iconic car brand Jaguar said it will return to motorsport in 2016 after 12 years away, with a team for Formula E.
"This is the kind of a race that happens on the streets and not in circuits. Therefore, one day, in the heart of a town, main roads will have to be blocked. That may create some inconvenience to the public but the at same time it showcases the country to global audiences," Goenka said.
To any automobile company, Goenka said, racing brings visibility in terms of viewership and it develops a culture of developing new technologies, which could later be used in mainstream vehicles.
He said Mahindra Racing may also consider participating in the Dakar Rally held in South America to enhance the off-roading capabilities of its traditional sports utility vehicles such as Scorpio and SUV 5OO.
no images were found

.