Mahindra Racing e Pininfarina svelano il Concept Design di Formula E
Fonte: Mahindra Racing Formula E Team
Parigi, Francia. 20 aprile 2016. Mahindra Racing e Pininfarina hanno svelato oggi tre concept design per un futuro auto di Formula E. Queste immagini sono il prodotto di un progetto creativo di collaborazione che offre agli appassionati un assaggio della forma potenziale di un auto futuro di Formula E.
Concept A
Il rilascio di queste immagini segue il recente lancio del tender di FIA Formula E per progettare e realizzare il telaio che verrà utilizzato dalla quinta stagione in poi. Per ridurre i costi, tutte le squadre useranno lo stesso chassis con il propulsore e il software aperti allo sviluppo da parte dei singoli produttori.
Mahindra Racing ha lo scopo di stimolare e curare un'interazione sul modulo della tecnologia di prossima generazione della Formula E, incoraggiando i fan a condividere i loro pensieri su questi disegni su Facebook, Twitter e Instagram utilizzando l' hashtag #FormulaEConcepts.
Concept B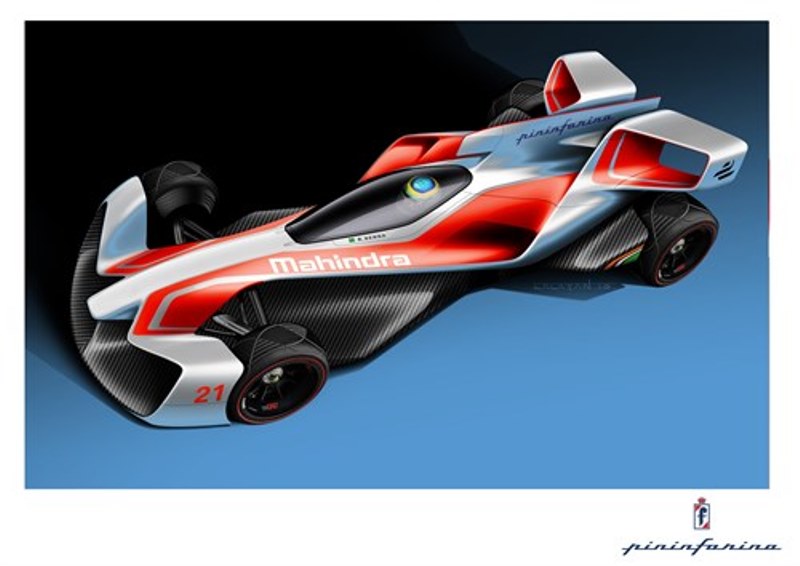 Anand Mahindra, Presidente del Gruppo Mahindra ha detto:
"Mahindra è un pioniere della tecnologia EV e cerca di spingere i confini di questa nuova forma di mobilità. La nostra partecipazione al campionato di Formula E ci dà ancora un'altra piattaforma per co-creare il futuro della mobilità. Mentre questi disegni innovativi sono un progetto creativo in questa fase, sarei entusiasta di vedere l'M5Electro simile a questa".
Pininfarina entra nel Gruppo Mahindra nel mese di Dicembre 2015 dopo la firma di un accordo di investimento con Tech Mahindra. Con le credenziali di leggendari design di fascia alta in diversi settori, Pininfarina ha forse segnato un'epoca nei disegni automobilistici, che la maggior parte degli appassionati delle corse assocerà con l'iconica casa di design italiano.
Il concetto di auto a idrogeno H2 Speed è stato recentemente premiato come miglior Concept nel Salone di Ginevra 2016.
Concept C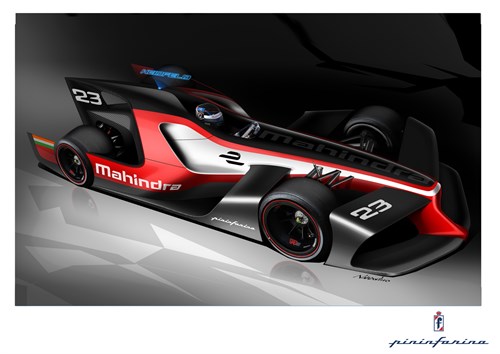 Il Chief Creative Officer di Pininfarina, Fabio Filippini, ha commentato:
"La Formula E è uno dei più interessanti segni dei cambiamenti in corso nel mondo automobilistico, così come nelle corse automobilistiche. Il suo successo è la prova. Esercitare la nostra creatività su questi schizzi ci ha permesso di immaginare l'evoluzione di questa formula. Un possibile contributo di Pininfarina per il futuro sviluppo di una vettura di Formula E sarebbe una sfida altamente motivante, pienamente coerente con la nostra missione di creatori e innovatori nel settore automotive".
In English
Mahindra Racing & Pininfarina Release Concept Formula E Designs
Source: Mahindra Racing Formula E Team
20th April 2016. Paris. Mahindra Racing and Pininfarina today released three concept designs for a future Formula E racing car. These images are the product of a collaborative and creative project that offers fans a glimpse of the potential form of Formula E in the future.
Concept A
The release of these images follows the recent launch of the FIA Formula E tender to design and manufacture the chassis that will be used from season five onwards. To reduce costs, all teams will use the same chassis with the powertrain and software being open to development by the individual manufacturers.
Mahindra Racing aims to stimulate and curate a conversation on the future form and next generation technology of Formula E, encouraging fans to share their thoughts on these designs on Facebook, Twitter and Instagram using the hashtag #FormulaEConcepts.
Concept B
Anand Mahindra, Chairman of the Mahindra Group said: "Mahindra is a pioneer of EV technology that is always striving to push the boundaries of this exciting new form of mobility. Our participation in the Formula E championship gives us yet another platform to co-create the Future of Mobility. While these innovative designs are a creative project at this stage, I would be thrilled to see the M5Electro look like this."
Pininfarina joined the Mahindra Group in December 2015 signing an investment agreement with Tech Mahindra. With legendary high-end design credentials across many sectors, it is perhaps Pininfarina's era-defining automotive designs which most racing fans will associate with the iconic Italian design house. The H2 Speed hydrogen car concept was most recently awarded Best Concept at the 2016 Geneva Motor Show.
Concept C
Chief Creative Officer of Pininfarina Fabio Filippini commented: "Formula E is one of the most exciting signs of the changes underway in the automotive world as well as in motor racing. Its success is the proof. Exercising our creativity on these sketches allowed us to imagine the evolution of this formula. A possible contribution of Pininfarina to the future development of a Formula E car would be a highly motivating challenge, fully consistent with our mission of creators and innovators in the automotive field".
no images were found