Fonte: Mahindra
Londra, Gran Bretagna. 4 Luglio, 2016, Mahindra Racing ha chiuso il secondo anno del FIA Formula E Championship con la settima volta dei due piloti a punti, mancando di un podio. Nick Heidfeld è finito in P4, ma è stato ritenuto che abbia usato troppa energia nel suo arrivo al traguardo, penalizzandolo alla P7 e promuovendo Bruno Senna da P10 a P6.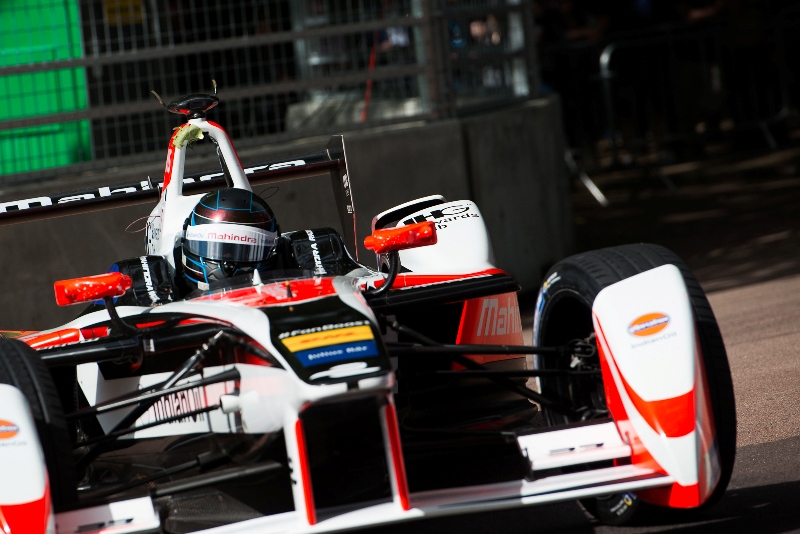 Nick Heidfeld ha iniziato la gara in quinta posizione, dopo la collisione della prima curva avvenuta davanti a lui, ha raggiunto il secondo posto per la maggior parte del primo stint. Dopo aver perso una posizione durante il suo pit stop, Heidfeld si è trovato in P4 per gli ultimi giri della gara, piombando sulla macchina davanti. Spingendo il sorpasso all'ultimo giro, Heidfeld ha superato il limite consentito dell'uso di energia prima di aver tagliato il traguardo, guadagnandosi una penalità e una settima posizione nella classificata finale.
Bruno Senna ha iniziato la gara in P13 a causa di problemi di temperature delle sue gomme durante le qualifiche.
Attraverso una precisa gestione dell'energia ed evitando gli incidenti intorno a lui, Bruno è riuscito a gestire la sua strategia di gara e delle posizioni acquisite, mentre si difendeva dalle auto dietro di lui. E 'stato finalmente classificato in sesta posizione.
Il pilota della vettura n° 21 Bruno Senna ha detto:
"Considerando tutto il caos che stava succedendo intorno a me, sono molto felice di aver raggiunto un buon risultato finale. Abbiamo avuto gran ritmo in macchina e ho imparato molto dalla gara di ieri. Abbiamo un auto consistente e sempre un ritmo di gara più veloce. Sono rimasto deluso di non iniziare da più avanti in griglia ma ero dietro ad un auto più lento durante le qualifiche e non ho raggiungere la temperatura ideale di lavoro delle gomme prima del mio giro con potenza da 200kW".

"Purtroppo ho sofferto di un problema tecnico durante la gara che ha causato che la mia macchina andassi in folle in alcune scalate, così ho inutilmente perso alcune posizioni, ma sono felice di venire via con questo risultato forte e più punti per il team. Possiamo essere orgogliosi di quello che abbiamo ottenuto in questa stagione."
Il pilota della vettura n° 23 Nick Heidfeld ha dichiarato:
"Sono deluso di aver perso la possibilità di finire sul podio oggi. Ho deciso di spingere nel giro finale per prendere l'auto davanti a me e in questo modo abbiamo superato il nostro uso di energia consentito. È sempre difficile da ingoiare, un finale deludente soprattutto per la perdita di un potenziale podio, ma nel complesso possiamo essere orgogliosi dei risultati che abbiamo avuto in tutta la stagione ed i tempi che abbiamo fatto in tutti i settori ".
Dilbagh Gill, Team Principal della squadra Mahindra Racing di Formula E, ha dichiarato:
"Questo è stato un fine settimana emozionante per la squadra. E' facile guardare il risultato di oggi come deludente ma resta ancora come un altro ai punti alti dai due piloti ed una continuazione dell'affidabilità e della forte strategia di gara, che è stata la nostra forza più grande per tutta la stagione. "

"Abbiamo soddisfatto tutti gli obiettivi nelle finestre che abbiamo deciso in questa stagione. Abbiamo segnato podi, più punti doppi e giri veloci, e molte migliori posizioni di campionato acquisite rispetto i risultati della nostra prima stagione. Ci prenderemo un momento per riflettere riguardo questo, ma solo un breve momento. Abbiamo tutte le intenzioni di continuare questa traiettoria verso l'alto. Sembra strano ora mandare in pensione la M2Electro, ma la preparazione della M3Electro è già nelle sue fasi finali."

"Vorrei ringraziare il team per il loro ingegno, passione e unità inarrestabile che ci ha aiutato nella nostra missione di stabilire Mahindra Racing come un forte concorrente sulla scena mondiale. Ora abbiamo due stagioni di esperienza e per quanto mi riguarda, la stagione 3 è ormai iniziata."
In English
Mahindra Wraps Up Season With Double Points Finish
Source: Mahindra Racing
London, UK. 4th July 2016. Mahindra Racing wrapped up the second FIA Formula E Championship with a seventh double points finish, narrowly missing a podium. Nick Heidfeld finished in P4 but was deemed to have used too much energy in his final charge to the line, demoting him to P7 and promoting Bruno Senna from P10 to P6.
Nick Heidfeld started the race in P5 and, following the first corner collision ahead of him, held P2 for most of the first stint. Losing one position during his pit stop, Heidfeld found himself in P4 for the final laps of the race, bearing down on the car in front. Pushing to overtake on the final lap, Heidfeld exceeded the allowable energy use limit before he crossed the finish line, earning him a penalty and a final classified position of P7.
Bruno Senna started the race out of place in P13 due to issues with getting heat into his tyres during qualifying.
Through precise energy management and avoiding the incidents around him, Bruno succeeded in managing his race strategy and gained positions while defending from cars behind. He was finally classified in P6.
#21 Bruno Senna said:
"Considering all the chaos that was going on around me, I am very happy that we came away with a strong final result. We had great pace in the car and learned a lot from yesterday's race. We have a consistent car and increasingly strong race pace. I was disappointed not to start from further forward but I was behind a slower car during qualifying and couldn't get the tyres working before my 200kW hot lap."

"Unfortunately I suffered from a technical issue during the race which caused my car to go into false neutral on some downshifts, so I needlessly lost some positions but I am happy to come away with this strong result and more points for the team. We can be so proud of what we achieved this season."
#23 Nick Heidfeld said:
"I'm disappointed to have lost an opportunity to finish on the podium today. It was decided I should push on the final lap to catch the car in front and in doing so we exceeded our allowed energy use. It's always tough to swallow a disappointing finish, especially when losing a potential podium but overall we can be proud of the results we have had all season and the gains we have made in all areas."
Dilbagh Gill, Team Principal of Mahindra Racing Formula E Team, said:
"This has been an emotional weekend for the team. It's easy to look at today's result as disappointing but it will still stand as yet another high double points finish and a continuation of the reliability and strong race strategy, which has been our greatest strength all season."

"We ticked every box we set out to this season. We have scored podiums, multiple double points finishes and fastest laps, and gained many championship positions compared to our season one result. We will take a moment to reflect on that achievement, but only a brief moment. We have every intention of continuing this upward trajectory. It feels odd to retire the M2Electro now but the preparation of the M3Electro is already in its final stages."

"I would like to thank the team for their ingenuity, passion and relentless drive that has aided us in our mission to establish Mahindra Racing as a strong competitor on the world stage. We now have two seasons under our belt and as far as I am concerned, season 3 has now begun."
no images were found

.