Fonte: ABT Schaeffler
Buenos Aires, Argentina. 6 Febbraio 2016. Lucas di Grassi ha continuato la sua corsa impressionante di successo a Buenos Aires, che ha ospitato la Formula E. Nella quarta gara della stagione, il brasiliano dell'ABT Audi Sport Schaeffler è salito sul podio per la quarta volta in altrettante gare. Come conseguenza del suo terzo posto, lui è il rivale attualmente più vicino al leader del campionato Sébastien Buemi del team ufficiale Renault.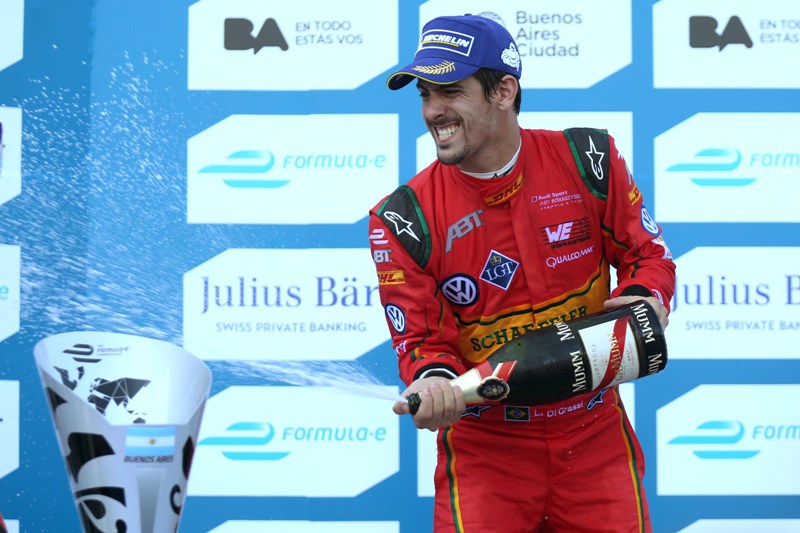 L'ePrix nella capitale argentina ha incontrato le alte aspettative dei tifosi e dei media: dagli spettatori lungo la pista di 2,48 chilometri a quelli in tutto il mondo davanti alla televisione hanno goduto di una accesa battaglia emozionante, in cui Lucas di Grassi ha guidato dalla settima posizione in griglia fino a raccogliere un posto sul podio. Il sudamericano ha quasi preso la vittoria in quella che definisce come 'la gara di casa'. Tuttavia, un'uscita relativamente tarda della safety car ha portato Buemi a ridurre la distanza notevole e che a sua volta ha permesso il pilota svizzero di superarlo e rendere impossibile per Di Grassi sfidare il vincitore Sam Bird.
La gioia di di Grassi per il decimo trofeo nella sua 15esima gara di Formula E era di profilo basso.
"Un podio è sempre un successo, di cui sono soddisfatto. Ma noi tutti abbiamo notato chiaramente oggi che dobbiamo lavorare duro se vogliamo mantenere in vita le nostre speranze nella lotta per il titolo contro la Renault".
Anche se la squadra tedesca ha svolto un grande sviluppo per essere sempre più veloce c'è ancora una quantità enorme di lavoro del team ABT Schaeffler Audi Sport.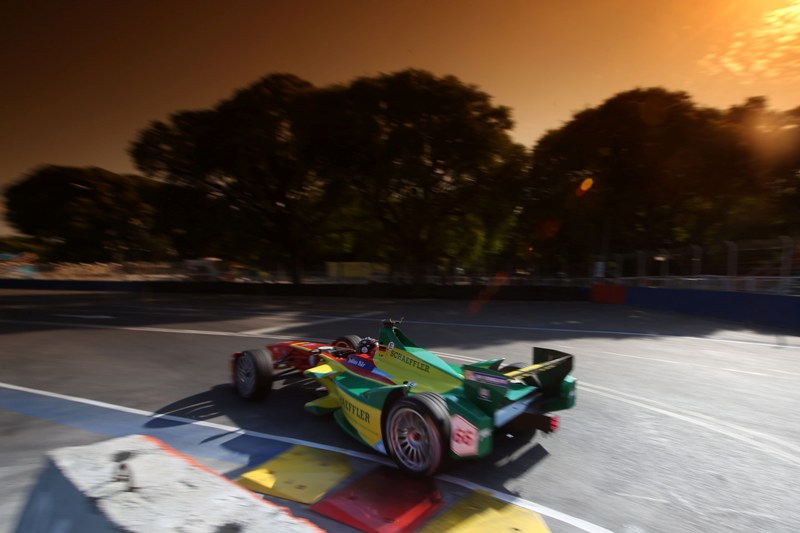 Daniel Abt ha iniziato la gara a fianco del suo compagno di squadra nella quarta fila ed ha avuto una gara da dimenticare.
"Il ritmo non c'era oggi. Sono davvero curioso di vedere ciò che scopriamo quando analizzeremo i dati. "Inoltre, il pit stop compresi i cambiamenti auto non è andato liscio, una contorta posizione della cintura di sicurezza ci ha fatto perdere preziosi secondi. Un 13esimo posto che fa riflettere e che non rispecchia fedelmente il lavoro fatto".
Formula E fa il suo debutto in Messico il 12 marzo e Lucas di Grassi si reca alla quinta gara della stagione secondo in classifica.
L'ABT Audi Sport Schaeffler detiene anche il secondo posto nella classifica delle squadre.
Hans-Jürgen Abt ha detto:
"Non siamo stati abbastanza forti oggi per minacciare seriamente la Renault, dobbiamo essere onesti con noi stessi", ha riassunto Abt. "Ma abbiamo dimostrato che possiamo e combatteremo. Non abbiamo nulla contro il ruolo di perdente e prenderemo tutte le possibilità, non importa quanto piccole".
Il giorno della gara in Argentina ha mostrato quanto grande sia il supporto in questa ricerca: i fan di tutto il mondo hanno votato on-line per Lucas di Grassi in modo che il brasiliano abbia il cosiddetto FanBoost disponibili. Si dà al pilota una potenza extra per un breve periodo di tempo.
In English
Lucas di Grassi wins next Formula E trophy
Source: ABT Schaeffler
Buenos Aires, Argentina. February 6, 2016. Lucas die Grassi continued his impressive run of success as Buenos Aires played host to Formula E: at the fourth race of the season, the Brazilian from ABT Schaeffler Audi Sport mounted the podium for the fourth time in as many races. As a result of his third place, he is closest rival to current championship leader Sébastien Buemi from the Renault factory team.
The ePrix in Argentina's capital met the high expectations of the fans and media: the spectators lining the 2.48-kilometer long track and worldwide in front of the television enjoyed a thrilling heated battle, in which Lucas di Grassi drove from seventh on the grid to scoop a podium finish. The South American very nearly took victory in his as good as 'home race'. However, a relatively late safety car phase brought Buemi within striking distance which in turn allowed the Swiss to overtake and make it impossible for di Grassi to challenge the later winner Sam Bird.
di Grassi's delight over the tenth trophy in his 15th Formula E race was correspondingly subdued.
"A podium is always a success, about which I'm pleased. But we all noticed clearly today that we must work hard if we want keep our hopes alive in the title battle with Renault."
Although the German team produced one oft the fastest pit stops yet again, a huge amount of work awaits ABT Schaeffler Audi Sport on the track.
Daniel Abt started the race alongside his team mates from the fourth row and experienced a race to forget.
"The pace just wasn't there today. I'm really intrigued to see what we discover when we analyze the data." In addition, the pit stop including car change did not go smoothly, a twisted seat belt cost valuable seconds. A sobering 13th place was scant reward at the flag."
Formula E makes its debut in Mexico on March 12. Lucas di Grassi travels to the fifth race of the season second in the standings. ABT Schaeffler Audi Sport also holds second place in the teams' classification.
"We weren't strong enough today to seriously threaten Renault, we have to be honest with ourselves," summarized Hans-Jürgen Abt. "But we've shown that we can and will fight. We have nothing against the role of underdog and will take every chance no matter how small."
Race day in Argentina showed just how big the support is in this quest: the fans from around the world had been voting online for days for Lucas di Grassi so that the Brazilian has the so-called FanBoost available. It gives the driver extra power for a brief period of time.
no images were found

.