Vittoria da bandiera a bandiera dal pilota brasiliano del Team ABT Schlaeffer Audi Sport nel Parigi ePrix
di Marcelo Padin
Direttore Editoriale Electric Motor News
Parigi, Francia. 23 Aprile 2016. Lucas di Grassi ha fatto tutto perfetto nel momento giusto nel Parigi ePrix che si è svolto davanti ad una folla di 20 mila persone – che includeva il Primo Ministro fracese Manuel Valls, Anne Hidalgo, Sindaco di Parigi; Rachida Dati, Sindaco del 7° arrondissement e il Presidente della FIA Jean Todt.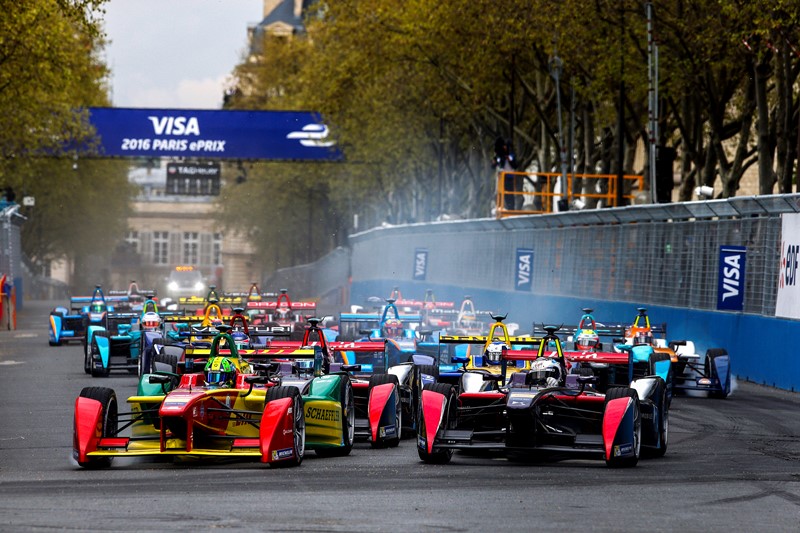 Di Grassi è scattato in testa dalla seconda posizione, bruciando in partenza l'autore della Super Pole Sam Bird che a sua volta veniva sorpassato aspramente dal suo compagno di squadra Jean Eric Vergne. Il francese è riuscito a mantenere il secondo posto nonostante l'aggressività di Bird quando era dietro di lui in terza posizione.
Sembra semplice da raccontare l'andamento della gara dei primi due; ma ovviamente di Grassi non è stato contento quando a tre giri dalla fine – correva la 42esima tornata e la gara finiva alla 45esima – è uscita la Safety Car come conseguenza dell'incidente che ha visto il pilota cinese Ma Qing Hua andare a muro e restare fermo in traiettoria, senza conseguenze per il pilota.
Giustamente la Safety Car è rimasta in pista fino alla fine, congelando le posizioni è consegnano la vittoria a Lucas di Grassi, con Jean Eric Vergne e Sebastien Buemi a completare il podio.
"Penso che sia stata la partenza più perfetta che ho fatto finora", ha detto di Grassi. "Sam ha pattinato molto mentre io sono riuscito ad evitare di far slittare le ruote. Jean-Eric ha avuto anche una buona partenza e lo guardavo negli specchietti per assicurarmi di non lasciarli spazio al suo interno. Da quel momento in poi ho spinto davvero forte. Dopo la sosta, con le gomme fredde la vettura aveva poco grip per due giri fino a che ho cercato di farla entrare in temperature e poi mi sono ripreso. Vedere la gente ed il tifo in tutto il circuito, nella parte interna ed esterna della pista è stato molto bello… è semplicemente incredibile quello che è stato fatto qui oggi e spero di correre qui molte altre volte e in più in una città bellissima come Parigi. Questo è ciò che la Formula E cerca".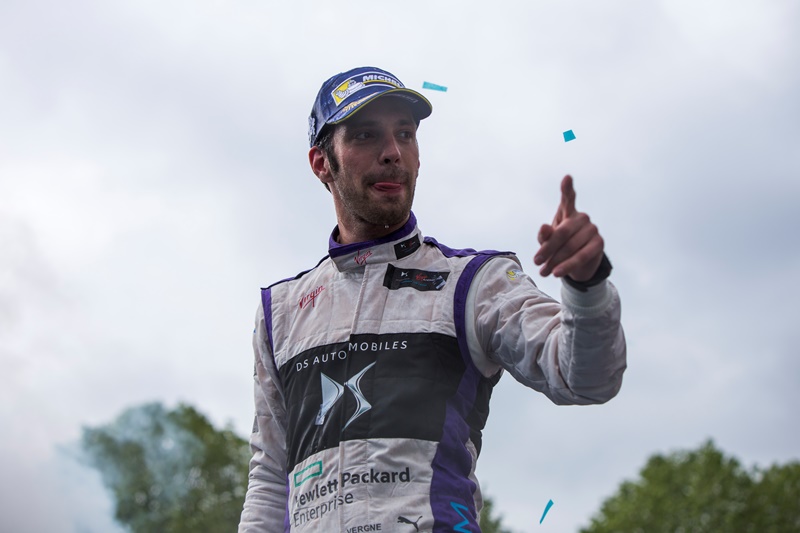 Il secondo posto di Jean Eric Vergne dovrebbe segnare un nuovo inizio per il pilota francese, felicissimo sul podio che ha detto:
"Questa stagione è stata finora molto complicata per me, ma la squadra mi ha aiutato a superare i momenti difficili. Parigi per me è stata una gara importante, non solo perché era la mia gara di casa, ma perché volevo che fosse l'inizio della mia stagione. Non ho vinto la gara di oggi ma sono sul podio. E' stata una gara molto pulita dalla nostra parte e per il resto della stagione ho intenzione di continuare a spingere per podi e vittorie. Certo, io sono estremamente felice per la squadra con DS Virgin che non solo è inglese, ma ha anche un marchio francese di costruttore di automobili come DS".
Riguardo la lotta tra i due, parlando con Electri Motor News ovviamente Vergne ha detto che non ci sono problemi nel rapporto tra di loro, chiudendo con un sorriso dicendo "qui veniamo a correre, non a ballare".
Molto meno amichevole Sam Bird, che ha ammesso l'errore ai nostri microfoni, ma ha anche detto che "avremo un briefing più tardi", che tradotto vuol dire che era parecchio arrabbiato.
Il terzo gradino del podio è stato di Sebastien Buemi, che non sembra avere lo strapotere della prima parte del campionato.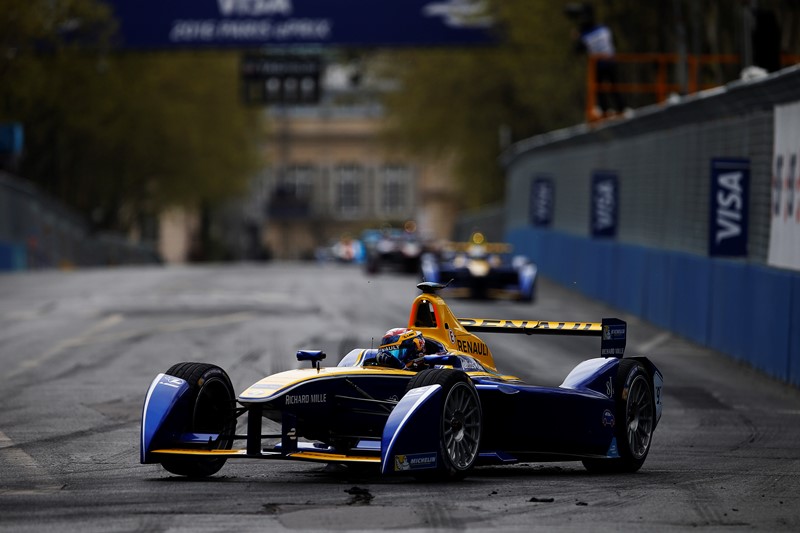 "Abbiamo avuto corse molto difficili negli ultimi tempi" – ha detto. "Abbiamo trovato alcune risposte sui nostri freni e hanno lavorato bene in qualifica ma qui mancava la temperatura più calda di cui si ha bisogno per riscaldare i nostri pneumatici. Il nostro passo sul giro non era buono, ma in gara penso che siamo stati i più veloci oggi. Abbiamo raggiunto e sorpassato gli altri in modo da dimostrare ancora una volta che tutto è a regime ed è OK. Dobbiamo solo lavorare molto duro fino al termine della stagione. Abbiamo avuto il miglior pacchetto a inizio stagione, ma non credo che sia più così. Torneremo. E' fastidioso essere un po' indietro nel campionato, ma Lucas ha fatto un ottimo lavoro e merita la vittoria. Quando ci sarà più caldo questo ci aiuterà"
Prost e Sarrazin hanno chiuso in quarto e quinto posto; buona posizione per entrambi francesi, il primo di loro ha bisogno di riscattare una stagione in ombra mentre il secondo continua a sommare punti in ogni gara ed ha fatto bene anche a Parigi dopo il secondo posto di Long Beach.
Frijns, Da Costa, Senna e Abt completano i top ten sommando punti importanti per ciascuno di loro. Frijns perché continua a mostrare una guida esuberante e redditizia, tenendo conto che guida la vettura con la configurazione della prima stagione della categoria. Lo stesso vale per Da Costa, che ha ammesso di aver sbagliato il giro in qualifica ed è stato costretto a partire decimo mentre secondo le sue dichiarazioni poteva esserci nei top 5.
Il nono posto di Bruno Senna permette al team Mahindra di racimolare qualche punticino dopo che la giornata è iniziata male con l'incidente tra Nick Heidfeld e Mike Conway nelle prime prove libere. Il pilota brasiliano conferma il lavoro permanente per migliorare la vettura ed ha detto di aver gestito molto bene l'energia e di essere convinto che se non fosse uscita la Safety Car avrebbe potuto superare Da Costa negli ultimi giri.
Daniel Abt arriva ancora in zona punti dopo una gara di lotta permanente in mezzo al gruppo e porta un altro contributo al Team ABT Schlaeffer, uno dei più forti della categoria.
Nick Heidfeld ha conquistato i due punti di bonus per aver segnato il Visa fastest lap partendo dall'ultimo posto sulla griglia di partenza.
Ed a proposito del team tedesco, la prossima sarà a casa loro, in Germania. E nonostante il team sia bavarese, si trovano molto bene supportati dal pubblico tedesco che questa volta andrà a vederle la gara all'Alexander Platz il 21 maggio prossimo.
In English
Di Grassi Triumphant in Paris
Abt Schaeffler star extends championship lead with stunning drive
Source: Formula E
Paris, France. April 23 2016. Lucas di Grassi has extended his lead in the FIA Formula E Championship with a flawless drive in the Visa Paris ePrix.
The Abt Schaeffler driver sprung off the line to take the lead at the start. Aside from two laps during the car swap pitstop phase, he led the entire way. The sell-out event crowd of 20,000 – which included France Prime Minister Manuel Valls, Anne Hidalgo, Mayor of Paris, Rachida Dati,  Mayor of the 7th Arrondissement and FIA President Jean Todt – was denied the grandstand finish the race deserved when series debutant Ma Qing Hua crashed heavily in the closing stages.
The Chinese racer was unhurt, but the Team Aguri car was buried against the wall and the Qualcomm Safety Car was deployed. With only five laps left, the race finished under yellow flags, and di Grassi's third win of the season was assured.
"I think it was the most perfect start we had so far," he said. "Sam had a lot of wheelspin and I just managed to avoid getting any. Jean-Eric also had a very good start and I was looking in my mirrors to make sure that he didn't get room on the inside. From then onwards I was pushing really hard, even after the Full Course Yellow. After the pitstop, on the cold tyres the car was just sliding for two laps as I tried to build up the temperatures and he caught up a bit. To see people all around the track cheering, on the inside of the track and the outside… it's just amazing what was done here today and I hope we race here many more times and in more cities like Paris. This is what Formula E is about."
Sam Bird scored three points for securing Julius Baer pole position, but a slow start meant he was passed not just by di Grassi, but also by his DS Virgin Racing team-mate Jean-Eric Vergne.
The two had a thrilling battle, trading paint in close-fought, but fair racing either side of the pit stop.
The contest ended when Bird made an error under pressure from Sebastien Buemi, who'd driven a charging race from eighth on the gird. The Brit outbraked himself and took to the escape road.
He was able to execute a spin-turn and rejoin but he was back in sixth.
This left Vergne, who'd won the FanBoost vote, clear to equal his best Formula E result and clinch his first podium finish of the season.
"This season has been very complicated for me so far but the team has helped me go through the procedures. Paris for me was an important race, not just because it was my home race, but because I wanted it to be the start of my season. I didn't win the race today but I'm on the podium. It was a very clean race from our side and for the rest of the season I'm going to keep pushing for podiums and wins. Of course, I'm extremely happy for the team with DS Virgin being not just English but a French brand with the car manufacturer DS."
Third for Buemi meant he's conceded even more ground in the championship, and is now 11 points behind, but after the travails of qualifying, a podium finish was a decent result at a track where overtaking was proving difficult, even with the addition of the extra FanBoost power the Swiss driver's fans had secured him.
"We've had some tough running in the last few races," he said. "We've found some answers on our brakes and they worked well in qualifying but here we just lacked temperature as it needs to be hotter to warm our tyres. Our pace over one lap wasn't good but in the race I think we were the quickest out there today. We caught up to others and overtook so it shows that once everything is up to speed it's OK. We just have to work very hard up to the end of the season. We had the best package at the start of the season but I don't think that's true anymore. We will come back. It's annoying to be a bit behind in the championship but Lucas did a great job and deserves the win. When it's hotter it will help us."
Nico Prost was passed by Buemi, but held on for a solid fourth place in his home race. Stephane Sarrazin made it three Frenchmen in the top-five and kept up his record of scoring points in every race this season.
The fourth French driver – Loic Duval – was a FanBoost winner for the first time, but it wasn't going to be his day as he was the first retirement of the race with mechanical problems in his Dragon Racing entry.
Robin Frijns drove another strong race for Andretti and was the first of the season one tech runners in seventh after a great race-long battle with the similarly-powered Team Aguri car of Antonio Felix da Costa. Bruno Senna was ninth for Mahindra, Daniel Abt – who led for a couple of laps during the pitstops – was 10th for Abt Schaeffler, while Nick Heidfeld picked up two bonus points for setting the Visa Fastest Lap in a charge from last place on the grid.
Formula E continues its European adventure with the Berlin ePrix, which takes place on May 21.
no images were found

.