Dal 14 al 19 Aprile Lexus presenta un'esperienza unica alla Milan Design Week
Fonte: Lexus Italia
Milano, Italia. 18 Marzo 2015. Da 10 anni Lexus partecipa al più grande evento mondiale dedicato al Design, la Milano Design Week. Collaborando con designer di fama mondiale che danno vita ad opere uniche, Lexus vuole esprimere la sua essenza di vero luxury brand ed indicare la sua interpretazione del design.
L'esposizione di quest'anno "LEXUS – A JOURNEY OF THE SENSES" è un viaggio attraverso tre aree tematiche realizzate del designer francese Philippe Nigro; ogni area stimolerà i cinque sensi in molti modi diversi.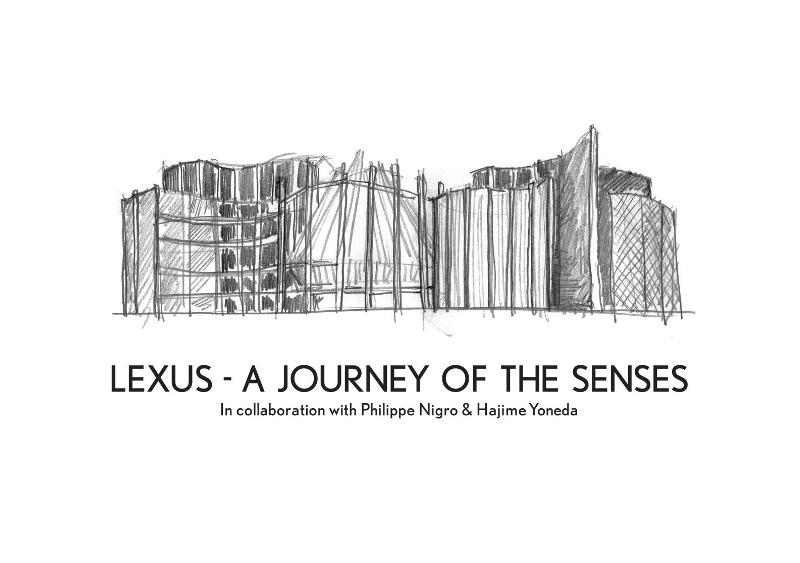 I sensi sono profondamente legati alla vita poiché ci permettono di percepire il mondo circostante. Attraverso la vista, l'udito, il tatto, l'olfatto ed il gusto, le nostre sensazioni sono continuamente sollecitate. Questo tema è, inoltre, particolarmente importante per Lexus, poiché tutta l'esperienza di guida è strettamente correlata ai sensi: dalla vista, che deve essere appagata dal design del veicolo, all'udito che viene soddisfatto dal suono di una perfetta registrazione del motore, fino alla sensazione trasmessa dal lusso della pelle dei sedili. Tutti i sensi sono coinvolti.
Philippe Nigro:
"Quando ho visitato gli stabilimenti produttivi Lexus per vedere come vengono progettate e prodotte le auto, sono rimasto profondamente impressionato da quanta cura viene posta non solo negli elementi direttamente visibili, ma anche in tutti quei particolari interni nascosti alla vista. E' stata questa consapevolezza che mi ha portato al concetto di design 'Inside-Out', che permette ai visitatori di sperimentare la bellezza da ogni punto di osservazione."
Mettendo in luce particolari che solitamente sono nascosti, Lexus invita i visitatori presso lo spazio appositamente realizzato a "La Torneria" per fare nuove scoperte ed esperienze in ognuna delle zone nelle quali si sviluppa il percorso dell'esposizione.
Zona 1: Nuove prospettive del design secondo Lexus
Un'opera creata per l'occasione sarà posizionata al centro di un'esclusiva installazione ed utilizzerà degli specchi per generare riflessi inaspettati e luci al fine di creare un flusso di movimenti che stimolano l'immaginazione.
Creata dal Centro di Design Europeo, ED2, questa opera riflette perfettamente la passione di Lexus per i futuri trend del design.
Zona 2: Lexus Design Award 2015 – Idee per plasmare il futuro
Le opere dei 12 finalisti del concorso Lexus Design Award 2015 verranno esposte in uno speciale spazio espositivo. I visitatori saranno guidati attraverso un percorso realizzato in legno nell'aerea espositiva dove i prototipi potranno essere ammirati. Lo spazio avrà un'atmosfera serena e rilassante per permettere ai visitatori di vivere a pieno l'originalità di ogni opera e comprendere come ognuna di esse possa contribuire a plasmare il futuro.
Zona 3: L'esperienza dei 5 sensi
I visitatori saranno, quindi, invitati ad esplorare tre bozzoli costituiti da un intricato reticolo di lattice e legno. I bozzoli chiamati "Pioggia", "Legno" e "Terra" creeranno un ambiente primordiale nel quale i visitatori potranno gustare le creazioni del food designer Hajime Yoneda mentre si muovono progressivamente in un viaggio sensoriale nell'esperienza del brand Lexus.
Nel primo bozzolo i visitatori saranno accolti in una stanza buia da una cascata di fiocchi per provare le sensazioni date dalla pioggia che cade.
All'entrata del secondo bozzolo verranno offerte ai visitatori delle creazioni di cioccolato fatte a mano per provare odori, suoni e sensazioni di una foresta vivendola dall'interno.
Infine, ai visitatori verrà offerta la "Zuppa della Terra" prima di entrare in un meraviglioso universo con stelle che brillano nel buio che simboleggia la forza vitale della madre terra.
LEXUS – A JOURNEY OF THE SENSES sarà aperto al pubblico da martedì 14 a domenica 19 Aprile, dalle 11 alle 21 allo Spazio Lexus – La Torneria, Via Tortona 32 – Milano.
no images were found