Fonte: Lexus Italia
Roma, Italia. 21 aprile 2016. Pochi giorni fa è stata consegnata ad un cliente italiano la milionesima Lexus Hybrid prodotta nel mondo.
Per celebrare questo momento, fondamentale per il marchio e per la tecnologia che ha permesso di raggiungere un nuovo record di vendite lo scorso anno, Lexus ha pensato a un evento davvero speciale, sviluppato attorno al concetto di Omotenashi: lo spirito d'accoglienza giapponese che è da sempre parte del DNA del brand.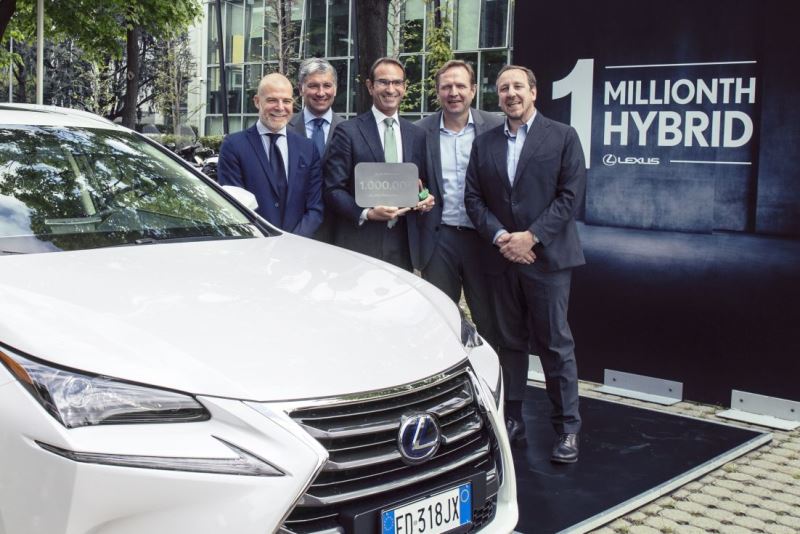 Dopo essere stato accolto in concessionaria a Milano per la consegna del suo nuovo NX Hybrid, il dott. Aldo Pirronello si è ritrovato coinvolto, a sua insaputa, in una gag che ha avuto come attori protagonisti i vertici Toyota e Lexus.
Per festeggiare l'evento, il cliente è stato accompagnato presso il luogo della consegna ufficiale da un attore del tutto particolare. Si trattava infatti di Andrea Carlucci, Managing Director di Toyota Motor Italia, che sotto mentite spoglie ha recitato il ruolo dell'autista.
Prima di arrivare a destinazione, poi, al dott. Pirronello è stato offerto un caffè al bar, dove le consumazioni sono state portate al tavolo da Mariano Autuori, Head of Lexus Italia, che interpretava il ruolo di cameriere.
Arrivato sul posto, Aldo Pirronello è stato accolto da Patrizia Brunetti, Communication & External Affair Senior Manager, che si è finta hostess, poco prima dell'arrivo della vettura del cliente, guidata da un addetto alla consegna molto particolare.
L'NX Hybrid del cliente è stato infatti guidato sul luogo della consegna da Alain Uyttenhoven, Head of Lexus Europe che, sceso dall'auto, ha svelato le vere identità degli attori.
Al dott. Aldo Pirronello, visibilmente sorpreso ed entusiasta, è stata infine consegnata una targa commemorativa, prima che gli venissero consegnate le chiavi della sua nuova auto.
httpv://www.youtube.com/watch?v=DdUKORgfVkc
no images were found

.