Lexus e Jude Law per una performance "on the road" in diretta streaming
Il primo viaggio digitale telecomandato dal pubblico
Fonte: Lexus Italia
25 ottobre 2016. La scorsa notte Lexus e Jude Law si sono ritrovati per un nuovo evento legato alla campagna 'The Life RX': questa volta la performance, trasmessa in streaming, è stata completamente improvvisata nella zona dei principali teatri londinesi. Ripreso al volante del nuovo Lexus RX Hybrid, la leggenda del cinema e del teatro Jude Law è stato il protagonista di un viaggio straordinario per le strade di Soho, un percorso scelto in base al suo istinto e alle indicazioni in tempo reale da parte del regista e del pubblico.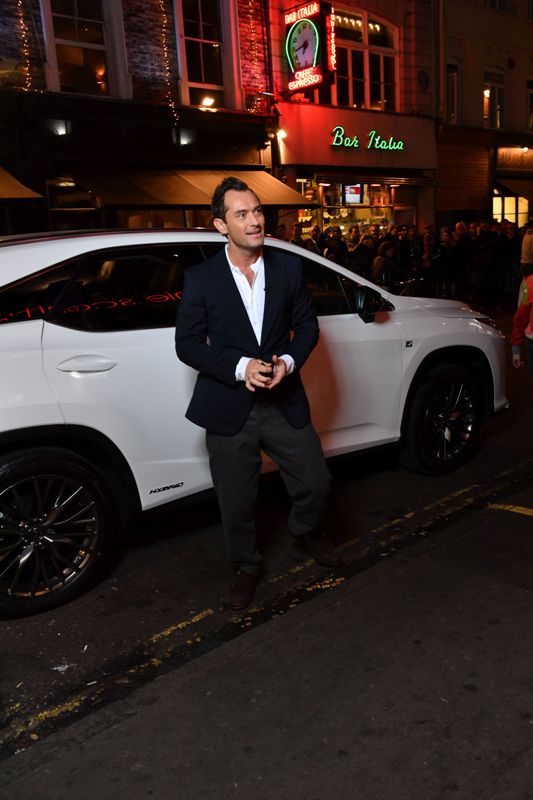 All'apertura del sipario del "The Box", uno dei più rinomati cabaret di Londra, Jude Law è salito sul palco raccontando alla platea come nei seguenti 45 minuti la sua vita sarebbe stata decisa da utenti di tutto il mondo invitati a scegliere il tessuto narrativo della serata. Appena sceso dal palcoscenico le mosse di Jude sono state telecomandate da casa in un susseguirsi di eventi che hanno dato vita a un'avventura inedita.
La trama interattiva ha seguito l'attore nella ricerca di un cast da mettere insieme per una performance finale unica nel suo genere. Per farlo l'attore ha ricevuto istruzioni 'on the road' sulla regia e sulla sceneggiatura da parte degli spettatori, i quali lo hanno sfidato ad affinare le sue capacità artistiche lungo la strada.
L'attore è quindi salito sul suo RX Hybrid puntando dritto da Zima, un ristorante in stile 'speakeasy', reclutando uno dei membri del cast per la performance serale. Nel locale ha incontrato Alexei Zimin, Chef e presentatore TV russo il quale, prima che Jude riuscisse a congedarsi dal ristorante, ne ha chiesto il prezioso aiuto in cucina. La tappa successiva è diventata quindi il leggendario Ronnie Scott's Jazz Club, nel quale l'attore ha scelto il compositore per la pièce teatrale. La penultima scena ha visto Jude mettere alla prova le sue capacità artistiche nel tentativo di reclutare Jorge Rodriguez-Gerada, street artist e designer cubano-americano di fama mondiale.
La performance 'on the road' è proseguita in crescendo quando l'attore ha fatto il suo ritorno al The Box con il cast e la troupe al seguito per preparare l'intenso finale 'multi-disciplina', per il quale era in attesa anche la popolare cantautrice Laura Mvula, che ha concluso la performance raggiungendo Jude ed i suoi collaboratori sul palco per cantare il suo ultimo singolo, Overcome.
Il tessuto narrativo è stato ispirato alla 'Life RX', uno stile di vita unico, emozionante e all'insegna dell'eccellenza riassunto nello spot TV dell'RX 2016 interpretato dallo stesso Jude Law. Questa partnership artistica ha visto inoltre la partecipazione dell'attore ad un'esclusiva performance di teatro immersivo all'inizio del 2016.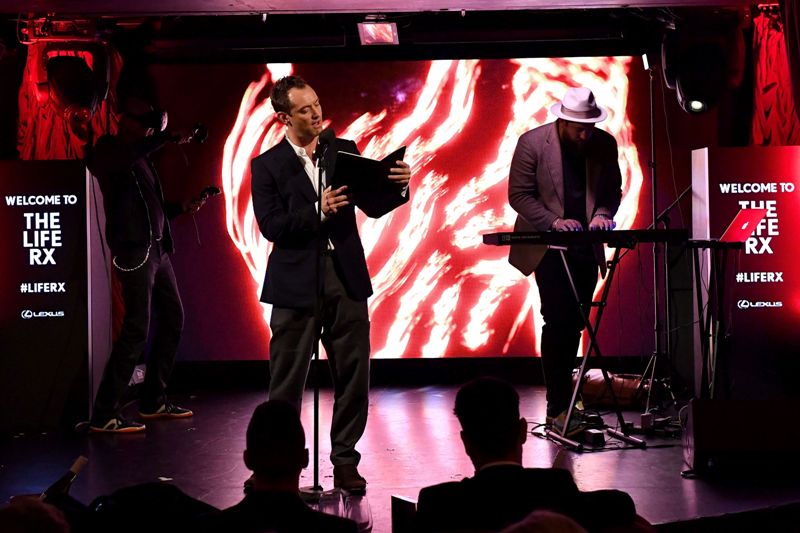 Il commento di Jude Law a proposito dell'evento:
"Non capita spesso l'opportunità di far parte di qualcosa che ti consenta di essere assolutamente spontaneo e sviluppare una storia in base all'improvvisazione. E' questo che ha caratterizzato la partnership sin dall'inizio: dare vita ad esperienze innovative e consentire alla gente di esserne parte integrante, questa volta, scegliendo una storia che si sviluppa in diretta, permettendo al pubblico di creare qualcosa di straordinario."
Anche Laura Mvula parlando di live streaming, ha detto:
"E' stato fantastico essere coinvolti in un'esperienza unica e salire sul palco al fianco di Jude. Inoltre, la diretta streaming in tutta Europa ha veramente arricchito l'atmosfera in teatro".
Spiros Fotinos, Head of Marketing di Lexus Europe:
"All'inizio dell'anno, nell'ottica della campagna Lexus RX abbiamo messo in scena insieme a Jude Law un'esperienza di teatro immersivo senza precedenti. Questo nuovo approccio narrativo ha lasciato i partecipanti a bocca aperta, quindi ci siamo chiesti: cosa possiamo inventarci adesso? Jude condivide in pieno la nostra passione per l'innovazione e il coraggio di stupire, quindi la collaborazione è proseguita in maniera del tutto naturale portandoci a ideare questa nuova, straordinaria esperienza."
no images were found

.