Lexus sposa il nuovo capolavoro di Quentin Tarantino "The Hatefult Eight" sponsorizzandone la prima nazionale
Fonte: Lexus Italia
Roma, Italia. 29 gennaio 2016. Simbolo di eccellenza, stile e perfezione, Lexus è il primo brand 100% Hybrid in grado di trasportare i propri clienti in un'atmosfera unica, in un mondo fuori dal comune, in cui tutto è classe ed eleganza. Come sempre Lexus non finisce mai di stupire e per farlo ha scelto, ancora una volta, il mondo del cinema sponsorizzando la prima nazionale di "The Hateful Eight", l'ottava attesissima opera cinematografica del regista premio Oscar® Quentin Tarantino che torna al cinema con un western con una forte connotazione thriller." Il film, con Samuel L. Jackson, Kurt Russel, Jennifer Jason Leigh, Walton Goggins, Demain Bichir, Tim Roth, Michael Madsen e Bruce Dern, è stato prodotto da The Weinstein Company ed è un'esclusiva per l'Italia di Leone Film Group e Rai Cinema.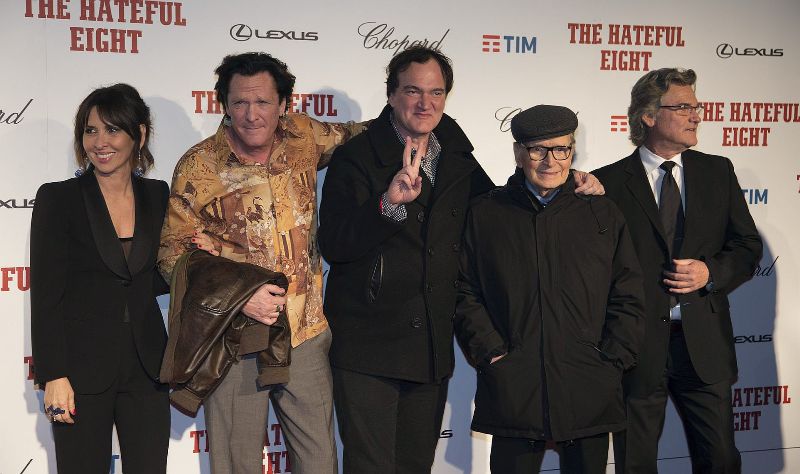 La pellicola, già vincitrice degli ultimi Golden Globe 2016 per la migliore colonna sonora del maestro Ennio Morricone, nominato anche agli Oscar® 2016 insieme all'attrice Jennifer Jason Leigh come miglior attrice non protagonista, e che ha ricevuto una nomination anche nella categoria miglior fotografia, sarà nelle sale italiane dal 4 febbraio distribuito da 01 Distribution.
Sono state proprio delle vetture Lexus quelle che hanno accompagnato il regista e alcuni degli altri attori protagonisti, durante la prima italiana del 28 gennaio a Roma presso il Teatro 5 di Cinecittà, il più grande teatro di posa a livello europeo e storico regno di Federico Fellini.
Hollywood e i suoi protagonisti, rappresentano un mondo estremamente affine a quello Lexus; un universo straordinario fatto di esclusività, cura dei particolari e ricerca dell'eccellenza. Così come per il cinema e la recitazione, anche per Lexus nulla è lasciato al caso.
L'ultima campagna pubblicitaria del brand, "The Life RX", ribadisce tali concetti grazie anche alla partecipazione straordinaria dell'attore inglese Jude Law, scelto come testimonial per promuovere la nuova generazione di RX Hybrid.
"The Life RX" trasmette al pubblico un messaggio chiaro e diretto: guidare il nuovo RX vuol dire possedere uno stile di vita unico, emozionante e all'insegna dell'eccellenza, valori che si riscontrano anche nella maestria con cui il grande regista Quentin Tarantino cura le proprie opere.
Ma Lexus è, anche, sinonimo di innovazione; ed è questo spirito di ricerca inarrestabile che ha dato origine alla sua filosofia "Amazing in Motion": una serie di progetti legati alla bellezza, alla perfezione in movimento, al design, alla tecnologia futuristica, ma soprattutto al talento. Da qui ha visto gli esordi Il Lexus Short Film, il contest  lanciato nel 2013, in collaborazione proprio con The Weinstein Company, che porta l'innovazione nel cinema emergente ed ha l'obiettivo di  supportare i giovani registi, dando loro la possibilità di mostrare i propri lavori presso un pubblico e un palcoscenico internazionali.
L'evento è visibile attraverso immagini esclusive dal Red Carpet su tutti canali social Lexus
no images were found