A cura di H2R con Toyota, Lifegate e CARe
Fonte: H2R Mobility for Sustainability
Rimini, Italia. 9 novembre 2016 – Un lungo viaggio all'insegna dell'ibrido e della mobilità sostenibile è l'argomento del convegno che apre la seconda giornata di H2R-MFS alla Fiera di Rimini dal titolo"L'auto ibrida: la prova della verità" organizzato e moderato da Fabio Orecchini, Direttore del CARe – Center for Automotive Research and Evolution e con la partecipazione di Riccardo Taglioni, Pr Toyota, Ing. Marco Bello, Direzione Tecnica Toyota e Roberto Sposini di Lifegate (punto di riferimento per la sostenibilità in Italia si avvale di un network di informazione grazie alla community www.lifegate.it in continua crescita).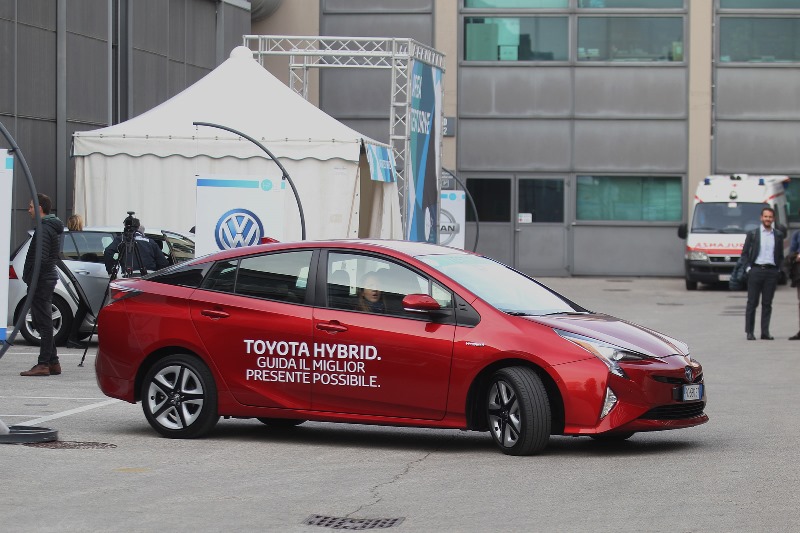 Toyota in collaborazione con Lifegate ha sviluppato un lungo progetto per comunicare la tecnologia ibrida al di fuori dei contesti prettamente tecnici ed avvicinarlo al grande pubblico. Dall'arrivo della prima vettura ibrida di Toyota nel 2004, il percorso di Lifegate con Toyota sulla comunicazione ambientale per seminare consapevolezza ha attraversato diverse tappe. In una prima fase Insieme per la tutela dell'ambiente si è partiti dai progetti volti alla riqualificazione ambientale (Parco del Ticino e Villa Borghese) all'eco tagliando che finanziava la riqualificazione di aree forestali a ricompensazione delle emissioni di CO2. In una seconda tappa, Insieme per una Mobility Revolution Lifegate ha sviluppato un indice di valutazione della sostenibilità delle automobili adottato da Toyota Motor Italia per valorizzare i plus della gamma Toyota Hybrid in riferimento all'impatto ambientale, al risparmio, all'innovazione tecnologica, alla serenita di guida. Due gli strumenti utilizzati:  il Fleet Configurator –Toyota  Business Plus (Integrazione del servizio offerto per le flotte aziendali con l'adozione di un tool di comparazione del livello di sostenibilità dell'attuale flotta del cliente rispetto alla scelta di soli veicoli Toyota/Lexus) e Road App per Toyota (Customizzazione della Road App di Mobility Revolution per confrontare il livello di sostenibilità delle vetture ibride Toyota rispetto ai modelli attualmente sul mercato).La terza fase in atto Insieme per una Hybrid Lifestyle mira a informare il grande pubblico per sensibilizzarlo sui vantaggi della tecnologia ibrida, quale elemento concreto di mobilità sostenibile da adottare.
Inoltre Toyota ha effettuato uno studio in collaborazione con CARe volto ad analizzare per quanto tempo l'auto ibrida di Toyota  (Toyota Prius di quarta generazione) funzionasse in modalità elettrica. Il test è durato un mese e mezzo: su un percorso urbano andata-ritorno di 37 Km, con 20 guidatori diversi (uomini, donne, esperti e non alla guida) con una percorrenza complessiva di 2000 Km venivano acquisiti 28 parametri (con 168 milioni di valori totali acquisiti). Attraverso i parametri di funzionamento in ZEV – quanto tempo e quanto spazio percorre in emissioni zero – lo studio ha evidenziato che l'auto ha marciato per oltre il 70% del tempo in modalità emissioni zero. Il rendimento ed i consumi sono risultati praticamente il doppio di quelli di un'auto a combustione interna tradizionale.
"H2R – Mobility for sustainability 2016", come tutte le 14 edizioni precedenti, è promosso dal CNR – Consiglio Nazionale delle Ricerche – Istituto di tecnologie avanzate per l´energia, dall'ENEA – Agenzia Nazionale per le Nuove tecnologie, l'Energia e lo sviluppo economico sostenibile, dal CARe – Center for Automotive Research and Evolution.
H2R partecipa a Impatto Zero®. Le emissioni di CO2 prodotte dall'evento sono compensate mediante crediti di carbonio generati da interventi di creazione e tutela di foreste in crescita.
no images were found

.