Fonte: Formula E
Londra, Gran Bretagna. 29 Gennaio 2016. Siamo quasi ad un terzo della seconda stagione di Formula E, quindi questa è una buona occasione per riflettere su ciò che è accaduto finora.
Con le regole aperte in materia di tecnologia di powertrain, la prima stagione che è servita di libro è stata buttata fuori dalla finestra. Questo è anche significato che tutti i nuovi produttori ha dato il via a loro modo i test pre-campionato prima che le sessioni ufficiali cominciassero a Donington – in alcuni casi anche prima che la stagione precedente fosse finita.
Eppure, nonostante i nuovi riduttori, invertiter e motori, ancora una volta è stato Sebastien Buemi e il team Renault e.dams che ha monopolizzato il primo posto sulle schede. Dall'altra estremità del tavolo c'erano i musi lunghi di Andretti e Trulli, con i loro problemi di affidabilità che limitavano il loro funzionamento.
Quando i test volgevano al termine, Andretti ha fatto la coraggiosa decisione di tornare a quel pacchetto tecnico della prima stagione. Trulli d'altra parte ha scelto di mantenere la fede nella sua nuova tecnologia …
Così come le nuove livree nel look ed alcuni piloti nuovi, la seconda stagione ha anche annunciato un nuovo sound per la Formula E, con le diverse combinazioni motore/cambio con una conseguente differenza udibile tra le vetture.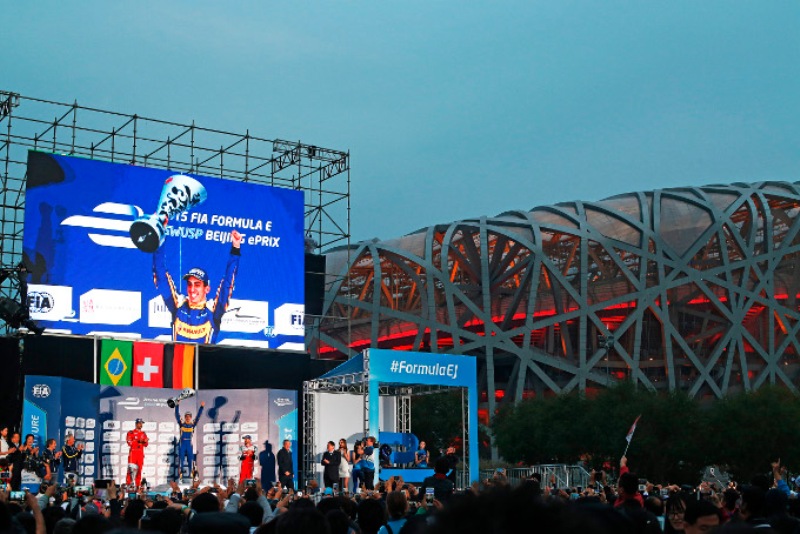 Una modifica del tracciato di Pechino ha fatto sì che un confronto diretto dei tempi sul giro tra la stagione uno e due fosse impossibile, ma tutti nel paddock erano d'accordo che il miglior giro di Buemi di 1: 36.991 (quasi cinque secondi più veloce rispetto al miglior tempo della sessione di prove libere della prima stagione), fosse stata una prestazione impressionante e inquietante.
Buemi ha debitamente trasformato questo ritmo sensazionale in pole position e, anche se è stato il leader durante una buona parte della gara grazie all'impressionante vantaggio che aveva costruito, ha perso tutto dietro la safety car, altrimenti sarebbe andato a casa con una comoda vittoria, invece vittoria è stata ma non così comoda. Avendo ottenuto anche il giro più veloce, Buemi è diventato il primo pilota nella storia della Formula E a segnare un massimo di 30 punti in un ePrix.
Con la pista invariata a Putrajaya, un confronto diretto tra il ritmo delle vetture della prima stagione e della seconda era possibile, e ancora una volta era Buemi ad aprire la strada, fissando la pole position con un giro di 1.7s più veloce di Nico Prost che era riuscita a segnare la pole nella prima stagione.
Nella gara Buemi è stato ancora una volta leader verso la vittoria – la prima vittoria da bandiera a bandiera in Formula E – quando dal nulla la sua auto si fermò improvvisamente. Pochi secondi dopo è toranta di nuovo in vita, ma il vantaggio era stato perso, e Lucas di Grassi ha sfruttato al meglio la situazione per assicurarsi la vittoria per il team Abt Schaeffler.
Buemi ha ristabilito l'equilibrio a Punta del Este, riprendendosi da un raro errore in qualifica, che lo ha lasciato quinto sulla griglia di partenza, si è aggiudicato la vittoria ed è tornato al capotavola del campionato.
Nonostante Buemi e Renault e.dams abbiano mostrando un chiaro vantaggio nel ritmo in gara, grazie alla consistenza mantenuta da di Grassi, che ha preso due secondi posti e la vittoria di Putrajaya, lo svizzero ha un solo punto di vantaggio sul brasiliano.
Non sorprende che il duo di testa sia più avanti degli inseguitori. Anzi, entrambi hanno più del doppio dei punti del loro sfidante più vicino, Jerome D'Ambrosio del Dragon Racing. Il belga ha preso la sua prima pole in Formula E a Punta, che si convertì nel secondo posto dopo il combattuto quinto nell'apertura di Pechino. Ma un componente della sospensione si è rotto e gli ha negato un podio probabile a Putrajaya.
Solo due squadre – DS Vergin Racing e NEXTEV TCR – hanno optato per la soluzione di due motori. E mentre entrambe le squadre, DS in particolare, hanno mostrato lampi di velocità, la maggiore polarizzazione del peso nel posteriore hanno reso queste vetture molto difficili da guidare. Tuttavia, Sam Bird era in forma di nuovo a Putrajaya, raccogliendo un ottimo secondo posto dopo il settimo posto segnato a Pechino.
Era diretto a un altro solido arrivo tra la top six a Punta quando la sua macchina si è fermata in pista. Il suo nuovo compagno di squadra nella DS Virgin Racing, Jean-Eric Vergne ha avuto una grande lotta a fine gara con Nelson Piquet Jr a Punta, raggiungendo il settimo posto per i suoi primi punti della stagione.
E' stata una difesa del titolo finora difficile per Piquet, con il NEXTEV che fatica a tenere il passo gara delle Renault e.dams vincenti e del team Abt Schaeffler. Una corsa solida all'ottavo posto a Putrajaya sono i suoi unici punti della stagione, anche se era pronto per un altro arrivo nella top-10 quando è andato a muro a Punta.
Il compagno di squadra nel team NEXTEV Oliver Turvey ha avuto un colpo di fortuna con i tempi di uscita della safety car a Pechino, segnando un ottimo sesto posto, ma sono i suoi unici punti finora.
Loic Duval ha messo tutto il Dragon Racing in prima fila a Punta, ma è scivolato al quarto posto in gara. Questa è stata la stessa posizione in cui ha terminato a Pechino. E' stato in lotta per un podio a Putrajaya quando ha subito lo stesso identico problema di ammortizzatore di D'Ambrosio e si ritirò.
Nick Heidfeld ha cambiato da Venturi a Mahindra nella seconda stagione e ha iniziato la sua carriera con il suo nuovo datore di lavoro, con una grande corsa al terzo posto a Pechino. Ha preso il nono a Putrajaya, ma aveva danneggiato la sua mano in un impatto a metà gara, il che significava che era costretto a saltare la gara di Punta, dove Formula il Campione di Formula Renault 3.5 Oliver Rowland ha fatto il suo debutto. Heidfeld torna alla serie a Buenos Aires.
Bruno Senna ha avuto una bella gara a Putrajaya prendendo il quinto posto, ma finora sono i suoi unici punti della stagione.
Accanto ad Andretti, l'unica altra squadra di attaccare con la tecnologia della scorsa stagione era il team Aguri. Il vantaggio nella gestione della tecnologia più anziana è stato dimostrato dall'affidabilità, e quando il caldo rovente di Putrajaya ha messo di mira le macchine, questa teoria è stata dimostrata quando Robin Frijns ha ottenuto un brillante terzo posto, nonostante tagliare il traguardo con le sospensioni squilibrate dopo una spazzolata al muro negli ultimi giri.
Antonio Felix da Costa è abbonato al sesto posto per Aguri e dovrà Salvador Duran, il suo nuovo compagno di squadra a Buenos Aires al posto di Nathanael Berthon, che aveva segnato i suoi unici punti in Formula E con l'ottavo posto a Pechino.
Stephane Sarrazin ha mostrato il potenziale del pacchetto Venturi qualificandosi in prima fila a Putrajaya, ma non era in grado di prendere il suo posto sulla griglia di partenza come conseguenza di un problema di corrente nella sua vettura che l'ha costretto a partire dai box.
Una grande rimonta dalla pitlane ha mostrato arrivando quarto quello che avrebbe potuto essere. Anche lui avrà un nuovo compagno di squadra a Buenos Aires, con il suo compagno nel Toyota WEC il pilota inglese Mike Conway che prende il posto del campione del mondo ex F1 Jacques Villeneuve.
Ci sono solo nove squadre al momento nella categoria, perchè Trulli ha perso la lotta con la sua nuova tecnologia dopo aver fallito la griglia sia Pechino che a Putrajaya. Il deficit sarà tuttavia di breve durata, perché Jaguar ha già confermato che si unirà alla serie nella terza stagione, dimostrando chiaramente il fascino della Formula E per le maggiori case automobilistiche.
In English
The story so far
Source: Formula E
London, UK. 29th January 2016. We are almost a third of the way through the second season of Formula E, so this is a good opportunity to reflect on what's happened so far.
With the rules regarding the powertrain technology opened up, the season one form book was thrown out of the window. It also meant that all of the new manufacturers kicked off their pre-season testing way before the official sessions commenced at Donington – in some cases even before season one had finished.
Yet despite the new gearboxes, invertors and motors, once again it was Sebastien Buemi and the Renault e.dams team that monopolised the top spot on the timesheets. At the other end of the table there were long faces at Andretti and Trulli as reliability issues were limiting their running.
With testing drawing to a close, Andretti made the bold decision to switch back to the season one technical package. Trulli on the other hand opted to keep faith with its new tech…
As well as new-look liveries and some fresh drivers, the second season also heralded a new sound for Formula E, with the different motor/gearbox combinations resulting in an audible difference between the cars.
A change to the track layout in Beijing meant that a direct like-for-like comparison of the lap times between season one and two was impossible, but everyone in the paddock was in agreement that Buemi's best lap of 1:36.991 (almost five seconds faster than the best time from the opening practice session in season one), was an impressive and ominous performance.
Buemi duly converted this sensational pace into pole position and although a large chunk of the impressive lead he'd built up was lost behind the safety car, he still romped home to a comfortable win. By bagging the fastest lap in the process, Buemi became the first driver in Formula E history to score a maximum 30 points at an ePrix.
With the track unchanged in Putrajaya, a direct comparison between the pace of the cars in season one and two was possible, and once again it was Buemi leading the way, setting a pole position lap 1.7s faster than Nico Prost managed when he topped the times in season one.
In the race Buemi was once again heading to victory – the first back-to-back win in Formula E – when out of nowhere his car suddenly stopped. A handful of seconds later it burst back into life, but the lead had been lost, and Lucas di Grassi took full advantage to secure victory for the Abt Schaeffler team.
Buemi redressed the balance in Punta del Este, recovering from a rare qualifying error, which left him fifth on the grid, to charge to victory and back to the head of the championship table.
Despite Buemi and Renault e.dams showing a clear pace advantage in the races, such has been the consistency of di Grassi, who's taken two second places as well as the Putrajaya win, the Swiss is just a single point clear of the Brazilian.
Unsurprisingly the lead duo is way ahead of the chasing pack. Indeed, they both have more than double the points of their nearest challenger, Dragon Racing's Jerome D'Ambrosio. The Belgian took his first Formula E pole in Punta, which he converted into second place and was a fighting fifth in the Beijing opener. But a broken suspension component denied him a probable podium finish in Putrajaya.
Only two teams – DS Virgin and NEXTEV TCR – opted for a dual-motor solution. And while both teams, DS in particular, have shown flashes of speed, the increased rearward weight bias has made these cars look very tricky to drive. Nevertheless, Sam Bird was on form again in Putrajaya, picking up an excellent second place to go with the seventh place he scored in Beijing.
He was heading to another solid top-six finish in Punta when his car stopped on track. His new team-mate at DS Virgin, Jean-Eric Vergne had a great late-race dice with Nelson Piquet Jr in Punta as he claimed seventh for his first points of the season.
It's been a tough title defence for Piquet so far, with NEXTEV struggling to match the pace of the race-winning Renault e.dams and Abt Schaeffler teams. A solid run to eighth in Putrajaya is his only points finish so far, although he was set for another top-10 finish when he crashed out in Punta. NEXTEV team-mate Oliver Turvey got a lucky break with the timing of the safety car deployment in Beijing to score a great sixth place, but they are his only points thus far.
Loic Duval made it the first all-Dragon front row in Punta, but slipped to fourth in race. This was the same position he finished in Beijing too. He was on for a podium finish in Putrajaya when he suffered the exact same damper failure as D'Ambrosio and retired.
Nick Heidfeld switched from Venturi to Mahindra during the closed season and started his career with his new employer with a great run to third in Beijing. He took ninth in Putrajaya but had damaged his hand in a mid-race impact, which meant he was forced to miss the race in Punta, where Formula Renault 3.5 champion Oliver Rowland stood in. Heidfeld returns to the series in Buenos Aires.
Bruno Senna enjoyed a strong race in Putrajaya to take fifth, but they are his only points of the season so far.
Alongside Andretti the only other team to stick with the season one tech was Team Aguri. The benefit in running the older tech was proven reliability, and when the searing heat of Putrajaya set the mice among the machinery, this theory was proven as Robin Frijns took a brilliant third place, despite crossing the line with deranged suspension after a late-race brush with the wall. Antonio Felix da Costa is on a run of back-to-back sixth-place finishes for Aguri and will have Salvador Duran as a new team-mate in Buenos Aires in place of Nathanael Berthon, who scored his only Formula E points with eighth place in Beijing.
Stephane Sarrazin showed the potential of the Venturi package by qualifying on the front row in Putrajaya, but was unable to take up his place on the grid when the car cut out on the dummy grid. A great fightback from the pitlane to fourth showed what could have been. He too will have a new team-mate in Buenos Aires, with fellow Toyota WEC racer Mike Conway taking over from ex-F1 world champion Jacques Villeneuve.
There are just nine teams in the series at the moment as Trulli gave up the fight with its new technology after failing to make the grid in either Beijing or Putrajaya. The shortfall will be short-lived however, as Jaguar has already confirmed that it will be joining the series in season three, clearly demonstrating the appeal of Formula E to major car manufacturers.
no images were found

.