Il responsabile della gestione del marchio MINI Sebastian Mackensen ed il responsabile della gestione serie MINI Peter Wolf prevedono il primo modello hybrid plug-in del marchio premium britannico.
Fonte: MINI
Monaco di Baviera, Germania. 17 Ottobre 2016. MINI offrirà il divertimento di guida combinato con zero emissioni di scarico. Con l'introduzione del primo modello ibrido plug-in del marchio premium britannico, questo sarà presto una realtà.
Il processo di sviluppo di serie di questa vettura è stato quasi completato. È dotata di un motore a combustione e un motore elettrico che permette la propulsione puramente elettrica per la prima volta in una MINI. Questo segna l'inizio di una nuova fase per la MINI, e offre uno sguardo ad un futuro che ha il compito di eccitazione per i clienti MINI e di quei driver che ancora devono sperimentare l'emozione di un ibrida.
Il Responsabile della gestione del marchio MINI Sebastian Mackensen ed il Responsabile della gestione serie MINI Peter Wolf hanno messo a disposizione degli esemplari di prova di questo nuovo veicolo vicino alla produzione di serie, e spiegano come si conserva il feeling del go-kart nel vero spirito di una MINI nel corso di un test drive di questo modello.
"Con questo modello vogliamo convincere i clienti MINI dei vantaggi della trazione ibrida", dice Mackensen, "e impressionare tutti coloro che hanno già esperienza di guida ibrida con una sensazione unica della guida in stile go-kart della MINI."
La chiave per il raggiungimento di questo sta nella gestione intelligente dell'energia che viene utilizzata per controllare il funzionamento insieme del motore a combustione ed il motore elettrico. Per questo motivo, la prima MINI plug-in ibrida non si concentra esclusivamente sull'efficienza, ma senza compromessi alla ricerca di divertimento di guida.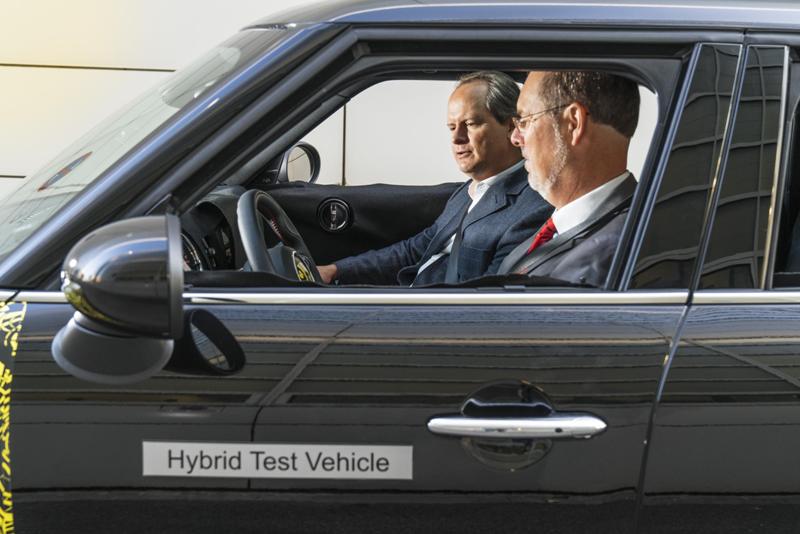 A prima vista, non si riconosce la macchina di prova come un modello ibrido. E non è a causa del camuffamento utilizzato. La presa di ricarica della batteria ad alta tensione è discretamente integrata nel lato sinistro. Tutto sembra anche familiare nella cabina di guida. Il pulsante di avvio / arresto nel centro della plancia è giallo anziché rosso. Come al solito, è sufficiente premere il pulsante per avviare la macchina – questo veicolo, però, rimane in silenzio mperchè il modello ibrido si avvia sempre in modo elettrico.
Il contagiri nella strumentazione sul piantone dello sterzo è stato sostituito con un display di potenza. Mantenere l'occhio su questo display è particolarmente utile per le prime miglia poichè comunica al conducente le riserve di potenza del motore elettrico prima che il motore a combustione venga avviato automaticamente. Quando esattamente il motore a combustione si avvia è variabile a seconda della velocità del veicolo e l'intensità con cui il conducente aziona il pedale dell'acceleratore.
"Dopo un breve periodo di tempo, il conducente inizia a sentire il feeling di questo", promette Wolf.
E questa nuova esperienza di guida promette molto divertimento. La MINI hybrid sfrutta al massimo tutta la coppia del motore elettrico, che è disponibile direttamente da fermo, consentendo l'accelerazione della vettura come una catapulta. Anche dopo aver lasciato il passo più lento della città, questo veicolo mantiene le sue emissioni zero allo scarico a velocità autostradali. La batteria ad alta tensione alloggiata sotto i sedili posteriori fornisce energia per una guida elettrica di lunga durata.
La modalità standard AUTO eDrive consente una velocità di fino a 50 mph, mentre in modo MAX eDrive la velocità è di fino a 78 mph (80 km e 126 km rispettivamente).
Per Mackensen questa è una questione di carattere:
"In un modello MINI ibrido, la guida elettrica deve anche essere un'esperienza esaltante. Ciò significa che guidare interamente in elettrico non è limitato a una velocità di 30 o 40 km/h ma di velocità ben oltre il ritmo del traffico cittadino".
Provando il veicolo lui stesso, Mackensen ha dimostrato che è necessario piantare bene il piede sull'acceleratore per attivare la seconda fonte di alimentazione. Poi le cose realmente cominciano ad accadere. Con la potenza combinata di entrambe le unità, il primo veicolo ibrido MINI dimostra prestazioni di accelerazione senza precedenti se confrontato con i suoi fratelli da motore a combustione.
Tuttavia, le caratteristiche di guida di go-kart di MINI sono molto di più di una veloce accelerazione. Soprattutto, quest'ibrida MINI deve dimostrare come appunto gestisce la trazione prendendo curve sul più emozionante e nelle strade tortuose. Questo è dove il concept ibrido plug-in di MINI gioca la sua prossima carta vincente.
"Per quanto riguarda il telaio e le sospensioni sono interessati, nulla cambia dalle varianti di modello a trazione convenzionale" – dice Wolf – "e il set-up beneficia molto dal concetto ibrido". Grazie ai componenti eDrive, che sono posizionati molto in basso, nella parte posteriore, il centro di gravità dell'auto si abbassa e il peso è in equilibrio tra la parte anteriore e l'asse posteriore – ideale per raggiungere un livello ancora più elevato della già leggendaria agilità di MINI.
Il concep Hybrid fornisce un ulteriore vantaggio: il motore elettrico trasmette la sua potenza alle ruote posteriori, il motore a combustione alle ruote anteriori. Dal momento che la gestione intelligente dell'energia è legata al controllo dinamico della stabilità (DSC), la trazione e la stabilità sono ottimizzati tramite il sistema di azionamento.
"Non appena vi è alcun rischio di slittamento delle ruote, il dispositivo di azionamento viene attivato per fornire ulteriore trazione quando si avvia da spento o garantire un elevato livello di precisione di guida in curva", spiega Wolf.
La gestione intelligente dell'energia offre un'ulteriore opportunità per entrambe le fonti di alimentazione di lavorare insieme in modo efficace. Guidando in autostrada, Mackensen attiva una terza modalità con l'interruttore a levetta eDrive: quella di risparmio batteria. In questa modalità, le potenze dei motori a combustione della la vettura serve per azionare la vettura ed allo stesso tempo per caricare la batteria ad alta tensione che può mantenere la carica a un livello costante o addirittura aumentare la carica tramite un generatore.
La modalità a guida estesa consente di risparmiare la batteria con la generazione di energia sufficiente per una guida puramente elettrica in seguito.
Dopo aver guidato in modalità risparmio batteria, la MINI spinge di nuovo in città, in silenzio, alla fine del test drive. L'indicatore di stato nella cabina di guida ricorda al conducente di ricaricare la batteria tramite la all Box o la presa di corrente. Il rifornimento non è ancora necessario perché il modello ibrido plug-in MINI ha semplicemente "bevuto" un piccolo sorso dal serbatoio del carburante. Ancora un'altra nuova dimensione di MINIMALISM.
In English
Charging ahead – The MINI goes electric
Head of MINI brand management Sebastian Mackensen and Head of MINI series management Peter Wolf preview the first plug-in hybrid model by the British premium brand.
Source: MINI
Munich, Germany. 17th October 2016. Hallmark MINI driving fun combined with zero tailpipe emissions. With the introduction of the first plug-in hybrid model by the British premium brand, this will soon be a reality. The series development process for this car has almost been completed. It features a combustion engine and an electric motor enabling purely electric propulsion for the first time in a MINI. This marks the beginning of a new phase for MINI, and offers a glimpse into a future that is charged with excitement for MINI customers and those drivers yet to experience the thrill of a hybrid.
Head of MINI brand management Sebastian Mackensen and Head of MINI series management Peter Wolf offer insight into this new near-series test vehicle, and explain how it retains go-kart feeling in the true spirit of a MINI during a test drive of this model.
"With this model we want to convince MINI customers of the benefits of hybrid drive", says Mackensen, "and impress everyone who already has hybrid driving experience with MINI's unique go-kart driving feel." The key to achieving this lies in intelligent energy management which is used to control how the combustion engine and electric motor operate together. For this reason, the first MINI plug-in hybrid model is not solely focused on efficiency, but uncompromising in pursuit of driving fun.
At first glance, you wouldn't recognise the test car as a hybrid model. And that's not because of the camouflage foil used. The charging socket for the high-voltage battery is discreetly integrated in the left Side Scuttle. Everything also looks familiar in the cockpit. The start/stop button in the centre of the dashboard glows yellow instead of red. As usual, you simply press the button to start the car – this vehicle, however, remains silent as the hybrid model always starts in electric mode. The rpm counter in the instrument cluster on the steering column has been replaced with a power display. Keeping a close eye on this display is particularly worthwhile for the first few miles as it informs the driver about the electric motor's power reserves before the combustion engine fires up. When exactly the combustion engine starts varies depending upon on the vehicle's speed and the intensity with which the driver operate the accelerator pedal.
"After a short time, the driver gets a feel for this", promises Wolf.
And this new driving experience promises a lot of driving fun. The hybrid MINI makes full use of the electric motor's entire torque, which is available right from standstill, allowing for catapult-like acceleration. Even after leaving the slower pace of the city, this vehicle maintains its zero-tailpipe emissions at motorway speeds. The high-voltage battery under the rear seats provides power for long-lasting electric driving. AUTO eDRIVE standard mode permits speeds of up to 50 mph, whilst in MAX eDRIVE mode speeds of up to 78 mph are possible. For Mackensen this is a question of character: "In a hybrid MINI model, driving electrically must also be an exhilarating experience. This means that entirely electric driving is not limited to speeds of 30 or 40 km/h, but to speeds well beyond city traffic pace."
Testing the vehicle himself, Mackensen puts the car through its paces and demonstrates that you need to step on the accelerator peddle very firmly indeed to activate the second power source. Then things really start happening. With the combined output of both drives, the first MINI hybrid vehicle demonstrates unparalleled acceleration performance when compared with its combustion-only siblings.
However, MINI's go-kart driving characteristics consists of more than just fast acceleration. Above all, this hybrid MINI has to prove how precisely it handles when taking bends on the most exciting, twisting roads. This is where MINI's plug-in hybrid concept plays its next trump card. "As far as the chassis and suspension are concerned, nothing changes from the conventionally driven model variants", says Wolf, "and the set-up benefits a lot from the hybrid concept". Thanks to the eDrive components, which are positioned very low down at the rear, the car's centre of gravity is lowered and the weight is evenly balanced between the front and rear axle – ideal for achieving an even higher level of legendary MINI agility.

The Hybrid concept provides yet another benefit: the electric motor transmits its power to the rear wheels, the combustion engine to the front wheels. Since the intelligent energy management is linked to the Dynamic Stability Control (DSC), traction and drive stability are optimised via the drive system. "As soon as there is any risk of drive slip, the second drive unit is activated to provide additional traction when starting off or ensuring a high level of steering precision when cornering", explains Wolf.
Intelligent energy management offers a further opportunity for both power sources to work together effectively. Driving on the motorway, Mackensen activates a third mode with the eDrive toggle switch: SAVE BATTERY. In this mode, the combustion engine powers the car whilst at the same time, the high voltage battery can retain charge at a constant level or indeed increase charge via a generator. Extended driving in SAVE BATTERY mode enables enough power generation for purely electric driving later.
After driving in SAVE BATTERY mode, the MINI drives back into town in silence at the end of the test drive. The status display in the cockpit reminds the driver to recharge the battery via wallbox or power socket. Refuelling is not necessary yet because the MINI plug-in hybrid model merely took a small sip from the fuel tank. Yet another new dimension of MINIMALISM.
no images were found

.