Fonte: Formula E
Londra, Gran Bretagna. 17 Febbraio 2016. La Formula E continua a crescere, così il team Mahindra Racing spinge forte per portare una gara di Formula E in India. Il 10 febbraio scorso, I'operatore del sito Formula E India Fan, Mohit Dinodia – ha avuto la fortuna di essere invitato dal team a vedere la demo della loro auto di Formula E M2Electro e la loro moto MGP3O Moto3 al Buddh International Circuit in India.
Ho incontrato la squadra al Auto Expo 2016 e mi hanno gentilmente dato l'opportunità di guidare il simulatore della M2 Electro. Questa è stata un'esperienza davvero emozionante ed è stato bello per avere un'idea di ciò che i piloti professionisti fanno.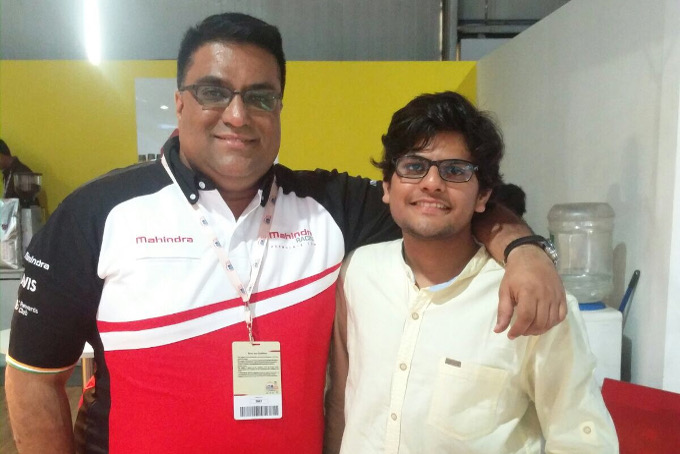 Due giorni dopo l'Expo, sono arrivato al Circuito Internazionale Buddh per l'evento Experience Mahindra Racing dove il signor Anand Mahindra stava parlando di un possibile ePrix indiano alla conferenza stampa. Questo è stato un momento incredibilmente emozionante per me, perchè sogno di vedere le auto della Formula E competere in India! Dopo la fine della conferenza stampa, sono andato a guardare la M2Electro e la MGP3O scendere in pista. E 'stato altrettanto emozionante come un ePrix.
Danny Webb, il collaudatore ufficiale Mahindra, ha messo in moto la sua MGP3O ed è uscito dalla pitlane seguito da Nick Heidfeld, che era vestito con una bella tuta da gara tricolore. E' stato assolutamente incredibile vedere le due Mahindras da corsa insieme … Il suono era troppo grande!
Bruno Senna è stato presente durante tutta la manifestazione ed ha dedicato molto tempo a parlare con me e rispondere alle mie domande. Sia Bruno che Danny sono grandi personalità e amano parlare con i fan tanto quanto a noi piace parlare con loro.
I piloti Mahindra sono tornati in pista e dopo due giri, entrambi si sono fermati sulla linea di partenza. I presenti sono stati testimoni di testa coda, sgommate e anche un wheelie da Danny! E' stato fantastico vederle e noi tutti abbiamo acclamato quando le gomme hanno fatto molto fumo.
Mentre il rumore della MGP3O era molto forte, ero affascinato dal suono della M2Electro – era quasi silenziosa ma comunque il suo suono era davvero emozionante e mi è piaciuto sentire come stridono le gomme.
Dopo questo, l'evento si è concluso ed i media hanno circondato i piloti. Per fortuna, sono stato in grado di avere qualche autografo firmato da loro ed alcuni contenuti interessanti per il sito dei fan indiani della  Formula E.
Ho lasciato l'evento con alcuni ricordi incredibili e pieno di speranza che la Formula E potesse un giorno avere una gara in India. Le auto elettriche sono senza dubbio il futuro e vedere una gara completamente elettrica in India sarebbe un sogno che si avvera. Non ho alcun dubbio che l'evento è stato ben accolto, soprattutto con una squadra indiana di Formula E in competizione con due piloti famosi!
In English
Formula E arrives in India
Source: Formula E
London, UK. 17 February 2016. As Formula E continues to grow, so the Mahindra Racing team is pushing hard to bring a Formula E race to India. On February 10, I – Formula E India Fan Site operator Mohit Dinodia – was fortunate enough to be invited by the team to see demo runs of their Formula E car, the M2Electro and their MGP3O Moto3 bike at Buddh International Circuit in India.
I first met the team at the Auto Expo-2016 and they kindly provided me with an opportunity to drive the M2Electro simulator. This was a really exciting experience and it was great to get a feel for what the professional drivers do on a day-to-day basis.
Two days after the Expo, I arrived at the Buddh International Circuit for the Mahindra Racing Experience event, where Mr Anand Mahindra was talking about a possible Indian ePrix at the press conference. This was an incredibly exciting moment for me, as I have dreamed of watching Formula E cars compete in India! After the press conference was over, I went trackside to watch the M2Electro and the MGP3O hit the track. It was just as exciting as an ePrix.
Danny Webb, the official test rider for Mahindra, fired up his MGP3O and flew out of the pitlane followed by Nick Heidfeld, who was dressed in a beautiful tri-coloured race suit. It was absolutely amazing to see both the Mahindras racing together… The sound was great too!
Bruno Senna was present throughout the event too and all three spent a lot of time talking to me and answering my questions. Both Bruno and Danny are great personalities and love talking to the fans as much as we love taking to them.
The Mahindra drivers went back out on track and after two laps, both of them stopped at the start line. Those in attendance were treated to burnouts, donuts and even a wheelie by Danny! It was fantastic to see and we all cheered as the tyres lit up with smoke.
While the MGP3O was very loud, I was fascinated by the M2Electro's sound – it was nearly silent but it still sounded really exciting and I loved hearing the tyres screech.
After this, the event ended and the media surrounded the drivers. Fortunately, I was able to get some signed merchandise from them and some great content for the Indian Formula E Fan Site.
I left the event with some incredible memories and full of hope that Formula E could one day race in India. Electric cars are undoubtedly the future and to see an all-electric race in India would be a dream come true. I have no doubt that the event would be well received, especially with an Indian Formula E team competing with two famous drivers!
no images were found

.