Fonte: Formula E
Miami, Florida. 14 Marzo 2015. Il secondo round della stagione inaugurale della Formula E School Series, a Miami, è culminato con la vittoria della Western High School, dopo una gara intensa che ha visto il cambiamento di leadership un certo numero di volte.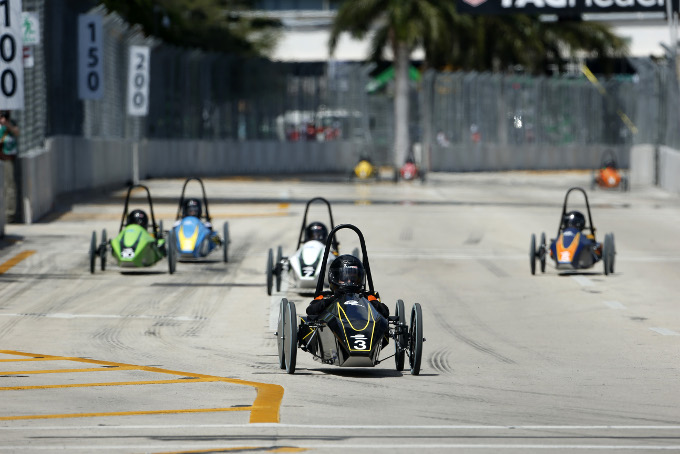 10 partecipanti delle scuole superiori locali costruirono le loro vetture per la School Series sulla base di equipaggiamento forniti da Greenpower, nel corso del mese precedente la gara, in modo di imparare a conoscere sia la sostenibilità che l'ingegneria del processo.
La sessione di qualifica di 20 minuti ha visto decidere le posizioni in griglia attraverso una formula di efficienza energetica, in modo che la guida fluida è stata la chiave che è stato masterizzata da quelli che sarebbero stati vincitori della corsa della Western High School, qualificandosi in pole position per la gara.
Cutler Bay School ha avuto una sfortunata giornata, abbandono la gara con un guasto elettrico, particolarmente deludente per il team dopo aversi qualificato al secondo posto.
La squadra vincente ha lavorato senza sosta sulla loro auto nel giorno della gara e sono stati felici che il loro duro lavoro abbia pagato.
Justyn Byrne dalla squadra vincente della Western High School, 16 anni, era entusiasta dopo la gara,
"Partecipare alla Formula E School Series è stata una splendida esperienza. Formula E non era qualcosa che avevamo sentito parlare prima che venga lanciata la School Series qui a Miami, così è stato fantastico per conoscere ed essere una parte di essa per me ed i miei compagni di squadra. Imparare a conoscere la macchina e guidarla in modo efficiente mi ha insegnato quanto si può tirare fuori dai veicoli elettrici e dalle batterie. Non è stata una vittoria facile, con gli ultimi giri ad essere davvero intensi, in lotta con la Terra Environmental School per arrivare primi al traguardo".
In English
FE School Series brings legacy to Miami
Fonte: Formula E
Miami, Florida. USA. March 14, 2015. The second round of the inaugural Formula E School Series, in Miami, culminated in victory for Western High School, after an intense race which saw the lead change a number of times.
10 participating local high schools built up their cars for the School Series from kit cars supplied by Greenpower, during the month prior to the race, learning about both sustainability and engineering in the process.
The 20-minute qualifying session sees grid positions decided through an energy efficiency formula, so smooth driving is the key which was mastered by eventual race winners Western High School, qualifying on pole position for the race.
Cutler Bay School had an unfortunate day, dropping out of the race with an electrical fault, particularly disappointing for the team having qualified in second place.
The winning team had been working non-stop on their car leading up to race day and were delighted that their hard work paid off.
Justyn Byrne from the winning team from Western High School, aged 16, enthused after the race,
"Taking part in the Formula E School Series has been an awesome experience. Formula E was not something we'd heard of before the School Series launched here in Miami, so it has been amazing to learn about it and be a part of it for me and my team mates. Learning about the car and driving efficiently has taught me how much you can get out of electric vehicles and batteries. It wasn't an easy victory, with the last few laps being really intense, battling it out with Terra Environmental School to get in front at the finish."
no images were found

.