Il crossover della casa coreana è il primo per il minor consumo di carburante di un veicolo ibrido
Fonte: Kia Motors
15 Dicembre 2016. Il nuovo Crossover Kia registra il minor consumo di 76,6 mpg nella percorrenza coast-to-coast da Los Angeles a New York City, percorrendo 3,715.4 miglia (5978 km) con solo 4,1 serbatoi di carburante.
La Kia Niro Crossover vanta una serie di primati, tra cui una nuova piattaforma eco-auto dedicata e un sistema ibrido unico.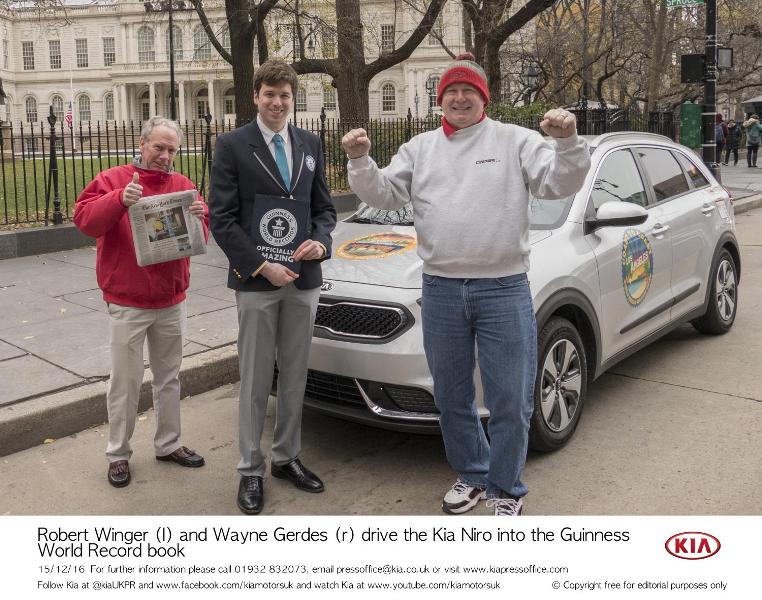 Arrivando al New York City Hall nel centro di Manhattan, la Kia Niro 2017 ha ricevuto ufficialmente un titolo del Guinness World Record per il più basso consumo di carburante nella marcia attraverso gli Stati Uniti da costa a costa ( per le auto ibride). Il nuovo record segnato è di un incredibile 76,6 mpg.
"Siamo estremamente soddisfatti delle prestazioni record della Niro", ha dichiarato Orth Hedrick, Vice President, Product Planning di Kia Motors America. "Abbiamo deciso di costruire un veicolo che offre utilità del mondo reale, sembra grande ed il chilometraggio per gallone di combustibile è fantastico, e registrare il titolo di Guinness World Record conferma il nostro successo"
La Niro EX è stata guidata da Wayne Gerdes di Carlsbad, in California, ed il copilota Robert Ala di Williamsburg, in Virginia, 3,715.4 miglia dal Los Angeles City Hall al New York City Hall usando solo il 48,5 galloni o 4.1 serbatoi di carburante. Il veicolo non è stato alterato in alcun modo per il tentativo.
In English
Kia Niro sets Guinness World Records title
The title sets for lowest fuel consumption by a Hybrid vehicle
Source: Kia Motors
15th December 2016. Kia's newest crossover sets lofty mark of 76.6 mpg driving coast-to-coast from Los Angeles to New York City 3,715.4 miles and only 4.1 tanks of fuel.
Niro Crossover boasts a number of firsts for Kia, including a new, dedicated eco-car platform and a unique hybrid system.
Arriving at New York City Hall in downtown Manhattan, the 2017 Kia Niro officially received a Guinness World Record title for the lowest fuel consumption driving across the USA from coast to coast (hybrid car). The new record-setting mark is an incredible 76.6 mpg.
"We're extremely pleased with the Niro's record-breaking performance," said Orth Hedrick, vice president, product planning Kia Motors America. "We set out to build a vehicle that offers real-world utility, great looks and fantastic mileage, and setting the Guinness World Record® title confirms our achievement."
The Niro EX was driven by Wayne Gerdes of Carlsbad, California, and co-driver Robert Winger of Williamsburg, Virginia, 3,715.4 miles from Los Angeles City Hall to New York City Hall using only 48.5 gallons or 4.1 tanks of fuel. The vehicle was not altered in any way for the attempt.
no images were found

.