• Debutta in anteprima mondiale al Salone Internazionale dell'Automobile di Ginevra il nuovo logomarchio corporate dell'azienda di Moncalieri
• Una evoluzione grafica coerente ad una vicenda imprenditoriale di successo, contrassegnata da trasformazioni e crescita costanti e continue
Fonte: ItalDesign
Ginevra, Svizzera, 1° marzo 2016. Debutta in anteprima mondiale al Salone Internazionale dell'Automobile di Ginevra il nuovo logomarchio corporate di Italdesign.
Il nuovo marchio rende omaggio alle radici di Italdesign, quelle piantate da Giorgetto Giugiaro e Aldo Mantovani nel 1968 dando origine ad un centro di ricerca e sviluppo studiato, osservato ed apprezzato dai professionisti del disegno e dell'ingegneria del mondo intero.

La lettera 'G', che si unisce alla 'I' e 'D' stilizzate, presenti nel marchio sin dal '68, è un omaggio a Giugiaro.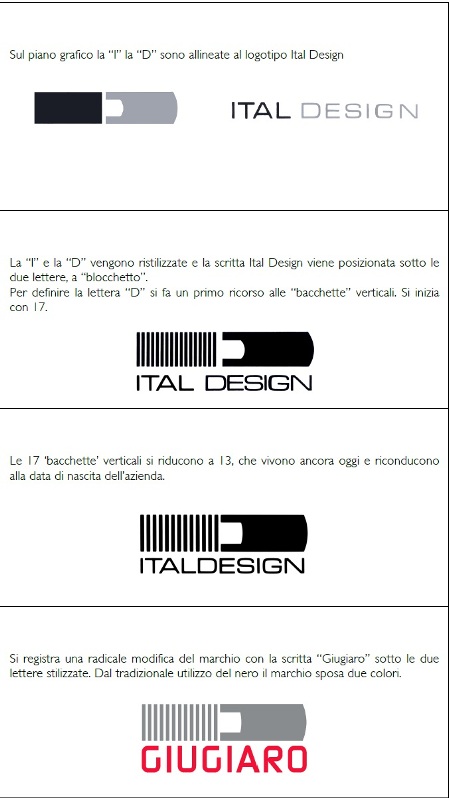 Nel logotipo torna 'Italdesign', un nome che racchiude valori e missioni dell'azienda: l'italianità – e quel patrimonio culturale, creativo, metodologico, innovativo, di qualità che il "made in Italy" da sempre rappresenta – unita al design, inteso nella sua accezione britannica e cioè la perfetta combinazione di stile e progettazione, forma e funzionalità.
Un patrimonio italiano, rafforzato dall'inserimento del tricolore che unisce le due parti del nuovo marchio.
«Nei suoi quarantotto anni di vita, Italdesign è cambiata ed è cresciuta senza mai perder di vista le proprie origini, né modificare la missione: esser al servizio del mondo dell'automobile, assistendo la grande industria nel design, nella progettazione, nello sviluppo industriale, sino alla validazione e all'omologazione – dichiara Jörg Astalosch, Amministratore Delegato dell'azienda – con il nuovo logo vogliamo sottolineare la proiezione dell'azienda verso il futuro forti della nostra storia, continuando a realizzare prodotti eccezionali, come quelli creati negli anni per i costruttori del mondo intero ed entrati nell'immaginario collettivo e nella vita comune di ognuno di noi».
L'evoluzione del marchio Italdesign dal 1968 al 2015
Italdesign Giugiaro negli anni si è evoluta e potenziata in termini di fornitura di servizi e di conseguente numero di collaboratori, impianti, spazi operativi. Il logomarchio è cambiato coerentemente:
13 febbraio 1968
Giorgetto Giugiaro e Aldo Mantovani avviano una loro attività indipendente. Il nuovo studio si propone direttamente al mercato dell'automobile offrendo una task force esperta in creatività e in ingegneria, in costruzione di modelli e prototipi, in progettazione di stampi e attrezzature per l'industrializzazione e in consulenza sulla metodologia di produzione.
L'azienda viene battezzata con un nome e un marchio che intendono esser facilmente identificati e tradurre la peculiarità e la mission dell'atelier: Ital Design.
Sul piano grafico la "I" la "D" sono allineate al logotipo Ital Design
1969
Il marchio subisce il primo restyling
La "I" e la "D" vengono ristilizzate e la scritta Ital Design viene posizionata sotto le due lettere, a "blocchetto".
Per definire la lettera "D" si fa un primo ricorso alle "bacchette" verticali. Si inizia con 17.
1987
La ragione sociale cambia in Italdesign e dunque anche il logo riporta i due termini unificati.
Le 17 'bacchette' verticali si riducono a 13, che vivono ancora oggi e riconducono alla data di nascita dell'azienda.
1999
La società entra in Borsa e cambia la ragione sociale in Italdesign Giugiaro S.p.A., il nuovo marchio riflette questo cambiamento. Resterà in uso fino al 2015.
Si registra una radicale modifica del marchio con la scritta "Giugiaro" sotto le due lettere stilizzate. Dal tradizionale utilizzo del nero il marchio sposa due colori.
In English
ItalDesign presents new corporate logo
• The Moncalieri-based company's new brand image is making its world debut at the Geneva International Motor Show
• The graphic evolution reflects the successful entrepreneurial story, marked by constant and continuous progress and growth
Source: ItalDesign
Geneva, Switzerland. 1 March 2016. Italdesign's new corporate logo is making its world debut at the Geneva International Motor Show.
The new logo pays tribute to Italdesign's roots, those planted by Giorgetto Giugiaro and Aldo Mantovani in 1968 to create a research and development centre studied, observed and highly respected by design and engineering professionals throughout the world.
The styled letter 'G', which is combined with the 'I' and 'D', featured on the pictograph ever since 1968, is a tribute to Mr. Giugiaro.
The logotype re-introduces the company name 'Italdesign', a name that sums up the company's values and missions: 'Italianess' — and the cultural, creative, methodological, innovative and quality heritage that has always characterised Italian products — combined with 'design', in the true British sense of the word,  namely a perfect combination of style and planning, form and functionality.
The Italian heritage is enhanced by the addition of the Italian tricolour joining the two parts of the new logo.
"In its forty eight years, Italdesign has evolved and grown without ever losing sight of its roots, or changing its mission: to serve the automotive world, assisting major manufacturing companies with design, planning,  industrial development, right through to validation and type approval" declares Jörg Astalosch, the company's CEO "with our new logo we want to highlight our projection into the future, with our history as added value, continuing to produce exceptional products, just like those created over the years for international manufacturers, products that have entered into the collective imagination and into the everyday lives of each one of us".
Evolution of the Italdesign logo between 1968 and 2015
Over the years, Italdesign Giugiaro has evolved and expanded in terms of the services supplied and the number of its employees, plants and operating premises, and the logo has changed accordingly:
13 February 1968
Giorgetto Giugiaro and Aldo Mantovani launch their own business. The new Studio provides its services directly to the car industry offering a professional team with experience in the creative and engineering fields, construction of models and prototypes, design of dies and tooling for industrialisation, as well as advice on production methodology.
The company's name and logo are intended to be easily identified and to convey its distinctive credentials and mission: Ital Design.
On the graphic level, the 'I' and 'D' are aligned with the Ital Design logotype
1969
The logo undergoes a transformation
The 'I' and 'D' are re-stylised and the Ital Design wording is positioned beneath the two letters set in 'block type'. The letter 'I' is defined using the vertical 'sticks' for the first time. It starts off with 17.
1987
The company name changes to Italdesign and so the logo also contains the two combined terms.
The 17 vertical 'sticks' drop to 13. These still exist today and relate to the date the company was set up.
1999
The Company is listed on the Italian stock exchange and changes its legal name into Italdesign Giugiaro S.p.A. The logo changes accordingly.
The logo undergoes a radical change with 'Giugiaro' written under the two stylised letters. From the traditional use of black, the brand now combines two colours, red and grey.
no images were found

.