Penultimo round della stagione sul Circuito Internazionale di Shanghai in Cina
Audi R18 in ottima forma nella seconda metà della stagione
Fonte: Audi Motorsport
Shanghai, Cina. 28 Ottobre 2016. Per Audi, una gara importante sta arrivando prima del suo imminente ritiro dal Campionato Mondiale Endurance FIA ​​(WEC). Una volta all'anno, le auto sportive LMP visitano la Cina – il più grande mercato della società. Domenica 6 novembre Audi lotterà per i punti ed i trofei nelle 6 Ore di Shanghai.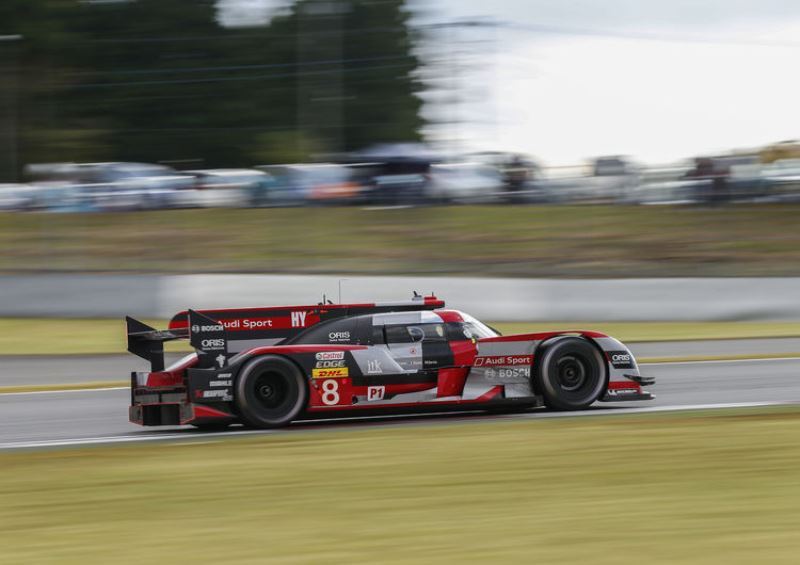 La gara è sempre più vicina. Recentemente in Giappone, Audi ha mancato la vittoria per soli 1,439 secondi. La storia dice che in quasi cinque anni il FIA WEC ha visto un risultato ancora più vicino solo una volta prima ed in questa stagione, è stato il margine più stretto con la quale una gara è stata decisa fino ad oggi.
"Se lo scopo è di vincere in questa serie molto combattuta, non ci si può permettere la minima debolezza", dice il capo di Audi Motorsport Wolfgang Ullrich. "Ecco perché non stiamo lasciando nulla di intentato per fare un altro passo avanti in Cina".
Nella seconda metà del 2016, l'attuale Audi R18 è stata più competitiva su questi circuiti rispetto ai suoi predecessori. Tutti e tre i produttori di auto ibride sportive – Audi, Porsche e Toyota – hanno dimostrato che sono in lizza per la vittoria.
Dopo la 24 Ore di Le Mans, Audi ha costantemente migliorato nei successivi quattro turni WEC.
Al Nürburgring, il marchio dei quattro anelli ha condotto la gara per 46 giri, il che equivale a circa il 24 per cento della distanza. In Messico, Audi ha aumentato il tasso al 27 per cento, e al 61 per cento ad Austin. Più di recente, al Fuji, la R18 era il front runner per quasi il 72 per cento di tutti i giri di gara. In totale, Audi ha è stata leader in questi quattro turni su una distanza di 1.935 chilometri. Cinque pole position nel 2016 e tre giri più veloci nelle più recenti quattro eventi sottolineano le qualità della tecnologia e dei piloti.
Aggiudicandosi il secondo posto in Giappone, Lucas di Grassi / Loïc Duval / Oliver Jarvis (BR / F / GB) hanno ridotto il distacco dai leader della classifica di 9 punti ad un totale di 28,5 punti per Audi Sport Team Joest. Allo stesso tempo, un altro trio piloti – Mike Conway / Kamui Kobayashi / Stéphane Sarrazin – si inserisce tra i concorrenti Audi per le prime posizioni.
"Vedremo una battaglia a tre per il titolo", dice Stefan Dreyer, capo della LMP in Audi Sport. "Tuttavia, per quanto riguarda le lacune sono interessati, dobbiamo essere realistici. Matematicamente, tutto è ancora possibile, ma con ancora 52 punti da assegnare, i leader della classifica non hanno un chiaro vantaggio. Noi non risparmieremo alcuno sforzo per mantenere la battaglia aperta fino alla fine".
Oltre a di Grassi / Duval / Jarvis, Marcel Fässler / André Lotterer / Benoît Tréluyer (CH / D / F) gareggeranno per Audi. Il trio, nel 2013, ha conquistato l'unica vittoria di Audi a Shanghai fino ad oggi. La pista di 5,451 chilometri, presenta alcune sezioni estreme. Due giri elicoidali sono unici e due lunghi rettilinei richiedono una buona velocità di punta. L'altra gamma dei raggi di curva è percorsa in prima marcia e le curve veloci che i piloti affrontano in quarta o quinta marcia.
Per Audi, la Cina tra cui Hong Kong è il più grande mercato unico in tutto il mondo. L'anno scorso, Audi ha consegnato 571.000 automobili in questo mercato. Nei primi tre trimestri del 2016, il marchio ha aumentato le proprie consegne del 6,2 per cento rispetto allo stesso periodo dell'anno precedente.
Le 6 ore di corsa di Shanghai avranno inizio Domenica 6 novembre, alle 11:00 ora locale (04:00 CET).
Classifica dopo sette delle nove turni
Classifica piloti
1 Jani / Lieb / Dumas (Porsche), 140 punti
2 Conway / Kobayashi / Sarrazin (Toyota), 117 punti
3 Di Grassi / Duval / Jarvis (Audi), 111,5 punti
4 Bernhard / Hartley / Webber (Porsche), 93,5 punti
5 Fässler / Lotterer (Audi), 78 punti
6 Imperatori / Kraihamer / Tuscher (Rebellion), 60 punti
7 Lapierre / Menezes / Richelmi (Alpine-Nissan), 46 punti
8 Tréluyer (Audi), 44 punti
Classifica Costruttori
1 Porsche, 263 punti
2 Audi, 204 punti
3 Toyota, 174 punti
In English
FIA WEC to race in Audi's largest market
Penultimate round of the season at the Shanghai International Circuit in China
Audi R18 showing strong form in second half of the season
Source: Audi Motorsport
Shanghai, China. 28th October 2016. For Audi, an important race is coming up before its imminent withdrawal from the FIA World Endurance Championship (WEC). Once a year, the LMP sports cars visit China – the company's largest market. On Sunday, November 6, Audi is going to battle for points and trophies in the 6 Hours of Shanghai.
The race is getting closer and closer. Most recently, in Japan, Audi missed victory by just 1.439 seconds. The near-five-year history of the FIA WEC has seen an even closer outcome only once before and this season, it has been the narrowest margin by which a race has been decided to date.
"If you aim to win in this hard-fought series, you can't afford the slightest weakness," says Head of Audi Motorsport Dr. Wolfgang Ullrich. "That's why we're leaving no stone unturned to make another step ahead in China."
In the second half of 2016, the current Audi R18 has been more competitive on these circuits than its predecessors. All three manufacturers of hybrid sports cars – Audi, Porsche and Toyota – have demonstrated that they are in contention for victory. Following the 24 Hours of Le Mans, Audi has consistently improved in the subsequent four WEC rounds. At the Nürburgring, the brand with the four rings led the race for 46 laps, which equates to about 24 percent of the distance. In Mexico, Audi increased this rate to 27 percent, and to 61 percent at Austin. Most recently, at Fuji, the R18 was the front runner for almost 72 percent of all race laps. In total, Audi led these four rounds over a distance of 1.935 kilometers. Five pole positions in 2016 and three fastest laps in the most recent four events underline the qualities of the technology and the drivers.
On clinching second place in Japan, Lucas di Grassi/Loïc Duval/Oliver Jarvis (BR/F/GB) reduced the deficit to the leaders of the standings by 9 to 28.5 points for Audi Sport Team Joest. At the same time, another driver trio – Mike Conway/Kamui Kobayashi/Stéphane Sarrazin – inserted itself between the Audi campaigners and the front runners.
"We're going to see a three-way battle for the title," says Stefan Dreyer, Head of LMP at Audi Sport. "However, as far as the gaps are concerned, we have to remain realistic. Mathematically, everything is still possible, but with 52 points yet to be awarded, the leaders of the standings do have a clear advantage. We will spare no effort to keep the battle open until the end."
In addition to di Grassi/Duval/Jarvis, Marcel Fässler/André Lotterer/Benoît Tréluyer (CH/D/F) will be attacking for Audi. The trio, in 2013, clinched Audi's only victory at Shanghai to date. The 5.451-kilometer track features some extreme sections. Two helical turns are unique and two long straights call for good top speed. The other cornering radii range from three turns being driven in first gear to fast bends which the drivers tackle in fourth or fifth gear.
For Audi, China including Hong Kong is the largest single market anywhere in the world. Last year, Audi delivered 571,000 automobiles there. In the first three quarters of 2016, the brand increased its deliveries by 6.2 percent compared to the same period of the previous year.
The 6 Hours of Shanghai race will start on Sunday, November 6, at 11:00 local time (04:00 CET).
Standings after seven of nine rounds
Drivers' standings
1 Jani/Lieb/Dumas (Porsche), 140 points
2 Conway/Kobayashi/Sarrazin (Toyota), 117 points
3 Di Grassi/Duval/Jarvis (Audi), 111.5 points
4 Bernhard/Hartley/Webber (Porsche), 93.5 points
5 Fässler/Lotterer (Audi), 78 points
6 Imperatori/Kraihamer/Tuscher (Rebellion), 60 points
7 Lapierre/Menezes/Richelmi (Alpine-Nissan), 46 points
8 Tréluyer (Audi), 44 points
Manufacturers' standings
1 Porsche, 263 points
2 Audi, 204 points
3 Toyota, 174 points
no images were found

.