Fonte: NextEV
Hong Kong, 9 Ottobre 2016. La squadra NextEV di Formula E ha iniziato oggi la sua stagione 2016/17 del FIA Formula E Championship sulle strade di Hong Kong. La coppia di piloti Nelson Piquet Jr e Oliver Turvey ha ottenuto la miglior qualifica iniziale possibile, con la prima fila completa in qualifica. Piquet Jr si è assicurato la pole position, ed i primi punti della squadra della stagione con tre punti per la partenza al palo, mentre Turvey si è qualificato al secondo posto.
Di seguito si è svolta una gara ricca di azione nel caldo soffocante di Hong Kong. Piquet Jr ha mantenuto un notevole vantaggio dall'inizio fino al 17esimo giro, fino a quando è stato costretto a effettuare una schivata per evitare Lopez che aveva colpito il muro. Ciò ha permesso Bird e Buemi di sorpassarlo, con Piquet Jr retrocesso in terza posizione.
Piquet Jr si è fermato al giro 22esimo, ma con il periodo di safety car dopo aver giunto alla fine del suo pit-stop ha perso posizioni rispetto i piloti che si sono fermati in regime di safety car, ritornando nel nono posto. Piquet Jr. ha ceduto altri tre posti prima della fine della gara, e ha tagliato il traguardo in undicesima posizione.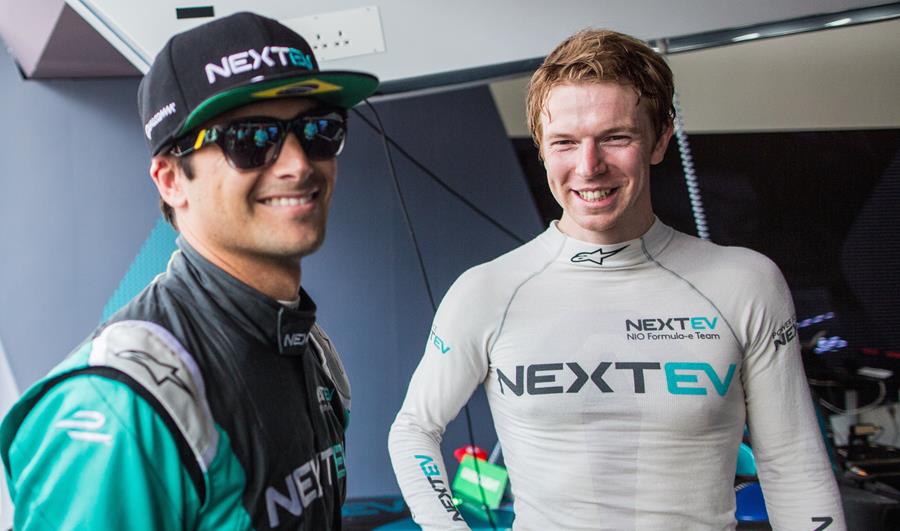 Turvey ha avuto un buon inizio ed ha mantenuto il secondo posto fino al sesto giro quando Bird e Buemi l'hanno sorpassato, costringendolo al quarto posto. Ha scavato nel corso di un periodo di safety car al 21esimo giro dopo aver perso tempo nel precedente stint essendo bloccato da Jean-Eric Vergne e, una volta che tutti i piloti hanno fatto la loro sosta obbligatoria, si stabilizzava in quinta posizione. Nelle fasi finali della gara, Turvey è sceso di ulteriori tre posti per ripartire all'azione, finendo la gara in ottava posizione e garantendo quattro punti in campionato.
Nelson Piquet Jr. (automobile # 3) – 11 °
"E' stata ovviamente una giornata mista per noi. Il risultato delle qualifiche è stato grande sia per Oliver che per me stesso, ma il risultato della gara è deludente. L'inizio è andato bene e sono stato in grado di creare un buon margine, ma poi ho dovuto trovare una via di fuga per evitare Lopez – questo sarebbe potuto accadere a chiunque però. Eravamo tutti ammassati sotto la safety car e abbiamo semplicemente fatto il pit-stop nel giro sbagliato. Per noi, dobbiamo concentrarci a lavorare sulla massimizzazione di quello che possiamo ottenere dalla macchina e nella strategia. Credo che nella gara di Marrakech ci sarà da qualificarsi bene e dobbiamo solo lavorare sodo per preparare la gara come una squadra. Tutta la squadra ha lavorato così duramente, e abbiamo intenzione di continuare a spingere".
Oliver Turvey (automobile # 88) – 8°
"NextEV ha fatto un grande sforzo nella macchina e si sentiva grande da inchiodare il mio giro di qualifica e di essere in prima fila. Abbiamo chiaramente un buon passo in qualifica, il che è incoraggiante, ma abbiamo bisogno di guardare la nostra efficienza e come possiamo risparmiare più energia nel corso della gara. Abbiamo sia Vieni via con i punti da questa gara, che è un inizio positivo. Ora dobbiamo lavorare sulla costruzione sui punti del circuito di Marrakech. "
Gerry Hughes, capo Ingegnere di pista, NextEV Formula E Team
"Mentre la qualifica è stata ovviamente molto buona, con Nelson in pole e Oliver a partire dal secondo posto, la gara di questo pomeriggio chiaramente non è finita come avremmo voluto dal punto di vista di squadra. Ora dobbiamo andare via e analizzare i nostri punti deboli per garantire che siamo in grado di convertire il nostro ritmo di qualifica in posizioni da podio, alla fine della giornata. La strategia di gara di Nelson è stata compromessa con il suo ritardo in regime di safety car, mentre Oliver ha perso tempo nel pit-stop in sé. In sostanza, la prima gara della squadra e mentre ci sono molti aspetti positivi da prendere da questo, abbiamo molto lavoro da fare prima di Marrakech".
In English
NextEV Formula E Team: Hong Kong ePrix Report
Source: NextEV
Hong Kong, 9th October 2016. The NextEV Formula E Team began its 2016/17 FIA Formula E Championship campaign today on the streets of Hong Kong. The driver pairing of Nelson Piquet Jr and Oliver Turvey got off to the best possible start, with a front row lock-out in qualifying.  Piquet Jr secured pole position, and the team's first points of the season with three points for pole, whilst Turvey qualified in second place.
An action-packed race in the sweltering Hong Kong heat ensued. Piquet Jr held a strong lead for the opening 17 laps, until he was forced to take evasive action to avoid Lopez who had hit the wall. This enabled Bird and Buemi to pass, with Piquet Jr pushed down into third. Piquet Jr pitted on lap 22, but with the safety car period having come to an end he lost positions to drivers who had pitted under the safety car, emerging in ninth.  He conceded three more places before the end of the race, and crossed the finish line in P11.
Turvey had a solid start and maintained second place until lap six when Bird and Buemi passed him, putting him into fourth place. He pitted during a safety car period on lap 21 after losing time in the previous stint being blocked by Jean-Eric Vergne and, once all drivers had made their mandatory pitstop, he was running in fifth position. In the final stages of the race, Turvey dropped a further three places down the field, finishing the race in eighth place and securing four Championship points.
Nelson Piquet Jr (Car #3) – finished 11th
"It was obviously a mixed day for us. The qualifying result was great for both Oliver and myself, but the race result is disappointing. The start went well and I was able to create a good gap but then I had nowhere to go to avoid Lopez – it could have happened to anyone though. We were all bunched up under the safety car and we simply made the pitstop on the wrong lap. For us, we have to concentrate on working on maximising what we can get out of the car and strategy. I think looking forward to Marrakech we will qualify well and we just have to work hard to prepare for the race as a team. The whole team has been working so hard, and we are going to keep pushing."
Oliver Turvey (Car #88) – finished 8th
"NextEV have put a huge effort into the car and it felt great to nail my qualifying lap and be on the front row. We clearly have good pace in qualifying, which is encouraging, but we need to look at our efficiency and how we can save more energy over the race. We have both come away with points from this race, which is a positive start.  Now we must work on building on the points in Marrakech."
Gerry Hughes, Chief Race Engineer, NextEV Formula E Team
"Whilst qualifying was obviously very good, with Nelson on pole and Oliver starting from second, the race this afternoon clearly didn't pan out as we would have liked from a team perspective. We now have to go away and analyse our weaknesses to ensure that we can convert our qualifying pace into podiums positions come the end of the day. Nelson's race strategy was compromised with the delay in pitting him under the safety car, whilst Oliver lost time in the pit stop itself. Essentially, it's the team's first race and whilst there are many positives to take from it we have a lot of homework ahead of Marrakech."
no images were found

.