Fonte: NextEV
6 Novembre 2016. Dopo la performance del primo e secondo posto in qualifica nella gara di apertura della stagione a Hong Kong, il team NextEV di Formula E, con i piloti Nelson Piquet Jr e Oliver Turvey, arrivano a Marrakesh puntando ad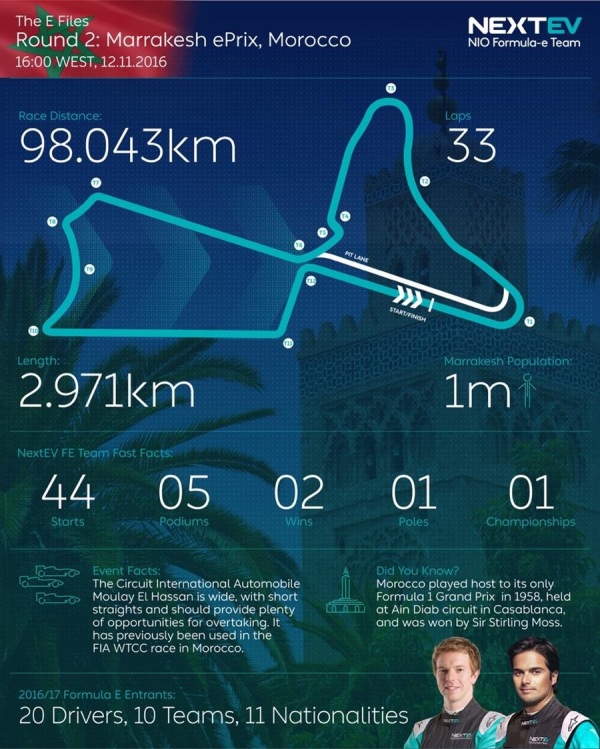 un'altra grande performance nel 'città rossa'.
Nelson Piquet Jr. (vettura n° 3):
"Il mio obiettivo per Marrakech è quello di avere un altra buona performance del team, vedere il vero potenziale della vettura e segnare più punti possibile. Ci teniamo a valutare le nostre aree di forza e analizzare i settori di miglioramento in modo di sapere la direzione in cui dobbiamo muoverci. Credo che Marrakesh assomiglia ad una pista più veloce di quanto siamo abituati perché è costruita per le corse e la pista è leggermente più ampia. Sarà una città interessante per correre e non vedo l'ora di tornare in pista."
Oliver Turvey (vettura n° 88):
"La sfida più grande di Marrakech sarà quella di imparare la nuova pista prima delle qualifiche, nonché dell'avvio della gara. La pista sembra eccitante, con alcune curve veloci e molti rettilinei che offrono molte opportunità di sorpasso. Il primo settore si presenta particolarmente interessante con due curve lunghe e veloci. Il mio obiettivo è sempre quello di vincere, quindi cercherò di fare ancora meglio in qualifica e per raggiungere questo risultato in gara."
In English
NextEV Formula E Team: Marrakesh ePrix
Source: NextEV
6th November 2016. Following the 1-2 qualifying performance at the season-opener in Hong Kong the NextEV Formula E Team, with drivers Nelson Piquet Jr and Oliver Turvey, heads to Marrakesh aiming for another strong performance in the 'Red City'.
Nelson Piquet Jr (Car #3):
"My objective for Marrakesh is to have another strong team performance, see the real potential of the car and score as many points as we can. We will keep assessing our strong areas and looking at areas for improvement so that we know the direction that we need to move in. I think Marrakesh looks like a faster track than we are used to as it's built for racing and the track is slightly wider. It will be an interesting city to race in and I'm looking forward to getting back on track."
Oliver Turvey (Car #88):
"The biggest challenge in Marrakesh will be learning the new track ahead of qualifying as well as executing the race. The track looks an exciting one, with some faster corners and plenty of straights offering many overtaking opportunities. The first sector looks particularly exciting with two fast long corners. My aim is always to win so I will be aiming to go one better in qualifying and to convert this in the race."
no images were found

.