Fonte: Mahindra
Mumbai, India. 11 Aprile 2016. Il Duca e la Duchessa di Cambridge hanno preso in mano il simulatore M2 Electro di Mahindra che corre in Formula E come parte della loro visita in India.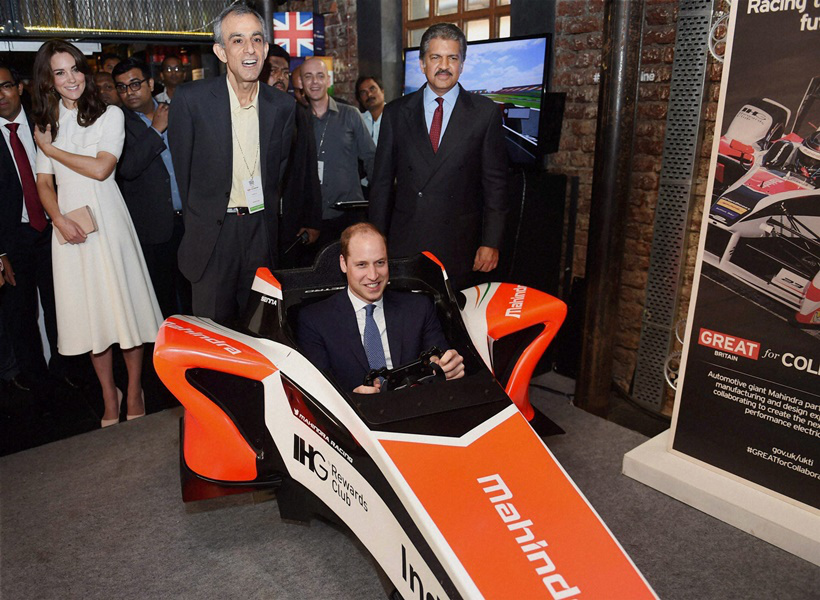 I Royals, che stavano celebrando il lancio dei Tech Rocketship Awards, hanno incontrato i giovani imprenditori a The Social, una caffetteria e spazio di lavoro collaborativo a Mumbai. Il principe William poi ha guidato il simulatore M2Electro, una sumulatore di Formula E all'avanguardia utilizzato dalla squadra per tutto il FIA Formula E Championship.
Anand Mahindra, presidente del gruppo Mahindra, ha dichiarato:
"Il Duca di Cambridge è un pilota ed ha una certa familiarità con i simulatori. Al volante del simulatore M2Electro, era del tutto concentrato e vi posso garantire che ha fatto un buon lavoro intorno alla pista … E così sembra che potrebbe avere una possibilità di carriera alternativa!"
In English
Prince William tests M2Electro Simulator
Source: Mahindra
Mumbai, India. The Duke and Duchess of Cambridge went hands on with Mahindra Racing's M2Electro simulator as part of their visit to India.
The Royals, who were celebrating the launch of the Tech Rocketship Awards, met young entrepreneurs at The Social, a cafe and collaborative work space in Mumbai. Prince William then drove the M2Electro simulator, a cutting edge Formula E simulator used by team throughout the FIA Formula E Championship.
Anand Mahindra, Chairman of the Mahindra Group, said:
"The Duke of Cambridge is a pilot, and was quite familiar with simulators. At the wheel of the M2Electro simulator, he was quite focused on ensuring he did a good job around the track…And so it seems he might have an alternate career option!"
no images were found