Fonte: NEXTEV TCR
Londra, Gran Bretagna. 3 Luglio 2016. Il FIA Formula E Championship 2015/16 è arrivato alla sua conclusione oggi, con la decima gara della stagione che si è tenuta al Battersea Park di Londra, nel Regno Unito. Entrambi i piloti del team NextEV TCR Oliver Turvey e Nelson Piquet Jr si sono qualificati nella top ten, al quarto e nono posto rispettivamente. In una gara ricca di azione, disseminata di incidenti e safety car, Nelson è stato in grado di raccogliere un punto finendo decimo, mentre Oliver è finito appena fuori dalla zona punti nell'unidicesimo posto.
Nelson Piquet è sorteggiato nel girone di qualificazione 1 e, una volta che i conducenti provenienti da tutti e quattro i gruppi avevano segnato un tempo, si è trovato ad iniziare la gara in quinta fila dalla nona posizione. Dopo l'incidente nel primo giro tra Buemi e Di Grassi, è salito fino al settimo e poi fino al sesto posto nel settimo giro, quando Bird si è ritirato. Dopo il pit-stop, Nelson era in settima posizione, ma nel corso del 12 giro ha perso posizoni verso il basso al decimo posto dopo il rallentamento per risparmiare energia, e ha tagliato il traguardo in quella posizione.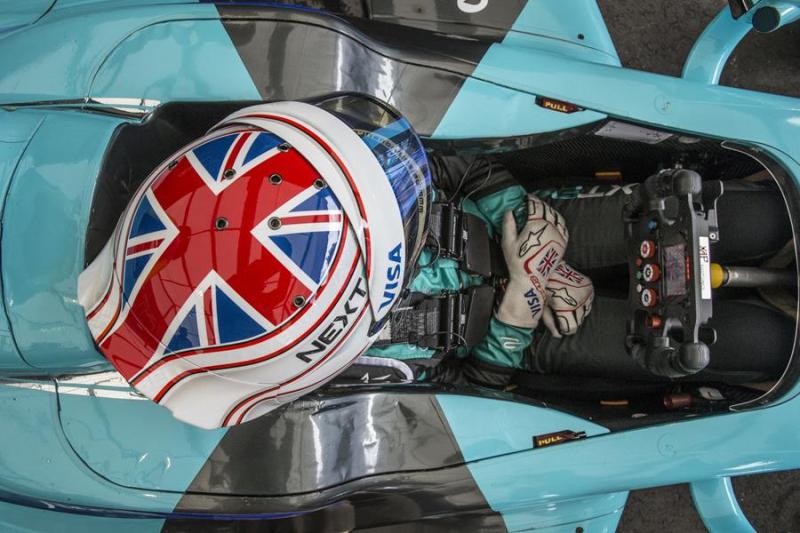 Per la seconda gara consecutiva, Oliver Turvey è stato in grado di raggiungere la lotta per la Super Pole in qualifica dopo aver segnato un buon tempo nel suo girone di qualificazione raggiungendo la quarta posizione. Il quarto tempo gli ha permesso di allinearsi in seconda fila. All'inizio della gara da 33 giri del Londra ePrix, il britannico ha perso di nuovo posizioni, ma poi ha raggiunto di nuovo il quarto posto quando i contendenti del campionato Lucas Di Grassi e Sebastien Buemi sono entrati in collisione al primo giro.
Al 12° giro si era al sesto posto, ma è stato poi promosso al quinto posto quando Sam Bird ha avuto problemi tecnici. Dopo il pit-stop, Oliver era in sesta posizione e l'ha mantenuta durante la prima metà del secondo stint. Purtroppo ha perso posizioni negli ultimi tre giri di gara dopo aver "spazzolato" il muro ed ha sofferto di una foratura, scendendo all'undicesimo posto.
Nelson Piquet Jr. (automobile # 1):
"La gara di oggi era okay. Ho cercato di mantenere la posizione, risparmiando più energia che ho potuto, ma non siamo riusciti a tenere a bada i ragazzi dietro così, verso la fine della gara, ho sono andato un pò indietro ed ho dovuto cedere le posizioni. La buona notizia è che abbiamo finito la gara ed abbiamo ancora ottenuto un punto, e ora lavoreremo duramente nei test pre-campionato per avere una macchina molto più competitiva per la prossima stagione. Vorrei fare i complimenti a Sebastien Buemi, che ha fatto un lavoro incredibile per vincere il campionato quest'anno e spero che se lo goda!"
Oliver Turvey (automobile # 88):
"Sono stato in grado di inchiodare veramente il mio giro di qualifica. Era il mio miglior giro della stagione ed è stato bello essere in grado di mettersi in contatto con la Super Pole in base al merito. Ho perso due posizioni in partenza perché ho avuto troppo pattinamento delle ruote, essendo sul lato sporco della pista. Sono stato in grado di mantenere la posizione e stavo spingendo ogni giro al massimo ma noi stavamo perdendo tempo in accelerazione. Il team ha fatto un ottimo lavoro al pit-stop e sono stato in grado di mantenere la posizione. Stavo spingendo duro per mantenere dietro le auto del Dragon Racing e appena toccato il muro ho danneggiato il bordo del pneumatico, si è piegato e la gomma si è afflosciata. E 'stato un peccato non ottenere il risultato, ma sono contento del passo con il ritmo che abbiamo avuto durante il fine settimana."
Gerry Hughes, NextEV TCR Formula E Team:
"Che fine emozionante per la seconda stagione di Formula E. Siamo stati in grado di chiudere la stagione portando via alcuni aspetti positivi, che creerà un po' di buon slancio nei test fuori stagione. Oliver era in grado di estrarre il massimo dalle prestazioni dalla vettura in qualifica, il arrivando fino alla Super Pole due volte di seguito in questo fine settimana, e abbiamo entrambi i piloti nella top ten nella qualifica di oggi, Nelson ha segnato il giro più veloce ieri e ha ottenuto un punto oggi, in questo modo il team è stato in grado di venire via con tre punti. Ci concentriamo ora sui preparativi per la prossima stagione."
In English
NextEV TCR Formula E Team: London ePrix Race 2 Report
Source: NEXTEV TCR
London, UK. 3rd July 2016. The 2015/16 FIA Formula E Championship came to its conclusion today, with round ten taking place in Battersea Park, London, UK. Both NextEV TCR Formula E Team drivers Oliver Turvey and Nelson Piquet Jr qualified in the top ten, in fourth and ninth respectively. In an action-packed race, littered with incidents and safety cars, Nelson was able to pick up a point for finishing tenth, while Oliver finished just out of the points in 11th.
Nelson Piquet was drawn out in qualifying group 1 and, once drivers from all four groups had set a time, found himself starting the race on the fifth row from ninth. After the incident on lap one between Buemi and Di Grassi, he moved up to seventh and then up to sixth on lap seven when Bird retired. After the pitstop, Nelson was in seventh place, but over the closing 12 laps he moving down to tenth place after slowing to conserve energy, and crossed the line in that position.
For the second race in a row, Oliver Turvey was able to progress through to Super Pole in qualifying after setting a great time in qualifying group four. He set the fourth fastest time to line up on the second row of the grid. At the start of the 33-lap London ePrix, the Brit initially fell back, but then moved up to fourth again when championship contenders Lucas Di Grassi and Sebastien Buemi collided on the first lap. By lap 12 he had moved to sixth, but was then promoted to fifth when Sam Bird had technical issues. After the pitstop, Oliver was in sixth, and maintained position during the first half of second stint. Unfortunately he lost positions in the last three laps of the race after brushing the wall and suffering a puncture, falling to 11th.
Nelson Piquet Jr (Car #1):
"The race today was okay. I tried to keep position while saving as much energy as I could but we couldn't hold off the guys behind so, towards the end of the race, I backed off a little bit and had to give the positions. The good news is that we finished the race and still got a point, and now we will work hard in pre-season testing to have a much more competitive car for next season. I'd like to say congratulations to Sebastien Buemi, he did an amazing job to win the championship this year and I hope he enjoys it!"
Oliver Turvey (Car #88):
"I was able to really nail my qualifying lap. It was easily my best lap of the season and it was good to be able to get through to Super Pole on merit. I lost two positions at the start as got too much wheel spin, being on the dirty side of the track. I was able to hold position and was pushing every lap to the maximum as we were losing time under acceleration. The team did a great job at the pitstop and I was able to hold position. I was pushing hard to keep the Dragon cars behind and just brushed the wall and it caught the tyre rim, bent it and the tyre went flat. It was a shame not to get the result, but I'm happy with the pace with the pace over the weekend."
Gerry Hughes, NextEV TCR Formula E Team:
"What a thrilling end to the second season of Formula E. We have been able to end the season taking away some positives, which will create some good momentum going into off-season testing. Oliver was able to extract maximum performance from the car in qualifying, making it through to Super Pole twice in succession this weekend, and we had both drivers in the top ten for qualifying today, Nelson scored the fastest lap yesterday and got a point today, so the team was able to come away with three points. We'll now focus on preparations for next season."
no images were found

.