La corsa al titolo di "King of the Flow" prende avvio al Parco Gondar di Gallipoli con il primo appuntamento della campagna di Toyota C-HR.
Sud Sound System e Dolcenera i candidati di Lecce
Fonte: Toyota Motor Italia
Roma, Italia. 4 agosto 2016. Gallipoli, cuore pulsante dell'area salentina con la stagione musicalein corso al Parco Gondar, ospiterà la prima tappa di King of the Flow, l'iniziativa firmata Toyota per il lancio del nuovo crossover compatto C-HR.
Dall'8 al 13 agosto Toyota C-HR sarà al Parco Gondar per promuovere i candidati di unacampagna elettorale che, nello stile delle primarie americane, porterà alla scelta del King of the Flow italiano.Ottocandidati per quattro città – Lecce, Napoli, Roma e Milano – si sfideranno onlinesul sito www.kingoftheflow.it per convincere gli italiani che la loro visione del "Flow" è la migliore in assoluto.
Dopo la prima tornata di "faccia a faccia", sarà sempre il voto popolare a decretare, tra i quattro candidati rimasti in lizza, il vero "King of The Flow" italiano.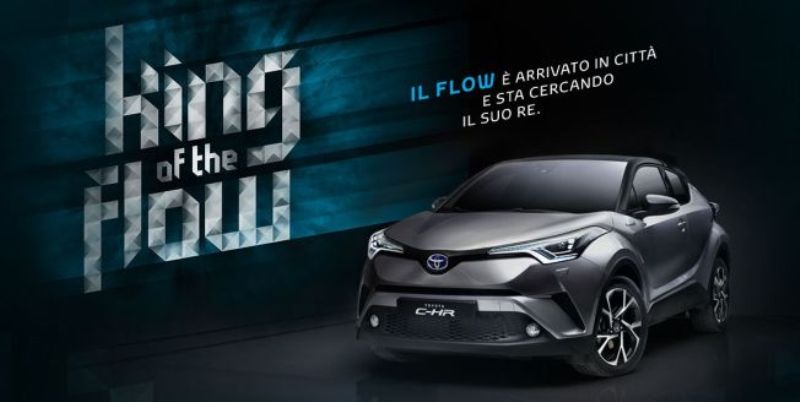 I candidati per Lecce e il Salento sono il gruppo musicale dei Sud Sound System, in cartellone il 13 agosto proprio a Parco Gondar, e la cantautrice Dolcenera.
Ma che cos'è il "flow" di Toyota C-HR? E' l'energia che fa vibrare ogni città, che prende forma attraverso eventi, luoghi, esperienze e persone. E' movimento, dichiarazione di libertà, stile esclusivo: un flusso dinamico che si muove costantemente e genera perfetta armonia. E' linea dinamica, design esclusivo e tecnologie all'avanguardia. E' Toyota C-HR, perfetta rappresentazione dello Urban Flow.
Dopo Lecce King of the Flowe Toyota C-HR saranno a Napoli (6-11 settembre), città che ospiterà la sfida tra l'attore Fabio Troiano e Fabio Attanasio, autore di The Bespoke Dudes. Successivamente si trasferiranno a Roma (15-30 settembre), dove il confronto avverràtra l'attore Francesco Montanari e Alessio Sakara, atleta di arti marziali miste. Milano infinemetterà in competizione la fashion blogger Veronica Ferraro e il bassista Saturnino.
Tutti gli utenti che si registreranno sul sito e voteranno il proprio candidato preferito avranno modo di partecipare all'estrazione di un nuovo Toyota C-HR.
Inoltre, chi visiterà lo spazio Toyota C-HR a Parco Gondar avrà anche l'esclusiva possibilità di vincere 10 biglietti per il concertodel 14 agosto con i Loco Dice Dubfire.
no images were found

.