Fonte: Hydrogeit
Colonia, Germania. 1 Agosto 2017. La commercializzazione di autobus a celle a combustibile è iniziata: il completamento dei diversi progetti in mostra (vedi HZwei da gennaio 2011 e 2014 e marzo 2017) e la conclusione della conferenza CHIC di Londra arrivata all'ultimo atto lo scorso anno, sono seguite questo gennaio dal lancio dell'iniziativa congiunta per i veicoli a idrogeno in Europa, o JIVE in breve, e MEHRLIN, Models for Economic Hydrogen Refueling Infrastructure.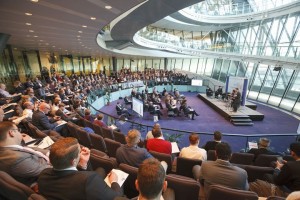 L'obiettivo di JIVE è di supportare la distribuzione di 144 autobus a celle a combustibile nel sistema di trasporto pubblico di cinque regioni stati della UE. Un totale di 32 milioni di euro sono stati resi disponibili da EU's Fuel Cells and Hydrogen Joint Undertaking per finanziare gli acquisti di autobus in tutta la Regione di Colonia-Wuppertal-Rhein-Main in Germania, Londra-Birmingham-Aberdeen nel Regno Unito, in Alto Adige in Italia, Slagelse, Danimarca e Riga in Lettonia.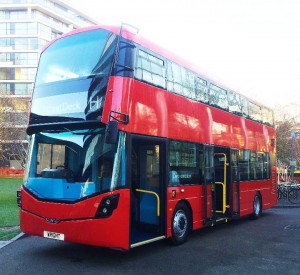 Lo scopo di MEHRLIN è quello di contribuire alla costruzione di sette stazioni di rifornimento H2 a Colonia-Huerth-Wermelskirchen e Wuppertal in Germania, Brunico in Italia, Lingua Oude e Rotterdam Sud nei Paesi Bassi, e Londra e Birmingham nel Regno Unito. I fondi del progetto aumenteranno fino a 90 milioni di euro.
Boris Jermer, project manager di HyCologne, ha detto:
EvoBus by Daimler in Bozen, Italy

"Siamo stati lieti di scoprire che JIVE e MEHRLIN ci offriranno l'opportunità di continuare senza problemi quello che abbiamo iniziato nella regione di Colonia nel 2009. Ora, è il momento di espandere la nostra flotta di mezzi di trasporto pubblico. Al di fuori dei centri urbani, non v'è attualmente alcuna alternativa in grado di offrire la stessa autonomia a capacità pari dei passeggeri".
Il 31 maggio, WSW mobil ha avviato un invito di offerta con l'obiettivo di acquisto di 63 autobus a celle a combustibile per i suoi partner Verkehrsverbund Mainz-Wiesbaden, traffiQ Francoforte, Regionalverkehr di Colonia e Sasa a Bolzano, tutti operatori che intendono utilizzare i veicoli per il servizio di trasporto pubblico negli anni a venire.
In English
Run on Fuel Cell Buses
Source: Hydrogeit
Cologne, Germany. August 1st, 2017. The marketing of fuel cell buses has begun: The successful completion of several showcase projects (see HZwei issues from January 2011 and 2014 and March 2017) and the conclusion of the CHIC conference in London late last year were followed this January by the launch of the Joint Initiative for Hydrogen Vehicles across Europe, or JIVE for short, and MEHRLIN, Models for Economic Hydrogen Refueling Infrastructure.
The objective of JIVE is to support the deployment of 144 fuel cell buses in the public transportation system of five EU member state regions. A total of EUR 32 million was made available through the EU's Fuel Cells and Hydrogen Joint Undertaking to fund bus purchases across Cologne–Wuppertal–Rhein-Main in Germany, London–Birmingham–Aberdeen in the UK, South Tyrol in Italy, Slagelse in Denmark, and Riga in Latvia.
The aim of MEHRLIN is to assist in the construction of seven H2 filling stations in Cologne–Hürth–Wermelskirchen and Wuppertal in Germany, Bruneck in Italy, Oude Tongue and Rotterdam South in the Netherlands, and London and Birmingham in the UK. Project funds add up to EUR 90 million.
Boris Jermer, project manager at HyCologne, said:
"We were pleased to find out that JIVE and MEHRLIN will offer us the opportunity to seamlessly continue what we started in the Cologne region in 2009. Now, it is time to expand our fleets in public transportation. Outside the inner cities, there currently is no alternative that could offer the same range at equal passenger capacity."
On May 31, WSW mobil started a bid invitation with the aim of purchasing more than 63 fuel cell buses for its partners Verkehrsverbund Mainz‐Wiesbaden, traffiQ Frankfurt, Regionalverkehr Köln and SASA in Bolzano, all of which intend to use these vehicles in public transportation in the years ahead.
no images were found

.