di Stephen Edelstein
Fonte: GreenCarReports
22 Febbraio 2016. La casa automobilistica indiana Tata Motors potrebbe aver costruito il più piccolo veicolo a celle a combustibile al mondo in grado di circolare su strada.
La società, nota per la piccola Nano così come per la sua gestione di Jaguar Land Rover, ha presentato una versione a celle a combustibile del suo microvan Magia Iris all'AutoExpo India.
La Tata Magic Iris Ziva si basa su un piccolo veicolo commerciale che – come la Nano – è appena un gradino sopra uno scooter o una moto.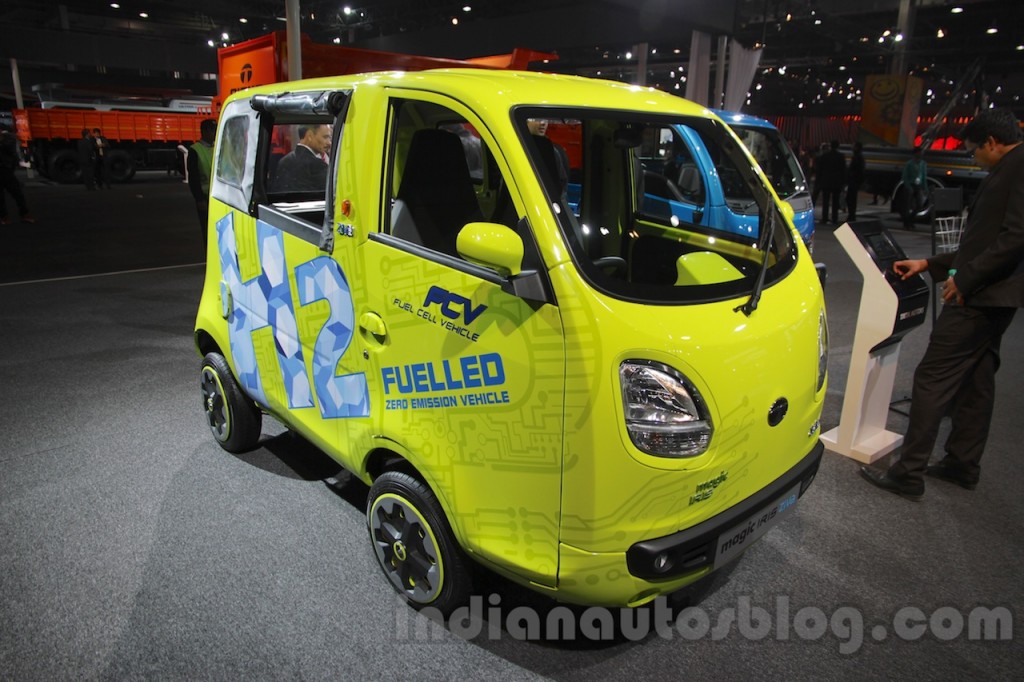 Ma mentre la Magia Iris convenzionale è alimentata da un motore diesel monocilindrico, la Ziva ha uno stack di celle a combustibile raffreddato ad aria alimentato da idrogeno.
Il propulsore a celle a combustibile è valutato da 5 kW di potenza (6,7 cavalli) a funzionamento normale, ma ha una potenza massima di 9 kW (12 CV), insieme a 42 Nm (31 libbra-piede) di coppia, secondo Indian Autos blog.
Questo è più degli 11 CV del motore diesel della Magic Iris standard, in questo modo forse la Ziva può migliorare la sua velocità massima a 34 mph (circa 55 km/h).
Con le finestre laterali a tendina e un interno spartano, la cinque posti Magia Iris Ziva non è esattamente lussuosa.
Eppure – forse in un segno dei tempi – anche un veicolo di questa base ha un touchscreen da 8,0 pollici nel cruscotto, che include navigatore e infotainment.
Tata in precedenza ha mostrato una versione elettrica della Magia Iris ad AutoExpo India, e ha una certa esperienza precedente con le celle a combustibile, avendo sviluppato un bus alimentato a idrogeno.
Mentre l'India ha dei livelli di inquinamento atmosferico tra i peggiori al mondo, è stato relativamente lenta ad adottare misure volte a ridurre le emissioni dei veicoli.
L'anno scorso, il governo ha annunciato il programma FAME (Faster Adoption and Manufacturing of Electric vehicles  ovvero adozione e produzione rapida di veicoli elettrici) per incentivare la produzione e la commercializzazione dei veicoli ibridi ed elettrici.
Il programma include sussidi per le auto, scooter e moto, così come alcuni tipi di veicoli commerciali.
Quest'anno, le prime norme nazionali mai varate nell'India riguardo le emissioni inquinanti entreranno in vigore.
Gli standard del Corporate Average Fuel Consumption (CAFC) richiedono un aumento del 14 per cento in termini di efficienza di combustibile media tra oggi ed il 2017.
Questo sarà seguito da un aumento del 38 per cento nel 2021 e 2022.
I limiti attuali delle emissioni dei veicoli nel paese sono diverse generazioni dietro quelle in vigore per l'Unione Europea ed il Nord America.
Ma se i veicoli a celle a combustibile ad idrogeno giocheranno un ruolo significativo nel raggiungimento di questi obiettivi, l'India avrà bisogno di creare un'infrastruttura di rifornimento sufficiente a sostenerli.
no images were found

.