Infrastrutture per l'idrogeno: prima stazione di rifornimento belga sui terreni Toyota concessi ad Air Liquide
· Air Liquide pronta a costruire la prima stazione di rifornimento in Belgio
· Il Vice-Ministro-Presidente delle Fiandre Annemie Turtelboom a sostegno dell'infrastruttura
· La stazione verrà realizzata sui terreni di proprietà di Toyota Motor Europe concessi a titolo gratuito ad Air Liquide
· Toyota Belgium sarà il quarto paese europeo a lanciare la nuova Mirai. La berlina equipaggiata con celle a combustibile sarà disponibile a partire dalla prima metà del 2016
Fonte: Toyota Motor Italia
Zaventem, Belgio. 6 Ottobre 2015. Alcuni momenti sono destinati a passare alla storia. Oggi è uno di quelli, con l'inizio dei lavori da parte della Air Liquide che porteranno alla realizzazione della prima stazione di rifornimento per l'idrogeno in Belgio.
Assieme ad Annemie Turtelboom, Vice-Ministro-Presidente delle Fiandre e Ministro belga delle Finanze, l'inaugurazione dei lavori è stata presenziata da Masahisa Nagata, Vice-Presidente di Toyota Motor Europe, Diederick Luijten, Responsabile Commercio Industriale della Air Liquide Benelux Industries, e da Bert De Colvenaer, Direttore Esecutivo di FCH JU.
La stazione sarà aperta al pubblico dalla metà del 2016 e verrà realizzata e gestita da Air Liquide sui terreni di proprietà Toyota a Zaventem, proprio accanto ai centri R&D di TME, che ha deciso di concederli in leasing gratuito per un periodo di 20 anni.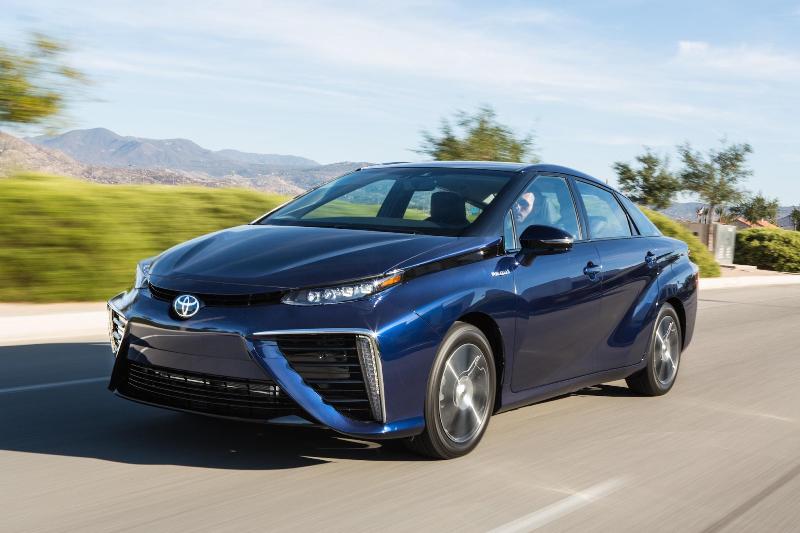 In quanto parte del progetto SWARM*, la stazione ha ottenuti i fondi stanziati dalla 'European Fuel Cells and Hydrogen-Joint Undertaking', una partnership pubblico/privata nata per sostenere lo sviluppo delle infrastrutture dedicate all'idrogeno.
Il gruppo Air Liquide è coinvolto attivamente nella realizzazione di questa infrastruttura con un track record di 75 stazioni in tutto il mondo.
Recentemente il gruppo ha annunciato, inoltre, l'apertura di nuove stazioni in Germania, Danimarca e Francia nel 2015, confermando così l'impegno nella realizzazione di una rete di distribuzione europea. La realizzazione di tali infrastrutture è una delle condizioni fondamentali per poter commercializzare le vetture equipaggiate con celle a combustibile.
Diederick Luijten, Air Liquide Benelux Industries Director Industrial Merchant:
"Air Liquide vuole ringraziare Toyota per averci concesso alcuni terreni di sua proprietà e per aver portato la Mirai sul mercato belga ed europeo. In questo modo Toyota sta facendo la sua parte per promuovere una società basata sullo sfruttamento dell'idrogeno. Grazie alle competenze tecnologiche dei suoi partner, Air Liquide può recitare un ruolo di primissimo piano nello sviluppo di un'infrastruttura europea per l'idrogeno, proponendosi come una delle avanguardie della moderna transizione energetica."
Il lancio della nuova Mirai è in corso in tre paesi europei (Germania, Danimarca e Regno Unito). Nella prima metà del 2016 il nuovo modello verrà inoltre lanciato in una quarta nazione, il Belgio. Toyota Motor Europe inaugurerà anche il Fuel Cell Vehicle Care Centre presso il suo Centro Tecnico di Zaventem, e diventerà quindi uno dei clienti della nuova stazione di rifornimento. I clienti di Mirai, così come tutti i proprietari di vetture equipaggiate con celle a combustibile, potranno accedere alla stazione sette giorni su sette per 24 ore al giorno.
Con un'autonomia di guida paragonabile a quella di una vettura convenzionale e tempi di rifornimento inferiori ai cinque minuti, Toyota Mirai non restituisce alcun tipo di emissione dannosa ma esclusivamente vapore acqueo. Proprio come accaduto nel 2000 con il lancio europeo della Prius, un modello che è diventato un'icona e che ha aperto la strada alla produzione in serie di moltissime altre vetture ibride, con Mirai il brand Toyota segna l'inizio di una nuova era per la mobilità, una mobilità rispettosa dell'ambiente e che aiuterà a diffondere il concetto di zero emissioni entro un paio di decenni. Ma il brand non può agire da solo.
Masahisa Nagata, R&D Executive Vice-President di Toyota Motor Europe:
"Toyota immagina una società basata sull'idrogeno in cui la mobilità riesca a svilupparsi attorno a vetture a zero emissioni capaci di migliorare la vita delle persone e del pianeta. Lo scorso anno abbiamo lanciato Mirai in Giappone e adesso ci stiamo accingendo a farlo in Europa. Ma se l'intenzione è quella di democratizzare le celle a combustibile c'è bisogno di un'infrastruttura adeguata, ed è quindi necessario che alcuni soggetti chiave come gli enti locali, quelli governativi e le società di fornitura energetica come Air Liquide collaborino per consentire al nostro sogno di diventare realtà."
La prima stazione pubblica del Belgio collegherà il paese al network europeo .
Caratteristiche tecniche della Air Liquide Hydrogen Station
Area: 60m x 20m
Dimensioni: Simili a un distributore di benzina
Carburanti: Idrogeno (no benzina, diesel, CNG o GPL)
Pressione stoccaggio: 200 bar
Pressione rifornimento: 700 bar
Numero pompe: 1
Numero minimo di FCV quotidiani: 30
Quantità massima di idrogeno disponibile: 200 kg
Metodo di rifornimento stazione: Trasporto su autocarro da Anversa
(*) SWARM:" Small 4-Wheel fuel cell passenger vehicle Applications in Regional and Municipal transport". Il progetto ha lo scopo di impiegare 90 vetture equipaggiate con celle a combustibile in Europa per sostenere lo sviluppo dell'infrastruttura per l'idrogeno. Le regioni europee coinvolte nel progetto sono la regione di Bruxelles in Belgio e la regione Wer-Ems in Germania.
no images were found

.