Autobus Mercedes-Benz green per il servizio di navetta ai visitatori del Salone Internazionale dei Veicoli Industriali di Hannover
• Citaro NGT e CitaroFuelCELL Hybrid in funzione presso IAA
• Servizio di navetta pulito e silenzioso al polo fieristico di Hannover
• Citaro NGT a basse emissioni, CitaroFuelCELL Hybrid ad emissioni zero
• Stazione di rifornimento mobile di idrogeno presso il sito espositivo
Fonte: Daimler AG
Stoccarda ed Hannover, Germania. 15 Settembre 2016. Un incarico insolito per due autobus molto silenziosi a basse emissioni Mercedes-Benz: un Citaro NGT e un Citaro FuelCELL sarano in funzione per trasferire i visitatori di tutto il sito della mostra al Salone IAA di Hannover 2016.
Servizio navetta pulito e silenzioso in Fiera a Hannover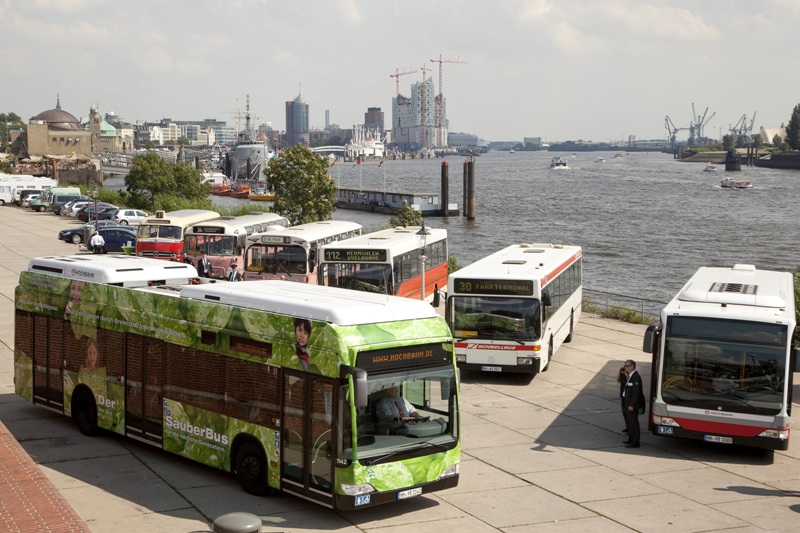 Mercedes-Benz presenterà il bus da città del futuro, il rivoluzionario Future Bus con CityPilot, nel padiglione 14/15 al Salone IAA. Sulla loro strada in tutto il vasto sito espositivo, i visitatori possono anche sperimentare di prima mano le capacità degli ultimi Autobus Mercedes con sistemi di propulsione alternativi: un NGT Citaro con alimentazione a gas naturale, nonché un ibrido CitaroFuelCELL che verranno utilizzati per trasferire i visitatori all'interno del sito espositivo.
I due autobus a pianale ribassato saranno in funzionamento continuo dalle 9:00 alle 18:00 a partire dal primo giorno della stampa il 21 settembre fino al giorno finale il 29 settembre, e si faranno strada in modo pulito e silenzioso lungo un percorso circolare delle sale espositive e gli ingressi ai vasti settori esterni.
Citaro NGT con basse emissioni, CitaroFuelCELL Hybrid ad emissioni zero
Il Citaro NGT con trazione a gas naturale è ben al di sotto dei rigidi standard di emissioni Euro VI ed è ancora più silenzioso e più pulito rispetto al Citaro standard con gli innovativi motori diesel Euro VI. L'Ibrido CitaroFuelCELL fa un passo avanti: questo autobus ibrido a celle a combustibile produce l'energia per il suo azionamento elettrico utilizzando l'idrogeno. E' eccezionalmente silenzioso ed emette solo vapore acqueo innocuo, cioè a zero emissioni locali.
Stazione di rifornimento di idrogeno presso il sito espositivo
Durante la IAA, il Citaro NGT sarà nuovamente alimentato in una stazione di rifornimento di gas naturale pubblico delle vicinanze. Per fornire l'energia all'Ibrido CitaroFuelCELL, l'azienda partner Linde AG ha installato una speciale stazione di rifornimento di idrogeno Mobile sul sito espositivo.
Entrambi i bus sono già in funzione altrove. Il Citaro NGT è parte della propria flotta di veicoli Mercedes-Benz ed è stato utilizzato in operazioni di prova in tutta Europa. L'ibrido CitaroFuelCELL si è già dimostrato come un veicolo per la prova a lungo termine in servizio regolare con la società di trasporto Hamburger Hochbahn. Durante la sua missione nell'esposione IAA sarà guidato da autisti della società di trasporto, che hanno familiarità con le caratteristiche del bus a celle a combustibile. Il Citaro NGT sarà gestito da conducenti della compagnia di autobus theÜstra di Hannover, che sono anche responsabili per l'organizzazione del servizio navetta durante la mostra.
In English
Mercedes-Benz Citaro FuelCELL shuttle at Hannover
Green Mercedes-Benz buses for visitor shuttle service at the IAA International Commercial Vehicle Show in Hanover
Citaro NGT and CitaroFuelCELL Hybrid in operation at IAA
Clean and quiet shuttle service at the Hanover Exhibition Grounds
Citaro NGT with low emissions, CitaroFuelCELL Hybrid with zero emissions
Mobile hydrogen filling station at the exhibition sit
Source: Daimler AG
Stuttgart and Hanover, Germany. 15th September 2016.  An unusual assignment for two very quiet, low-emission Mercedes-Benz buses: a Citaro NGT and a Citaro FuelCELL Hybrid will be in operation to transfer visitors around the exhibition site at the 2016 IAA International Commercial Vehicle Show in Hanover.
Clean and quiet shuttle service at the Hanover Exhibition Grounds
Mercedes-Benz will present the city bus of the future, the revolutionary Future Bus with CityPilot, in hall 14/15 at the IAA. On their way around the extensive exhibition site, visitors can also experience the capabilities of the latest Mercedes buses with alternative drive systems at first hand: a Citaro NGT with natural-gas drive as well as a CitaroFuelCELL Hybrid will be used to transfer visitors at the site.
The two low-floor buses will be in continuous operation between 9 a.m. and 6 p.m. from the first press day on 21 September until the final public day on 29 September, making their way cleanly and quietly along a circular route of the exhibition halls and the entrances to the extensive grounds.
Citaro NGT with low emissions, CitaroFuelCELL Hybrid with zero emissions
The Citaro NGT with natural-gas drive is well below the strict Euro VI emissions standard and is even quieter and cleaner than the standard Citaro with the innovative Euro VI diesel engines. The CitaroFuelCELL Hybrid goes a step further: this fuel cell hybrid bus produces the energy for its electric drive using hydrogen. It is exceptionally quiet and only emits harmless water vapour, i.e. zero local emissions.
Mobile hydrogen filling station at the exhibition site
During the IAA, the Citaro NGT will be re-fuelled at a public natural gas filling station nearby. To supply energy for the CitaroFuelCELL Hybrid, partner company Linde AG has set up a special mobile hydrogen filling station at the exhibition site.
Both buses have already been in operation elsewhere. The Citaro NGT is part of Mercedes-Benz' own vehicle fleet and has been used in trial operations across Europe. The CitaroFuelCELL Hybrid has already proved itself as a vehicle for long-term testing in regular service with the Hamburger Hochbahn transport company. During its deployment at the IAA it will be driven by drivers from the transport company, as they are familiar with the features of the fuel cell bus. The Citaro NGT will be operated by drivers of theÜstra bus company in Hanover, which is also responsible for the organisation of the shuttle service during the exhibition.
no images were found

.