• Hyundai Motor spedisce in Europa la più grande quantità in assoluto di 50 ix35 Fuel Cell
• Oltre 250 le auto a celle a combustibile consegnate in Europa da Hyundai Motor
• La distribuzione delle auto a fuel cell della Società si espande in 13 paesi europei
Fonte: Hyundai Motor UK
High Wycombe, Gran Bretagna. 4 novembre 2015 – Nel mese di ottobre Hyundai Motor ha consegnato altre 50 unità della sua ix35 Fuel Cell per la distribuzione ai clienti in tutta Europa, estendendo la leadership della società nei  veicoli a fuel cell.
Questa spedizione, la più grande consegna europea di vetture alimentate a idrogeno, porta il numero totale di veicoli elettrici a celle a combustibile di Hyundai in Europa ad oltre 250, più di quelli di ogni altro produttore combinato. Le vetture saranno fornite a dei clienti privati ​​e aziendali che hanno scelto l'innovativa auto a celle a combustibile a idrogeno di Hyundai.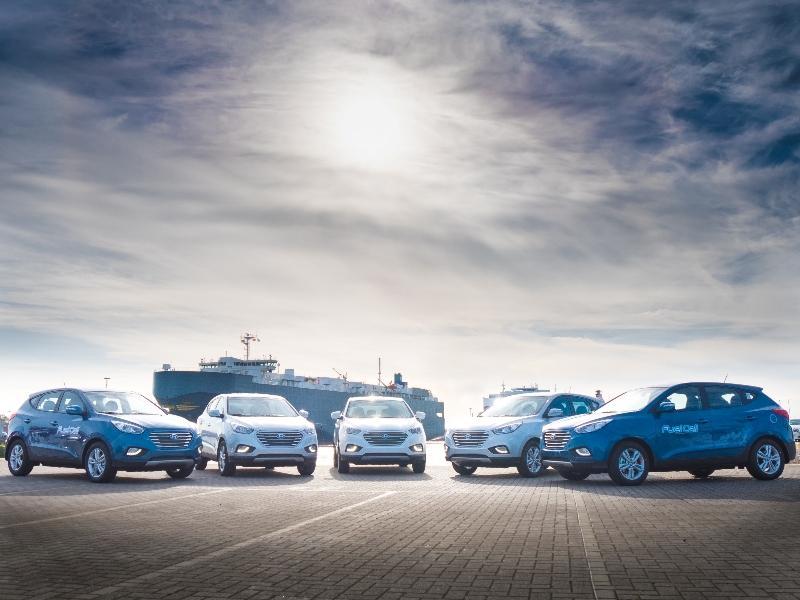 La ix35 Fuel Cell è stata la prima auto a idrogeno ad essere prodotta in serie e messa in vendita in Europa. Le vetture ix35 Fuel Cell già sulla strada hanno percorso più di 1,2 milioni di chilometri. Entro la fine del 2015, il modello sarà disponibile per l'acquisto o il noleggio in 13 paesi europei, con la Spagna e la Svizzera che entrano a far parte della rete di distribuzione di 11 paesi esistente.
Thomas A. Schmid, Chief Operating Officer di Hyundai Motor Europe, ha commentato:
"Quest'ultima consegna è punto di riferimento e migliora la nostra posizione di leader nel roll-out dei veicoli a celle a combustibile in Europa. Con la nostra rete di distribuzione delle celle a combustibile che cresce a 13 paesi europei, stiamo migliorando la nostra capacità di vendita e di servizio al cliente, rendendo i veicoli elettrici a celle a combustibile più accessibile per i clienti in tutta Europa".
Con l'infrastruttura di rifornimento in Europa che continua a crescere, Hyundai amplierà ulteriormente la propria rete di distribuzione Fuel Cell. Hyundai Motor è il primo produttore ad addestrare ed equipaggiare il proprio personale delle concessionaria in Europa nella manutenzione e riparazione dei veicoli elettrici a celle a combustibile, al fine di garantire un livello costante e altamente informato ed un servizio clienti di alta qualità.
Per sostenere il progresso della tecnologia delle celle a combustibile Hyundai Motor Europe ha lavorato con la Hydrogen Fuel Cell (FCH-JU) da ottobre 2011. Attraverso la partnership pubblico-privato, Hyundai sta contribuendo a un'ulteriore ricerca, sviluppo tecnologico e dimostrazione delle celle a combustibile e delle tecnologie energetiche dell'idrogeno in Europa.
Nel 2014, Hyundai Motor ha anche aderito al progetto Idrogeno per veicoli innovativi (HyFIVE), l'estensione del programma FCH-JU. Il più grande progetto a celle a combustibile sempre paneuropeo, aiuterà ad aumentare le infrastrutture di rifornimento di idrogeno e rendere la tecnologia più accessibile agli automobilisti di tutta Europa.
Queste iniziative fanno parte della visione di Hyundai Motor Group di diventare uno dei principali carmaker ecologici entro il 2020. Lanciato nel 2014, il progetto '2020.22.2' si è posto l'obiettivo di introdurre 22 modelli a basse emissioni entro il 2020, di cui 12 ibridi, sei ibridi plug-in, due veicoli elettrici e due veicoli elettrici a celle a combustibile.
La ix35 FCEV è dotata di un motore elettrico da 100 kW (136 CV), permette di raggiungere una velocità massima di 160 km/h. Non produce emissioni nocive durante la guida, con solo vapore acqueo ad uscire dal tubo di scappamento. L'autonomia pratica ufficiale con un pieno di idrogeno è quasi 600 km, fornendo autonomia in linea con una macchina convenzionale.
Ulteriori informazioni sulla tecnologia delle celle a combustibile innovativo di Hyundai è disponibile all'indirizzo www.fuelcell.eu.
In English
50 more deliveries in Europe keep Hyundai Motor at the forefront of hydrogen fuel cell vehicle roll-out
Hyundai Motor supplies largest-ever shipment of 50 ix35 Fuel Cell to Europe
Over 250 fuel cell cars delivered in Europe by Hyundai Motor
Company's fuel cell distribution expands to 13 European countries
Source: Hyundai UK
High Wycombe, United Kingdom. 4 November 2015 – During October Hyundai Motor has delivered another 50 units of its ix35 Fuel Cell for distribution to customers across Europe, extending the company's leadership in fuel cell vehicle roll-out.
This shipment, Europe's largest ever delivery of hydrogen-powered cars, brings the total number of Hyundai fuel cell electric vehicles in Europe to over 250, more than those of every other manufacturer combined. The cars will be supplied to a number of private and corporate customers who have chosen Hyundai's innovative hydrogen fuel cell car.
The ix35 Fuel Cell was the first hydrogen-powered car to be mass-produced and offered for sale in Europe. The ix35 Fuel Cell cars already on the road have covered more than 1.2 million kilometres. By the end of 2015, the model will be available to buy or lease in 13 European countries, with Spain and Switzerland joining the existing 11-country distribution network.
Thomas A. Schmid, Chief Operating Officer at Hyundai Motor Europe, commented: "This latest landmark delivery enhances our leading position in the roll-out of fuel cell vehicles in Europe. With our fuel cell distribution network growing to 13 European countries, we are enhancing our sales and customer service capabilities, making fuel cell electric vehicles more accessible for customers throughout Europe."
With the refuelling infrastructure in Europe continuing to grow, Hyundai will further expand its Fuel Cell distribution network. Hyundai Motor is the first manufacturer to train and equip its dealership staff across Europe in the servicing and repair of Fuel Cell Electric Vehicles, to ensure a consistent level of highly informed, high quality customer service.
To support the advance of fuel cell technology Hyundai Motor Europe has been working with the Fuel Cell Hydrogen Joint Undertaking (FCH-JU) since October 2011.  Through the public-private partnership, Hyundai is helping to further research, technological development and demonstration activities in fuel cell and hydrogen energy technologies in Europe.
In 2014, Hyundai Motor also joined the Hydrogen For Innovative Vehicles (HyFIVE) project, an extension of the FCH-JU programme. The largest ever pan-European fuel-cell project, it will help to increase the hydrogen refuelling infrastructure and make the technology more accessible to drivers across Europe.
These initiatives form part of Hyundai Motor Group's vision to become a leading environmentally-friendly carmaker by 2020. Launched in 2014, the '2020.22.2' project has set the goal of introducing 22 low-emission models by 2020, including 12 hybrids, six plug-in hybrids, two electric vehicles and two hydrogen fuel cell electric vehicles.
The ix35 Fuel Cell is fitted with a 100 kW (136 PS) electric motor, allowing it to reach a maximum speed of 160 km/h. It produces no harmful emissions during driving, with only water vapour coming from the tailpipe. The official driving range on a single tank of hydrogen is almost 600 kilometres, providing range in line with a conventionally-powered car. More information about Hyundai's innovative fuel cell technology is available at www.fuelcell.eu.
no images were found