Debutto mondiale del prototipo della nuova Honda Civic berlina al Salone di Ginevra 2016
Esordio mondiale del prototipo della Honda Civic berlina che definisce nuovi  standard europei per il modello di riferimento della Casa nipponica
Clarity Fuel Cell al debutto europeo
Nel 2016 prime consegne della NSX ai clienti europei
Nuovo Jazz Concept che punta sullo stile
Fonte: Honda Motor Europe Italia
Roma, Italia. 10 Febbraio 2016. In occasione del prossimo Salone di Ginevra, Honda svelerà le ultime novità riguardanti la nuova gamma europea di vetture, compresa la presentazione mondiale del prototipo della Civic berlina.
Prototipo di Civic berlina
Il prototipo della Civic berlina potrà essere ammirato al Salone per il suo design esterno, mentre il lancio in Europa è previsto all'inizio del 2017. Prodotta nello stabilimento Honda of the UK Manufacturing (HUM), la vettura verrà esportata in tutto il mondo, incluso il mercato americano.
Clarity Fuel Cell
La Clarity Fuel Cell è pronta al debutto europeo a Ginevra dopo essere stata presentata a livello mondiale in occasione del Salone di Tokyo ad ottobre dell'anno scorso. La Clarity Fuel Cell è la prima berlina al mondo ad ospitare l'intero propulsore a celle a combustibile sotto al cofano. Con un'autonomia fino a 700 km, la Clarity Fuel Cell si posiziona ai vertici della categoria mentre l'esclusivo pacchetto di dotazioni progettato per gli interni offre, per la prima volta su una berlina a celle a combustibile, la straordinaria spaziosità di una vettura a cinque posti.
NSX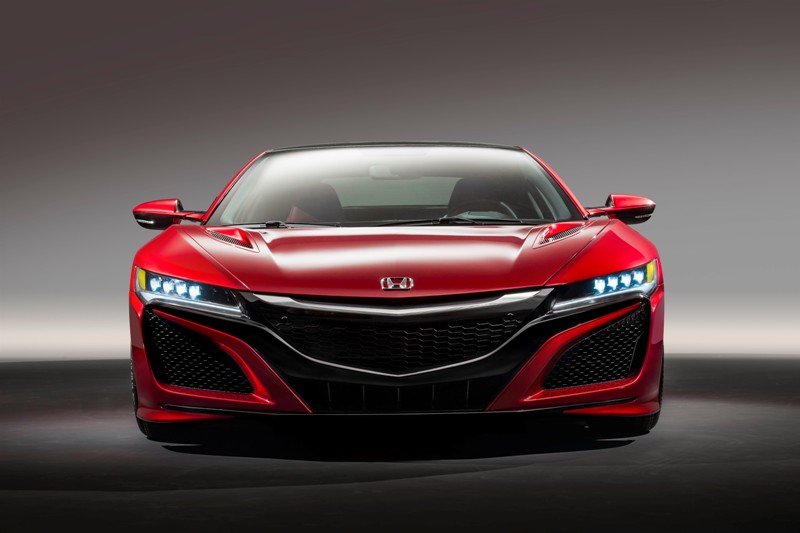 Dopo l'annuncio al Salone di Detroit riguardante l'inizio delle vendite negli Stati Uniti, Honda conferma le prime consegne in Europa nel 2016. NSX vanta una carrozzeria dalle classiche proporzioni ampie e ribassate, con linee moderne e attraenti, un design anteriore aggressivo e fari posteriori che ricordano la NSX originale. Al centro della nuova super car ibrida il nuovissimo motore doppio-turbo V6 DOHC montato in posizione centrale e accoppiato a un cambio a nove rapporti DCT.
Concept "Keenlight" di Jazz
Honda presenterà inoltre un nuovo Concept  basato su Jazz. L'intento del Concept denominato "Keenlight" è di sottolineare il potenziale di personalizzazione di Jazz con eleganti elementi di design, decorazioni estetiche ed una tonalità di colore denominata "Keenlight".
CRF1000L Africa Twin
Caratterizzata dallo stesso spirito avventuroso che animava i modelli precedenti, la nuovissima CRF1000L Africa Twin vanta un potente e innovativo motore a due cilindri paralleli, ospitato su un telaio agile e leggero: un gioiello per gli amanti dell'avventura sia su strada che fuoristrada, per attraversare i continenti o muoversi in tutta sicurezza sui tragitti quotidiani.
La conferenza stampa di Honda avrà luogo alle ore 12:45 di martedì 1° marzo presso lo stand Honda.
no images were found

.