Fonte: European Hydrogen Association
Milano, Italia. Agosto 2016. L'aspetto più interessante del nostro rapporto H2 della scorsa settimana è stato senza dubbio l'autobus a idrogeno del progetto collaudato sulla linea 84, nel centro di Milano con 35 gradi di temperatura.
Circolare attraverso una città quasi vuota dal centro di San Donato vicino al deposito degli autobus nei pressi della stazione dei bus milanesi ATM.
I tre autobus FCH sono al servizio della linea 84 dal 2013. Gli autisti degli autobus hanno lodato la loro qualità in generale; la confortevole area salotto del conducente, le operazioni in completo silenzio.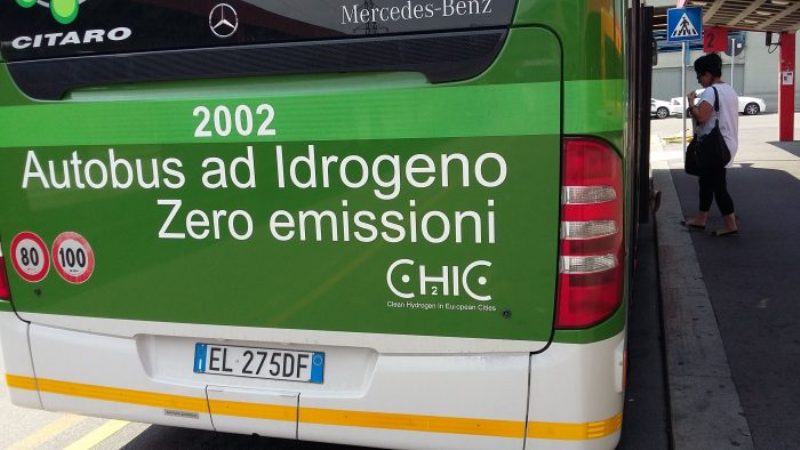 Marco Pirani, gestore deposito di autobus ATM, ha mostrato l'elettrolizzatore Linde che permette di alimentare le operazioni di rifornimento di idrogeno, utilizzando il 50% della capacità del tetto del deposito con pannelli solari.
In piena attività la struttura è in grado di supportare 7 autobus.
Una bacheca posta fuori dal deposito degli autobus, segna la quantità di 800 tonnellate di CO2 risparmiata finora.
Altri punti interessanti H2 dovrebbero essere sotto l'acqua secondo un recente studio della Duke University: grandi quantità di H2 sono alloggiati negli oceani di tutto il mondo. Questo molto probabilmente richiederà significativi sforzi di esplorazione che confermeranno l'ulteriore segno dell'impronta degli esseri umani su questo pianeta.
Il 29 agosto 2016 il gruppo di lavoro sulla Antropocene dell'Unione Internazionale delle Scienze Geologiche (IUGS) ha suggerito di introdurre il nome di "Antropocene" nella scala geologica di tempo per indicare l'attuale intervallo di tempo, in cui le condizioni ed i processi sono profondamente alterati dalle attività umane, l'introduzione di H2 e FC sta puntando ad una più piccola impronta umana.
In  English
EHA Summer Brief 2: Coolest FCH spots in Europe
Source: European Hydrogen Association
Milan, Italy. August 2016. Our coolest H2 spot last week was undoubtfully the quiet and empty CHIC hydrogen bus on line 84 in the centre of 35 degree Milan.
Zipping through an almost empty city from the centre San Donato bus station near the Milanese ATM bus depot, the three FCH buses are serving line 84 since 2013. Bus drivers were praising the bus quality in general; the comfortable driver seating area, the soundless operations.
Marco Pirani, ATM bus depot manager, showed the Linde electrolyser powering the hydrogen refuelling operations, using 50% of the capacity of the solar pannelled roof of the depot. In full operation the facility is able to support 7 buses. A bulletin board outside the bus depot, clocked 800 tons of CO2 saved so far.
Other cool H2 spots are supposed to be under water according to a recent Duke University study: vast quantities of H2 are stored in the world's oceans. This would most likely require significant exploration efforts that would further mark humans footprint on this planet.
As on August 29, 2016 the Working Group on Anthropocene of of the International Union of Geological Sciences (IUGS) suggested to introduce the name "Anthropocene" in the Geological Time Scale to denote the present time interval, in which conditions and processes are profoundly altered by human activities, introducing H2 and FC is aiming at a smaller human footprint.
no images were found

.