Berlina Honda Clarity Fuel Cell in mostra al New York Auto Show
• In primo veicolo con specifiche tecniche per gli Stati Uniti sarà in mostra dal 23 Marzo al 3 Aprile 2016
• Innovativo veicolo in produzione in Giappone; arriverà agli Stati Uniti entro la fine dell'anno
• Clarity Fuel Cell presenta la massima potenza della sua categoria; secondo l'EPA l'autonomia supera le 300 miglia
• La cinque posti Clarity Fuel Cell presenta tecnologia avanzata, tra cui Honda Sensing e supporto per Apple CarPlay e Android Auto
Fonte: Honda Motor America
New York, USA.  21 marzo 2016. Honda offre ai media ed ai consumatori un primo sguardo di una versione specifica  per gli Stati Uniti della prossima generazione della berlina Clarity Fuel Cell al New York International Auto Show, dal 23 Marzo al 3 Aprile 2016. La berlina cinque posti ad idrogeno Clarity Fuel Cell verrà lanciata entro la fine dell'anno, dotata della tecnologia più avanzata disponibile su un veicolo a celle a combustibile (FCV) tra cui Honda Sensing così come il supporto per Apple CarPlay ed Android Auto.
Come prossima evoluzione dello stile FCV dinamico di Honda, la Honda Clarity Fuel Cell dispone di una carrozzeria bassa e larga, aerodinamica con linee di carattere pulito. L'interno premium crea un'esperienza raffinata con controlli intuitivi e semplificati. La Clarity Fuel Cell sarà disponibile in colorazioni esterna nero, bianco e rosso firma.
"Siamo lieti di essere in grado di offrire questo primo sguardo alla versione americana della berlina Clarity Fuel Cell in anticipo al suo arrivo sul mercato entro la fine dell'anno", ha dichiarato John Mendel, vice presidente esecutivo della divisione automobili, American Honda Motor Co. , Inc. "La Clarity Fuel Cell è il primo di un portafoglio in espansione di veicoli elettrici avanzati da Honda che creeranno un nuovo pilastro nella nostra linea di prodotti".
Una riprogettata Accord ibrida 2017 sarà in vendita questa primavera, con una nuova Honda ibrida plug-in basato sulla stessa piattaforma della Clarity Fuel Cell è previsto per il lancio entro il 2018. Honda sta inoltre sviluppando un nuovo veicolo elettrico a batteria, il cui lancio è anche in programma entro il 2018.
Le innovazioni tecnologiche alla Clarity Fuel Cell includono uno stack di celle a combustibile che è del 33 per cento più compatto rispetto al modello precedente, con un aumento del 60 per cento della densità di potenza rispetto alla precedente Honda FCX Clarity. La cella a combustibile più compatta ed il powertrain integrato, di dimensioni paragonabili ad un motore V-6, ora è tutto incluso sotto il cofano della vettura, consentendo una più spaziosa cabina con posti a sedere per cinque passeggeri. La nuova Clarity Fuel Cell sarà caratterizzata da un'autonomia di guida prevista secondo l'americana EPA di oltre 300 miglia, con un tempo di rifornimento che oscilla dai tre a cinque minuti.
L'inizio del leasing al dettaglio ai clienti in mercati selezionati in California è previsto prima della fine del 2016, la Clarity Fuell Cell dovrebbe essere commercializzata ad un prezzo di circa 60 mila dollari con un contratto di locazione mensile mirato sotto 500 $.
Honda è leader nella fornitura delle più recenti tecnologie automobilistiche connesse, con la nuova Honda Civic 2016 e il restyling di Accord 2016 ad essere due dei primi veicoli ad alto volume di produzione in tutto il settore in grado di offrire sia Apple CarPlay e Android Auto. Gli interni moderni della Clarity Fuel Cell, offrono il funzionamento intuitivo e la connettività digitale al livello successivo incorporando un Audio Display touchscreen galleggiante da 8 pollici che funge da centro nevralgico per il controllo dell'audio, della navigazione e di altre funzioni tra cui monitor di energia e di un indicatore di stazioni per il rifornimento dell''idrogeno.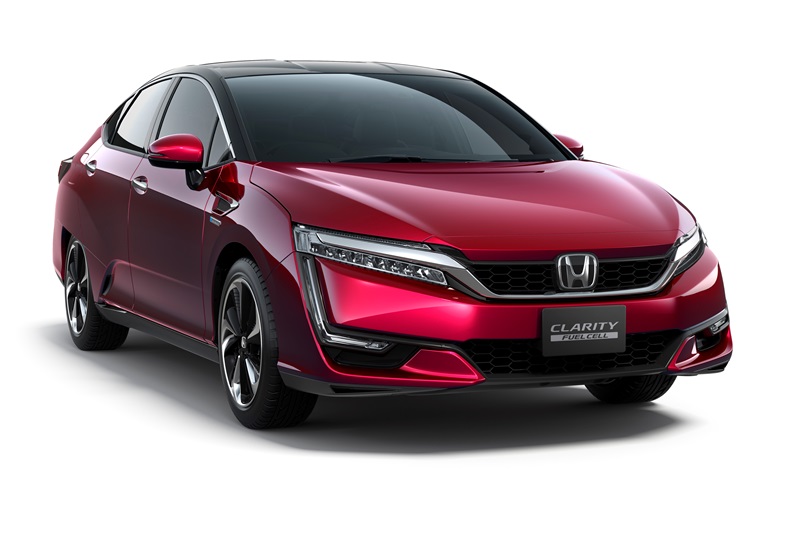 Il nuovo Audio Display è integrato con le nuove piattaforme Apple CarPlay e Android Auto, che forniscono una perfetta integrazione di funzioni smartphone e di altre funzioni, tra cui la navigazione app-based, lo streaming audio, la funzionalità di ricerca a comando vocale e l'accesso a una serie di applicazioni smartphone approvati Apple – o Google.
Honda Sensing utilizza la tecnologia avanzati dei sensori per rilevare una potenziale collisione e può avviare sia la direzione di emergenza che la frenata per prevenire o attenuare la gravità di una collisione con un altro veicolo. Le technologie includono Collision Mitigation Braking System (CMBS) con frenata di emergenza, il Lane departure warning (LDW), Forward Collision Warning (FCW), il Lane Keeping Assist (LKAS), Adaptive Cruise Control (ACC) e Road Departure Mitigation (RDM).
I clienti interessati alla Clarity Fuel Cell sono invitati a visitare http://www.HondaCars.com/Honda-FCV dove possono ricevere ulteriori informazioni e registrarsi per avere l'opportunità di diventare un cliente Clarity Fuel Cell.
In English
Honda Clarity Fuel Cell Sedan On Display at New York International Auto Show
• First U.S. spec vehicle will be on display from March 23 – April 3, 2016
• Groundbreaking vehicle in production in Japan; headed to U.S. by end of year
• Clarity Fuel Cell features the most power in its class; anticipated EPA driving range to exceed 300 miles
• Five-passenger Clarity Fuel Cell features advanced technology including Honda Sensing and support for Apple CarPlay and Android Auto
Source; Honda Motor America
New York, USA. March 21, 2016. Honda is giving media and consumers a first look at a U.S. spec version of the next-generation Clarity Fuel Cell sedan at the New York International Auto Show, March 23 – April 3, 2016.  The five-passenger, hydrogen-powered Clarity Fuel Cell sedan, to be released later this year, features the most advanced technology available on a fuel cell vehicle (FCV) including Honda Sensing as well as support for Apple CarPlay and Android Auto.
As the next progression in Honda's dynamic FCV styling, the Honda Clarity Fuel Cell features a low, wide aerodynamic body with clean character lines. The premium-contented interior creates a refined experience with intuitive, streamlined controls. The Clarity Fuel Cell will be available in black, white and signature red exterior paint schemes.
"We're pleased to be able to offer this first look at the U.S. version of the Clarity Fuel Cell sedan in advance of its market arrival later this year," said John Mendel, executive vice president, Automobile Division, American Honda Motor Co., Inc. "The Clarity Fuel Cell is the first in an expanding portfolio of advanced electrified vehicles from Honda that will create a new pillar in our product lineup."
A reengineered 2017 Accord Hybrid will go on-sale this spring, with a new Honda Plug-in Hybrid vehicle based on the same platform as the Clarity Fuel Cell slated for launch by 2018.  Honda is also developing a new battery electric vehicle, also slated for launch by 2018.
Technological innovations to the Clarity Fuel Cell include a fuel cell stack that is 33 percent more compact than its predecessor with a 60 percent increase in power density compared to the outgoing Honda FCX Clarity. The more compact fuel cell and integrated powertrain, comparable in size to a V-6 engine, now fit entirely under the hood of the car, allowing for a more spacious cabin with seating for five passengers. The new Clarity Fuel Cell will feature an anticipated U.S. EPA driving range to exceed 300 miles, with an anticipated refueling time of approximately three to five minutes.
Slated to begin retail leasing to customers in select California markets before the end of 2016, the Clarity Fuel Cell is expected to be priced around $60,000 with a targeted monthly lease under $500.
Honda is a leader in providing the latest in connected car technologies, with the new 2016 Honda Civic and freshened 2016 Accord two of the first high-volume vehicles across the industry to offer both Apple CarPlay and Android Auto. The Clarity Fuel Cell's modern, lounge-inspired interior raises intuitive operation and digital connectivity to the next level by incorporating a floating 8-inch Display Audio touchscreen that serves as the nerve center for control of audio, navigation and other functions including energy monitor and a Hydrogen station locator.
The new Display Audio is integrated with new Apple CarPlay and Android Auto platforms, providing seamless integration of smartphone features and functions, including app-based navigation, streaming audio, voice-controlled search capabilities, and access to a host of Apple- or Google-approved smartphone apps.
Honda Sensing uses advanced sensor technology to detect a potential collision or lane departure and can initiate both emergency steering and braking to prevent or mitigate the severity of a vehicle collision. Technologies include Collision Mitigation Braking System (CMBS) with emergency braking, Lane Departure Warning (LDW), Forward Collision Warning (FCW), Lane Keeping Assist (LKAS), Adaptive Cruise Control (ACC) and Road Departure Mitigation (RDM).
Customers interested in the Clarity Fuel Cell are encouraged to visit http://www.HondaCars.com/Honda-FCV where they can receive more information and sign up for the opportunity to become a Clarity Fuel Cell customer.
no images were found

.